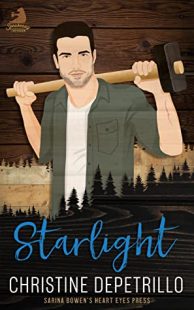 Starlight
(
Speakeasy Taproom #7
)
by
Christine DePetrillo
Purchase on:
Amazon
, 
iBooks
Add to:
Goodreads
Synopsis:

He doesn't trust women. She only trusts dogs. Why can't they keep their paws off each other?

Darren Reade builds stone walls in Vermont--and around his heart. Women don't stick around, so it's better to put up No Trespassing signs and focus on raising his adopted son. Darren is willing to do whatever it takes to help the boy cope with his mother's death. But doing it alone is a challenge.

Grace Hollings indulges her love of old-school jazz by singing nights at the Speakeasy Taproom, and spends her days training service dogs, connecting small humans with smart pooches. Of course she'd planned to be married already, but a failed engagement has taught her that dogs make better company than men.

One evening, Grace and Darren don't exchange names, but they do engage in a single night neither of them will forget. Is once all there is? Or can they train their hearts to trust what they've built under the starlight?
Review
Thissssss!!!! This is the kind of romance I LIVE FOR. It had steam, it had passion, it had an entire spectrum of emotions, it had service puppies, it had the most adorable family dynamic. IT WAS EVERYTHINGGGGG. The best part about all of these series in The World of True North is catching glimpses of these characters in previous books, wondering if/when you'll get their story. Darren and his son Kolton were mentioned a few times in Firefly and of course Grace was too as she worked with Melody at Speakeasy.

Getting to learn about Darren and Kolton's story was so emotional. I won't go into it as you will find out yourselves pretty early on but the fact that Darren takes care of Kolton like he does and loves THAT DEEP is a beautiful, beautiful thing. The boy suffers from intense bouts of trauma and anxiety and it was recommended to Darren by Kolton's school that they try getting a service dog from a local place in town.

When he shows up to find Grace, the woman he recently spent a passionate birthday night with, as one of the two employees who trains the dogs, the two are both surprised and excited to have been thrown into one another's paths again.

My favorite part about this book was how instantaneously Kolton took to Grace. Because of the genuine person she was AND because she has worked with many people with different and special needs at that point, she knew just how to immediately interact with Kolton. Melted my freaking heart, let me tell you.

The drama portion of this book really was through no fault of Darren or Grace's which was nice, even if it still impacted them and their relationship for a small bit of time. The string of events that led them back together, though? THAT is what made me cry, and in the best way. I am so happy that this series is coming to a finish on such a strong note. I have been so happy to be introduced to so many new authors because of this World of True North project and am so excited for this to be out for everyone to read!

Huge thanks to Heart Eyes Press for allowing me to read an eARC of this in exchange for my honest review!♥
Related Posts