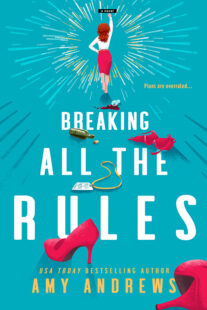 Breaking All the Rules
by
Amy Andrews
Purchase on:
Amazon
, 
iBooks
Add to:
Goodreads
Synopsis:

Sometimes you gotta toss your whole life into a burning dumpster to find what's most important...

Beatrice Archer has always done everything she's supposed to ―worked her ass off, ignored her non-existent personal life, and kept her mouth shut. Now she's over it. The rat race, respectability…the underwire bras. She's taking her life back. Starting with moving to Nowhere, Colorado to live life on her own terms.

Now Bea gives exactly zero forks. Beer for breakfast. Sugar for everything else. Baggy sweats and soft cotton undies FTW. Then a much younger and delightfully attractive cop is called to deal with her flagrant disregard for appropriate clothing outside the local diner (some folks just don't appreciate bunny slippers) and Bea realizes there's something missing from her little decathlon of decadence…and he might be the guy to help her out.

When it comes to breaking rules, Officer Austin Cooper is surprisingly eager to assist. He's charming, a little bit cowboy, and a whole lot sexy. But Bea's about to discover that breaking the rules has consequences. And all of the cherry pies in Colorado can't save her from what's coming…
Review:
Breaking All the Rules was a charming, romantic small town romance that was so much fun! With an age gap, steamy scenes, heartfelt characters and all the pie, this book was so easy to devour! Breaking All the Rules was so adorable that I went and added the first book in the Credence, Colorado Series to my tbr because I could not get enough of this world! Amy Andrews is an author I definitely need to read more of!
"If you want to know the number of each law you intend to break, then it's Officer Cooper. If you just want to shoot the breeze about it, then it's Austin."
"Can I take a little bit of A and the rest B?"
"Beatrice," he said, his loaded fork poised between the plate and his mouth, "you can take whatever you like."
Beatrice's whole world got flipped upside down when the promotion she worked so hard for, was handed to someone else. With the need to get out of LA, she landed up in the small town of Credence, Colorado. Where she binge watched TV, drank what she wanted, and kept track of what day it was by name of the week underwear. When Beatrice was finally ready to venture out into the small town, she ran into Austin. The town's local sheriff. Who was 10 years younger than her 35 years of age. And from those first few moments together, there were lots of sparks. They were flirting even as he put her in a jail cell lol. And that banter and sparks continued as Austin encouraged Beatrice to continue to break all the rules.
Bea smiled. "You ready for this?"
"Honey," he said, his gaze locking on hers, "I've been ready since the day I saw you eating ice cream outside Annie's."
And damn if her heart didn't do a funny little triple tap in her chest. No twenty-five-year-old should have such a way with words.
Austin was my favorite! Not only were his parents absolutely hilarious, their fondue jokes killed me! But Austin was the ultimate book boyfriend! You'll want to steal from the pages, just like me! Austin was intoxicating, swoon worthy and so easy to be obsessed with. I loved all of his confidence, how sure he was of himself and the way he handled situations. And his words. He made me melt and sigh out loud I don't even know how many times! Ohhh and his thoughts….I don't even have adequate enough words other then they made me love him even more! You have to meet Austin! I loved every single thing about him!
"I was wondering if you had that V thing going on between your hips, you know…" She dropped her gaze to the area of his anatomy under discussion. "With the muscles there."
Austin didn't say a word as the smile hovering on his mouth faded. He didn't do anything for a beat or two, either, just drew in a couple of deep, ragged breaths.
Then reached for his belt buckle.
Austin brought out the best in Beatrice. I loved how she was so bold around him. Yet Beatrice was hurt from her past. And she could be skittish around him too. So while it took me a little while to click with Beatrice and her story, the moment I did I could not stop smiling and randomly laughing! I loved how the more time she spent around Austin and his small town, the more she seemed to grow. It was smile inducing watching Beatrice find her way. Especially with her passion for a different line of work. So I was so excited and rooting her on! Yet Beatrice definitely had her hang ups. She did not want to run into Austin's mom lol. And she didn't think anything could come of being with someone 10 years younger. So even though they spent the majority of Austin's non-working time together, they were just a fling. They couldn't become more than that. Right?
Bea made sure to put a little extra swing in her step.
"Tease," he called after her.
"Pervert," she replied, so freaking happy, she practically skipped.
Anytime that Beatrice and Austin were in the room together, the sexual tension between them was scorching hot! And when they went further… I loved how they used pie *fans face*. This book was the perfect mix of emotions and passion mixed together in the pages! Especially with Beatrice having all of these different things she wanted to do, like camp beneath the stars. As she checked things off of her list, it was amazing to watch how happy she was becoming. How much Austin made her smile and laugh. And how Austin was feeling and looking at Beatrice. So while I had already fallen head over heels in love with Austin, I wanted to push Beatrice into that feeling too. Yet Beatrice still had more healing to do.
Their mouths fused, her arms wound around his neck, her legs wound around his waist as she kissed him deep and hard, and he almost lost his mind. It felt good. It felt perfect. Like everything he'd ever wanted was right here in his arms.
So why did it also feel like goodbye?
Breaking All the Rules was a fun and flirty small town romance! With bunny slippers, a cat, lots of pie, a cowboy and so much heart, this book had the right amount of hope and laughter. And I loved how issues were resolved, my heart was so happy by the time we reached that final page. So if you're a fan of adult romance that is spicy and heartfelt, definitely make for sure you have this one on your tbr! I'm looking forward to whatever Amy Andrews releases next!
*I voluntarily read and reviewed an advanced copy of this book, provided by the publisher. All thoughts and opinions are my own.*
Related Posts