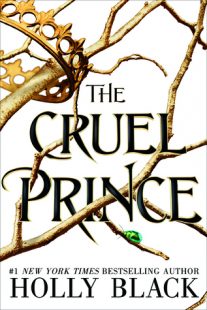 The Cruel Prince
(
Folk of the Air #1
)
by
Holly Black
Purchase on:
Amazon
, 
iBooks
, 
Book Depository
Add to:
Goodreads
Synopsis:

Of course I want to be like them. They're beautiful as blades forged in some divine fire. They will live forever.

And Cardan is even more beautiful than the rest. I hate him more than all the others. I hate him so much that sometimes when I look at him, I can hardly breathe.

Jude was seven years old when her parents were murdered and she and her two sisters were stolen away to live in the treacherous High Court of Faerie. Ten years later, Jude wants nothing more than to belong there, despite her mortality. But many of the fey despise humans. Especially Prince Cardan, the youngest and wickedest son of the High King.

To win a place at the Court, she must defy him–and face the consequences.

In doing so, she becomes embroiled in palace intrigues and deceptions, discovering her own capacity for bloodshed. But as civil war threatens to drown the Courts of Faerie in violence, Jude will need to risk her life in a dangerous alliance to save her sisters, and Faerie itself
"If I cannot be better than them, I will become so much worse."
I see why people call Holly Black 'Queen of the Faeries'. Hoooly wow. What a delightfully dark, twisty novel.
If you know anything about me, I'm all about the court politics & intrigue, villains & anti-heroes, and schemes within plots within schemes. This book had my name written ALL over it.
Okay so here's the basic rundown without giving away too much. Jude and Taryn are twins. Vivi is their older sister. It turns out, Vivi's real father, Madoc, is fae. When the girls are young, he comes for Vivi, kills their parents, and sees Jude and Taryn as his responsibilities since their mother was his… ex. To put it lightly. He whisks them away to Faerie to be raised alongside his family. Having grown up with Madoc as the only father they knew, Taryn and Jude have come to love him like a father, while Vivi promises to always hate him for what he did.
Being the general's daughters, Jude and her sisters are raised alongside the High King's sons and daughters. Each sibling has their own group of friends, spies, etc.
Enter Cardan.
Cardan is the youngest prince, and on the surface, the cruelest. Anyone who gets in his way, annoys him, or disrespect him, ends up paying dearly. Jude hates him with a passion, to say the least. He has that whole 'school bully' syndrome and is impossibly arrogant (all the makings of a delicious prince, amirite?)
Jude just wants to belong. Unlike her sister, she loves the land of Faerie. She wants to belong. Her dream is to become a knight. She wants a position of power that will earn her freedom and respect. But after being bullied and harassed by Cardan and his lackeys, Jude is fed up.
"My good intentions evaporate on the wind. My blood is on fire, boiling in my veins. I do not have much power, but here is what I have – I can force his hand. Cardan might want to hurt me, but I can make him want to hurt me worse."
So we have a bit of a prank war, but a life-threatening one. Jude stops trying to control her temper, and she starts fighting back. She gets in a few good swings at Cardan, which royally pisses him off in the most delightful way. It catches the attention of the rest of the royal family, including Prince Dain. He meets Jude in secret and offers her a position of power if she spies for him. Dain is the chosen son, the one that will inherit the crown via his father's favor.
So Jude accepts his offer and becomes part of his 'Court of Shadows'.
Political games insue. Jude gets in over her head. (Or does she?)
I don't want to say more than that, but that's the general idea of the opening. Only, it becomes so much more. Jude discovers secrets within secrets about the court, and with the coronation coming up, things get especially intense. Not to mention, her twin sister says she has a secret lover but she refuses to reveal his identity.
When shit hits the fan, oh man, it gets SO good. The ending was phenomenal, and the sequel is set up to be AMAZING and I dont know how I'm going to wait… *screams into the void*
That. Epilogue.
Help.
Bah, ok. Anyway… Jude is a fantastic main character. She's cunning, witty, and so supremely dark. Perhaps darker than Cardan himself at times. She's complex (so is everyone else) and relatable and easily has one of the strongest voices I've come across in a YA novel. I loved how complicated things get with her sisters and Madoc's family, and how buried some of the secrets are. Oh man. What a cool (and awful) family dynamic. I also looooved how vivid the royal family is. Of course, Cardan is my favorite, because I am utterly helpless when it comes to characters like him. Is there ever something between him and Jude, you ask? I admit nothing, but if you could pass me your fan…
Ugh, and the world. Holly Black's writing is lush in every way imaginable, and she excels in bringing such a fantastical world to life. None of it felt made up. She doesn't shy away from anything dark, either. This isn't a pretty fairie land, folks. Here be monsters.
Related Posts