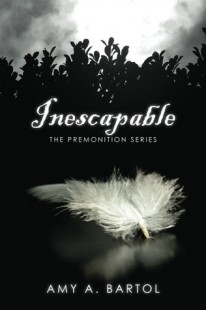 Inescapable (The Premonition #1)
by Amy A. Bartol
Purchase on: Amazon, iBooks
Add to: Goodreads


Throughout the course of my Goodreads experience, I've read many angel and paranormal books that have ranged from extremely corny to the most excellent and well thought out stories I have ever read. While this angel book didn't stand out as excellent, I still thoroughly enjoyed it and had fun reading it all the same.
Evie is actually a pretty funny heroine. She says what is on her mind and doesn't let anyone tell her what to do-namely…Reed. Reed is a brooding enigma from the very beginning, starting their relationship off to a rocky start at best. The minute she steps foot on campus and meets Reed at orientation, she is both immediately drawn to him and creeped out by the sudden intensity with which he wants her to leave Crestwood.