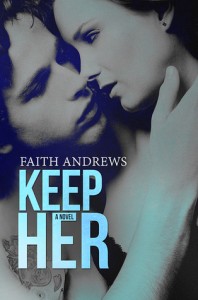 Keep Her
(
Grayson Sibling #2
)
by
Faith Andrews
Purchase on:
Amazon
, 
iBooks
Add to:
Goodreads
Synopsis:

The Grayson siblings are at it again—guilty of keeping secrets from each other when it comes to who they fall in love with. This time little brother's best friend is the object of Riley's affection and their intimate connection is impossible to resist.

Riley Grayson—snarky, successful, lonely. She's looking for Mr. Right, especially now that her younger, reformed man-whore of a brother is living out his happily ever after with her best friend. If Marcus can find true love, why the hell can't she?

Enter Beck Matthews, Marcus's childhood best friend. He's lovable, sexy, and oh, yeah—not single. But one night of drunken partying and wild sex with Riley and Beck may be rethinking his future. Has he been planning it with the wrong girl?

Although these two can't stay away from each other, it seems the ghosts of their pasts are holding them back from what they really want. Can Riley and Beck overcome the threat of shocking coincidences and unexpected events that will test their trust in one another?

Find out if Beck's love is strong enough to Keep Her.
Review:
Keep Her made me laugh, smile, tear up and feel all warm and cozy inside. I had so much fun watching Riley and Beck stumble around while trying to figure out what they wanted. They're humor was contagious, they're chemistry was sexy and their secret keeping was dangerous. Be prepared for a fun ride!
God, I was swooning over Beck Matthews. What the hell was wrong with me? – Riley
Riley is lonely yet successful, and has a little bit of a chip on her shoulder. She's about to witness her brother walk on the path to relationship happiness, and it makes her one jealous girl. Beck just had his heart pummeled into the ground. He asked his girlfriend of two years to move in with him and instead of love and happiness, he got rejection and a break from her. Riley, Beck, Tessa and Marcus decide to go out and have some fun on the town. We finally get to go back to THAT scene! The one where we were all left wondering what did happen when Riley and Beck were forced into leaving the club together, right after Marcus got himself punched in the face and stated that he was leaving with Tessa. Something had to happen right? Now we get to see for ourselves the outcome of that night and follow along through the latter half of Keep Me. Don't worry though, it wasn't repetitive. So much happened between the two of them that we never got to see. And what it all boils down to is two things – can Riley truly act on what she wants and does Beck just see Riley as a re-bound?
A mistake.
But was it a mistake? Something that felt so good couldn't be confused as a blunder in fate's workings. – Riley
I always thought Riley was a little bit of a cold, calculating bitch. Don't get me wrong, she was sweet and loving to Luca but she was so hard on Marcus and sometimes even to Tessa. Now it all makes sense. I understand her thought process and her side of the story. I'm shocked to say that she won me over. I adored being in her head and listening to her heart. She only wanted what was best for everyone else, and unfortunately she kept pushing down what she wanted. But the best part of Riley was never even touched upon in Keep Me. That's because it was brought out when she was around Beck. Who knew she could be quirky and hilarious? Her ability to make up song lyrics to existing songs always made me laugh. And then I would have that song stuck in my head for the rest of the day! Thank you Riley!
In the midst of all of the guilt, lust, tears, and questions, the craziest thing was that I did want her. I wanted to be with her again. I maybe even wanted to be with her on more than just a sexual level. – Beck
Now don't tell Marcus, but I loved Beck. Even more than Marcus. Why do I feel so guilty saying that out loud?! He was cocky, domineering, and I loved his ability to play with Riley and bring her to her knees. The scene outside of the club where he has Riley backed into a corner? Oh. My. Gosh. Unbelievably sexy! Beck's ability to be hot while teasing Riley made me fall for him hard. He is sweet, caring, frustrating, and where Marcus' pillow talk was sometimes too much for me, Beck's was pure heaven. I love that man!
Maybe it was nothing.
Maybe I imagined it all because I wanted it so badly. Maybe I hoped for this to work because I was tired of being alone. Maybe I was so jealous of Marcus and Tessa that I was grasping at straws. Maybe, maybe, maybe. There were a million different scenarios that left me doubtful. – Riley
Together, they were pure entertainment. The connection between the two of them was electrifying and the friendship that they had forged over all of the years was meaningful. But their ability to move in a forward direction, or at least in a direction I wanted them to go in, was full of twists, turns and pit stops. I enjoyed reading the Grayson sibling series, but I truly loved Riley and Beck's journey and I'm sure you will too. PS I swooned over Beck calling Riley sweet thing. It fit perfectly and always brought a smile to my face.
***ARC was kindly provided by the author in exchange for an honest review***
Reading Order & Links:
Amazon (click on covers), iBooks (click on titles) & Book Depository (click on book #)
***Each book can be read as a standalone, but best enjoyed in order.***

Keep Me #1
Reviews:
Jen

Keep Her #2
Reviews:
Jen