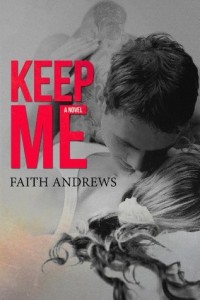 Keep Me
(
Grayson Sibling #1
)
by
Faith Andrews
Purchase on:
Amazon
, 
iBooks
, 
Book Depository
Add to:
Goodreads
Synopsis:

Sexy, tatted up, underwear model Marcus Grayson is every girl's dream—or more likely worst nightmare. He's a player, a self-proclaimed bachelor for life, and he's got no problem living up to his man-whore status. But when his older sister's friend comes back from the past, he may just have the chance to turn some of his adolescent fantasies into reality.

Tessa Bradley is a self-sufficient, take-no-bull, single mother—well, now she is. Finally rid of her abusive, alcoholic ex, she's making a new life for herself and catching up with old friends; the ones she was forced to break ties with because of her controlling husband. When she runs into Marcus, her friend Riley's once-adorable turned smoking-hot little brother, she has no idea how he's about to rock her world.
Review:
Keep Me was a sweet, feel-good read that kept a smile on my face and made my heart race. Although it did delve into issues that were deeper than I had expected, those scenes added an extra layer of depth and intensity. At the end of the book, I closed my kindle feeling happy that I got to stumble into Marcus and Tessa's world.
I tangled my hands in her now-messy hair, and whispered in her ear, "You. Are. Addicting." – Marcus
Marcus Grayson is a man-whore. He knows it and revels in the fact that he can have anyone he wants. It doesn't help that he is a tatted underwear model and constantly has women throwing themselves at him. His path is about to cross with Tessa Bradley, a blast from the past. Tessa was his older sister's best friend. He thought she was gorgeous and did everything in his power to obtain her attention, even if only momentarily. But that was years ago, and Tessa's world has just crumbled to the ground. Her husband isn't around anymore and she is being forced to get a job and leave her sweet baby boy, Luca, in daycare. When Tessa and Marcus run into each other, the sparks fly. From here it takes a sexy turn, but how can Tessa deal with any type of interaction with Marcus when she's still struggling from her past? And better yet, can a play-boy actually change his ways?
Holding my son close to my chest I silently sobbed, wishing my life could have been different – good, like right now. Instead, I was all screwed up, jaded and broken, with no foreseeable way to fix it. – Tessa
Our journey begins with alternating chapters between Marcus and Tessa's voice. I preferred Tessa to Marcus in the beginning, because I wanted to understand her plight and her struggles. But as the story progressed, Marcus started to get under my skin. I didn't want to fall for a player, but his kindness and gentle heart kept sneaking out. He won me over with how he interacted with his sister, the sweet act he does in memory of his mom, and how he treats Tessa and Luca. He's a good guy underneath that tattooed, cocky exterior and I ended up loving to hear his side of the story too.
Everything I'd worked for in the last six months was slowly vanishing. My dignity, my independence, my morals. And the worst part was…it felt good. – Tessa
Tessa is devastated with how parts of her life have progressed. She is shattered, she is damaged and she has walls built up. While letting in an old friend, Marcus' sister, is one thing, allowing a man to enter her heart is another. I had a lot of fun watching Marcus try and wiggle his way into her bed and heart. They have this physical connection that is steamy and off the charts hot. I had to fan my face quite a few times because sometimes the verbiage went outside my comfort zone. And that is because Marcus brings out her dirty, wild side. Who knew she could be like that? Wow. But Tessa better watch out because not only is Marcus sexy and fun, but he could be a danger to her walls.
He stared down at me, his hand caressing my cheek. How he could be so tender while being so…hot, I didn't understand. "I can give you what you need. And you…you're everything I never knew I wanted." – Tessa
Keep Me is a quick, easy read that you'll want to grab when you need to find hope, happiness and a heart-warming story. I can't wait to continue the series to see what happens to Riley, Marcus' sister.
PS I LOVE that at the end of the book, Faith Andrews has a playlist which includes the song Laid by James. Some of the lyrics are perfect and I've always loved that song!
***ARC was kindly provided by the author in exchange for an honest review***
Reading Order & Links:
Amazon (click on covers), iBooks (click on titles) & Book Depository (click on book #)
***Each book can be read as a standalone, but best enjoyed in order.***

Keep Me #1
Reviews:
Jen

Keep Her #2
Reviews:
Jen
Save
Related Posts