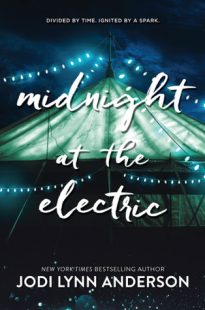 Midnight at the Electric
by
Jodi Lynn Anderson
Purchase on:
Amazon
Add to:
Goodreads
Synopsis:

Divided by time. Ignited by a spark.

Kansas, 2065. Adri has secured a slot as a Colonist—one of the lucky few handpicked to live on Mars. But weeks before launch, she discovers the journal of a girl who lived in her house over a hundred years ago, and is immediately drawn into the mystery surrounding her fate. While Adri knows she must focus on the mission ahead, she becomes captivated by a life that's been lost in time…and how it might be inextricably tied to her own.

Oklahoma, 1934. Amidst the fear and uncertainty of the Dust Bowl, Catherine fantasizes about her family's farmhand, and longs for the immortality promised by a professor at a traveling show called the Electric. But as her family's situation becomes more dire—and the suffocating dust threatens her sister's life—Catherine must find the courage to sacrifice everything she loves in order to save the one person she loves most.

England, 1919. In the recovery following the First World War, Lenore struggles with her grief for her brother, a fallen British soldier, and plans to sail to America in pursuit of a childhood friend. But even if she makes it that far, will her friend be the person she remembers, and the one who can bring her back to herself?

While their stories spans thousands of miles and multiple generations, Lenore, Catherine, and Adri's fates are entwined.
4.5 stars rounded up, because genuine tears and laughs are the most precious things, aren't they? Midnight at the Electric relates several stories entwined, stories about loss and courage and hope and choices. You jump straight into new characters' lives and you just care instantly and isn't it baffling? When I see that I can read an entire book without giving a damn whatsoever and that Jodi Lynn Anderson manages to create a connection between her characters and I in the span of 2 pages, I feel awed.




"The longer I live, " she looked up at the ceiling, "the more I think our big mistakes are not about having bad intentions, but just not paying attention. Just bumbling along, a little self-absorbed."



I want to label this book as slow and then I don't, because I've noticed that people associate slow and quiet to long and boring and that just won't do. At no moment did I feel anything but enthralled, yet that's true that's Midnight at the Electric isn't an action-packed novel.
Action-packed, again an adjective that annoys me, because there's nothing that frustrates me more than trying to explain how futile actions are when it comes to pacing. A novel can be filled with events and a chore to get through all the same. Another – and yes yes yes I'm talking about this beauty – can be one million times more compelling even if it mostly deals with relationships and all that we humans ever feel and dream or fear.
"Lily shrugged. "I think that's what you say when you can't have something you want, isn't it? You say you don't want it in the first place."
Above everything, Midnight at the Electric explores the strings that hold ourselves back. Does leaving is breaking them or is that another thing entirely? This question has been at the heart of my early years as an adult, and at 32 now, the only thing I can say is that I've found my answer, but that I genuinely believe that there's no such thing as an universal one. Go and find yours.
Jodi Lynn Anderson's writing is stunning in all the ways that count for me, emotional without forcing and filled with these thoughtful moments that ring so true, as Leonore's definition of grief :
"Sadness is only something that's part of you. Grief becomes you; it wraps you up and changes you and makes everything – every little thing – different than it was before."
The quote above is why I'll always come back to her books, even if the subjects don't appeal to me at first glance : because I know that in the end, her stories are so full of life that they'll always contain little parts of me, they'll always perfectly capture that feeling of possibility, and isn't that the most magical side of life? I guess they just inspire me, and I can't say that's true for many books. I can't recommend them enough.