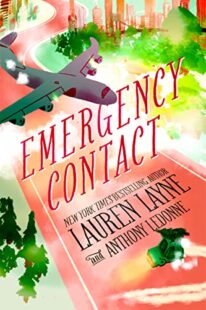 Emergency Contact
by
Lauren Layne, Anthony Ledonne
Purchase on:
Amazon
, 
iBooks
Add to:
Goodreads
Synopsis:

From New York Times bestselling author Lauren Layne -- and her real life husband and high school sweetheart, Anthony LeDonne -- comes a new holiday romcom that is sure to warm even the coldest heart.

Katherine, an ambitious NYC attorney, gets diagnosed with a concussion and must be monitored for 48 hours to make sure it doesn't get worse. Unfortunately, she forgot to updated her emergency contact so the person they call is her ex-husband, Tom. Unable to be left alone, Katherine reluctantly agrees to travel to Chicago with Tom for the holidays. But thanks to a blizzard, what should have been a quick plane ride turns into an antagonistic overnight misadventure that stirs up old feelings even as Tom prepares to propose to his girlfriend on Christmas Eve.

A delightful meet-cute between The Proposal and Planes, Trains, and Automobiles, Emergency Contact is perfect for fans of Christina Lauren and Sally Thorne.
Review:
I'm just going to come right out and say it:
The Grinch was misunderstood.
Emergency Contact was an emotional forced proximity, second chance, adult romance that will easily steal your heart.  With Christmas in the air and ordeals at every turn, this book was so easy to read in one sitting! So grab a box of tissues and a warm festive drink to enjoy this story. It brimmed with emotions that were raw and real, was filled with characters who were flawed and relatable, and Emergency Contact easily became one of my favorite holiday books!
I would never admit it to a single soul. I can barely admit it to myself. But . . .
I've thought about this moment.
Thought about the next time I'd see her.
When Katherine was in a car accident, her ex-husband Tom was notified since he was her emergency contact.  Katherine needed to be monitored because of her concussion and taken care of because of the stitches on her back, so she found herself joining Tom on his way home during the holidays. Yet little did Katherine know that Tom was planning to propose to his girlfriend on Christmas Eve.  From the moment they started their adventure, no part of it was easy from New York to Chicago.  Physically and emotionally.  Yet with old feelings resurfacing, second chances may just be what Santa was bringing them for Christmas!
I swallow.
I should not be here.
Doing this.
With her.
But right now I don't want to be anywhere else, doing anything else, with anyone else.
Katherine was fierce, independent, quick witted and had dubbed herself as the Grinch.  She was utterly alone, didn't mince words, and hated Christmas.  And as we got to know Katherine, it's understandable why she hated the holidays and was also driven to make partner.    We also got to see how that latter aspect ultimately destroyed her marriage to Tom.  But do you know that feeling in the back of your throat where you're two seconds away from crying and desperately trying not to?!  That was what Katherine's thoughts kept doing to me.  Understanding Katherine broke my heart.  So I was cheering her on every step of the way as she showed us her heart.  It was there.  Hidden underneath so much pain.  So Katherine could say she was the Grinch all she wanted, and even act like him, yet those Cindy Lou Who moments were there.  And those moments were directed at Tom.
The rumble of the approaching train captures his attention, and I exhale in relief that my darkest secret remains safely hidden:
That I want a place on his spreadsheet. I always did.
Tom was a planner with a capital P!  He was focused on his timeline for being engaged and having kids, and it seemed like he found a woman who would help him achieve his spreadsheet filled with his personal life goals.  Even if he was second guessing being with that woman.  So while Katherine's desire to become partner broke them apart, Tom's checklist is what ultimately separated them.  Yet when he saw the situation Katherine was in, he couldn't leave her. Tom had the hugest heart ever and always tried to give everyone his best side. He tried to be cheer, hope, happiness and love all rolled into one beautiful man. Yet on that journey home, Tom was still hurting form the past and could be provoking to Katherine. Not to mention he was keeping the hugest secret of all from her, that he was going to propose to his girlfriend on Christmas Eve.
Every last drop of horrible that's happened today? All on me.
I glance down at the phone in my hand, and for the first time in my life, really truly ask myself:
Is it worth it?
This obsessive fixation on making partner . . . where has it gotten me, exactly?
As the story alternated between Katherine and Tom, I was shocked at how bitter they were towards one another.  Their banter was filled with barbs.  Their hurt and pain ran so deep.  And it almost felt like hatred simmered between them. So they both had huge journeys of growth from that first page to the last. And I was grateful that as we got further into the story, there were moments of laughter. Also times that will make you smile and melt your heart. Plus those scenes where we got to see both Katherine and Tom realize all of the reasons they fell in love with one another to begin with. And through it all, their trip was one misadventure after another. It truly was a crazy ride! Yet they did it all together. Also, while there was no steam in this story, and I love her books that have steam!, I felt like that aspect worked perfectly with Emergency Contact. So good luck not crying, because their story was an emotional one I'll always remember.
"Come on. It'll be an adventure," Katherine says over her shoulder.
"I think I've had enough adventure," I call after her, even as I start to follow.
I'm a little surprised to find I'm actually smiling. Even more surprised to realize . . . there's nobody I'd rather be on this adventure with.
While Emergency Contact took us on a spellbinding adventure, it also took us on a heartbreaking one that had me sobbing in public. And for Lauren Layne fans, it had so much of what we love and resonate with in her previous books. The characters we fall for, the story that's so easy to devour, and an ending that leaves us oh so happy. Yet there was another level to this book. There was a hurt that festered throughout that then turned to hope and love. So while I have definitely cried reading LL's other books, this pain seemed to cut so much deeper. It was impossible not to sob, even when they were happy tears too. Ohhhh and that epilogue?! It was absolutory perfect and everything I could have wished for and more!
"Cuz, I gotta say ," he continues when neither of us reply. "The two of you together. You've got a real . . . what's the word I'm lookin' for?"
"Hostility? Animosity? Mutual-loathing?" Katherine provides.
"Energy!" Gorby proclaims. "That's the word I was thinkin.' Or was it synergy? You two kind of crackle? You know?"
I do know. I know all too well.
*I voluntarily read and reviewed an advanced copy of this book, provided by the author. All thoughts and opinions are my own.*