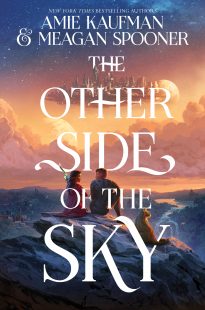 The Other Side of the Sky
(
The Other Side of the Sky #1
)
by
Amie Kaufman, Meagan Spooner
Purchase on:
Amazon
, 
iBooks
Add to:
Goodreads
Synopsis:

New York Times bestselling author duo Amie Kaufman and Meagan Spooner have crafted a gripping tale of magic and logic, fate and choice, and a deadly love. Perfect for fans of Laini Taylor and Brandon Sanderson.

Prince North's home is in the sky, in a gleaming city held aloft by intricate engines, powered by technology. Nimh is the living goddess of her people on the Surface, responsible for providing answers, direction—hope.

North's and Nimh's lives are entwined—though their hearts can never be. Linked by a terrifying prophecy and caught between duty and fate, they must choose between saving their people or succumbing to the bond that is forbidden between them.
Review
As soon as I saw that Kaufman and Spooner were coming out with another book/series together, you better believe I marked it as to-read/I NEED immediately and requested it as soon as I saw it pop up on Edelweiss. At this point, I've read just about everything by the both of them together and with other people as well. There's something about the way they balance both memorable, heart-pounding romance AND death and destruction that really just ~gets~ me.

This one, though, was definitely one of the most unique…As the title suggests, our two main characters, North and Nihm, come from literally the opposite ends of the sky from one another. Nihm is a living goddess on earth and North is a prince in a floating land in the sky. Both as equally as important to their own people as they are to hopefully saving the entire human race.

What really got me here was the mix of fantasy and science fiction. You see, while Nihm's people have gods and goddesses and practice magic, up above in North's land it's all about science. When he falls to the Surface and meets Nihm, he is skeptical for any kind of magic she uses and is constantly trying to reconcile it for some kind of advanced chemical reaction. In most books of this nature, it's either one or the other. The people either have magic or do not or they either live in some kind of advanced futuristic setting and have this crazy gear that we could only hope to see here on earth some day. The mix of the two was so intriguing and it made for some really good points of conflict between the two.

Other than that though, I found the characters (as always with these two writers) to be extremely likable and memorable. I think I liked Nihm more just because she was so BA and cared for her people so much. That's not to say North didn't, I just felt like there was *more* to Nihm in this book. I really liked the romance between them too–the connection they felt. Sometimes something like that can feel too rushed or too cheesy but I thought it felt extremely real in this one. ANDDD can we just talk about the deliciousness of them not being able to touch?! I mean I did want them to be able to and for us to get a good kiss scene in this one but I think it's almost better that they didn't to draw it out even further?!?!?!

Finally, I am so intrigued by the prophecy and who it was really referring to and who the other cloudlander is….I of course do have a theory. 🙂 Very ready for book 2!

Huge thanks to Edelweiss and HarperTeen for allowing me to have an eARC of this book in exchange for an honest reivew!