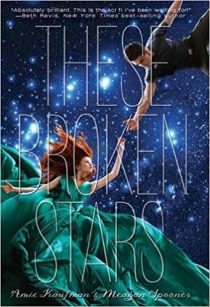 These Broken Stars
(
Starbound #1
)
by
Amie Kaufman, Meagan Spooner
Purchase on:
Amazon
, 
iBooks
Add to:
Goodreads
Synopsis:

It's a night like any other on board the Icarus. Then, catastrophe strikes: the massive luxury spaceliner is yanked out of hyperspace and plummets into the nearest planet. Lilac LaRoux and Tarver Merendsen survive. And they seem to be alone.

Lilac is the daughter of the richest man in the universe. Tarver comes from nothing, a young war hero who learned long ago that girls like Lilac are more trouble than they're worth. But with only each other to rely on, Lilac and Tarver must work together, making a tortuous journey across the eerie, deserted terrain to seek help.
How do you live again, knowing what waits for you in the end?
After I finished Aurora Rising I knew that I wasn't yet ready to venture out of the world of sci-fi. With the loss that I was feeling though, I just wanted something familiar, something that I knew I had liked before. My mind immediately went to this series (which is partially even wrote by Kaufman). This is my third time reading this book and I have to say that I liked it just as much as the other two times. I think overall I'd rate it a 4.5. It's not a book that blew my mind but you know what? I've realized that you can give a book a high rating just for the sole fact that you really, really enjoyed it. It doesn't have to be life changing but if it means something to you, makes you happy, and is memorable in any way, rate it five stars if you'd like.
That's what this book is to me. It's a story about Lilac and Tarver. The daughter of the richest man in the universe and a cynical war hero. The two meet on the Icarus, the spaceship which then gets sucked out of hyperspace and ends up crash landing on a strangely deserted planet. They were lucky enough to make it to an escape pod and Lilac was able to use the knowledge she'd learned from an old friend to hotwire their pod off the ship. Out of 50,000, the two are the only survivors.
The book basically just features them getting from their downed pod, to the wreckage of the Icarus, and then on from there. It's a journey book and I know that's just not everyone's cup of tea. For some reason though, I just really liked it. I liked reading about them trying to survive. I liked them observing this planet that was weirdly terraformed and not familiar. And most of all I loved their hate-to-love relationship. Actually, if I remember correctly, the relationships and the characters were the defining part of what I loved about this entire series. Some of the plot lines become kind of weak later on but the characters never failed me.
Even though it initially seems like Lilac could have the potential to be a spoiled brat, she's the complete opposite. She never whines or complains to Tarver when he's trying to get them from point A to point B, even when she got huge blisters on her feet and was completely worn out from not having any kind of stamina for a journey like that. ESPECIALLY after falling out of the sky and realizing you are probably the only one that survived. And Tarver. Of course I loved Tarver. Tarver is the kind of guy character that will always be my type. (similar to Gale, Chaol, Garret, Cassian, etc.) Soldier, hard ass, but also has that gooey caramel center that you didn't expect at first, lol. I enjoyed watching their relationship bloom and EVEN THOUGH I would have been really sad for Tarver's family if he had never come back, is it weird of me to think it would have been a really interesting read to see how they flourished if they would have just stayed on that planet and made a life for themselves (kind of like in the movie Passengers)??!?!?
Also, can I just say that the Whispers kind of creep me the F out? I know they meant no harm in this book but the whole thought of Lilac starting to hear voices and them creating those specific ~things~ was just…something else. I started to listen to This Shattered World on audio late last week and OMG. The narrator who does the scenes between chapters that are set in Jubilee's past and brought up by the Whispers is so eerie to listen to. It's quite frankly amazing. I've only just gotten into audiobooks and am finding out they can make a book 10x better because of those extra things.
Overall this is a series that I will always love and will come back to from time to time to read again! If you're looking for a kind of lighter (POSSIBLY AT TIMES CHEESY BUT WHO CARES) sci-fi series that is strong in the character/relationship department, I'd give this a try!
For a moment the image before us is frozen: our world, our lives, reduced to a handful broken stars half lost in uncharted space. Then it's gone, the view swallowed by the hyperspace winds streaming past, blue-green auroras wiping the after-images away.

Until all that's left is us
Related Posts