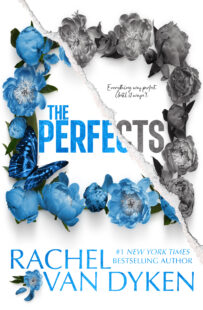 The Perfects
by
Rachel Van Dyken
Purchase on:
Amazon
Add to:
Goodreads
Synopsis:

Everything was perfect.
Until it wasn't.

Until my family took on a foster girl and placed her across the hall from me. A charity case to look good and a person who should have never existed in my world.
I kissed her to get her to stop talking, and then I kissed her again because I liked the taste of her words—I liked her.
It was our secret until we got caught—that night changed everything.

We became strangers living in the same house, seeing the same ghosts of our past mistakes, but I can't stop thinking about us, about those forbidden moments.
I pretend to hate her, I tell her I'll never forgive her, and then Quinn, my ex-best friend, steps into the picture. I can't tell if he actually likes her or if he has a death wish and just likes pissing me off, but what do I say? Stay away from my foster sister?
She's mine?
I've already had her?
Saying that to him would expose what we were and ruin everything.
We're all three of us living multiple lies, and eventually, I know our ivory tower of perfection is going to come crashing down.

He knows my secrets.
I know his.
And now she knows both.

She wants.
He wants.
But I always—always get what I want.

And what I want is the girl, no matter what it may cost me.
Review:
The minute I walked into his life— mine began—his ended.
I'm shaking and don't even realize it.
The Perfects was an emotional, angsty, fabulous read!  With an enemies to lovers vibe, a tiny bit of a love triangle, and a twist that will leave you staring at the pages wondering where this story was going next, this book was so easy to binge in one sitting!  If you like your young adult romance steamy, then definitely have this one on your tbr!
He stills and locks eyes with me. "Are you going to be an annoying little problem, Belle?"
"That depends." I take a brave step forward. "Are you going to be a rich asshole?"

Mary-Belle made me love her right away, and my heart hurt for her. She was in the foster system and kept getting uprooted. She never had anything stable. When she ended up at her latest house, I was so nervous for her. She was thrown into the life of luxury, yet not everything was at it seemed. Emotions were faked. So much felt staged. And she ended up right in Ambrose's cross-hairs. The son who lived at her current house. But as the story progressed, I loved watching how much Mary-Belle grew! She put people in her place. She found her strength. And she tried her best to do what was right and find love in her life.
His smile broadens. "How much will you hate me if I make this morning a bit better?"
"How would you do that?" I ask.
He smirks, and I notice a small dimple on his right cheek. "Such a dangerous question, Belle."
Ambrose was a complicated soul. He was rich and hated that his dad practically owned the town they lived in.  His mom was perfect, his dad was perfect and he had to act perfect too and was destined to go places.  Yet Ambrose's whole world got rearranged when a foster girl came and lived with him.  Right across the hall from his bedroom.  He wanted her.  And Ambrose always got what he wanted.  Yet fate had tragic heartache time and again in his future. His story was not easy. So Ambrose could be such an emotional ass. Or a dickhead, take your choice lol. He was so mean to Mary-Belle. But keep looking because there were moments where he showed us that he did have a heart.  And I loved seeing that side of him!
The family will always look perfect despite the fractures in the foundation; she doesn't have to know the dirty details.
So yeah, maybe I want something just for me.
Is that so wrong? 
Mary-Belle and Ambrose were like fire and gasoline.  There was hate, passion, lust and a whole slew of other emotions.  When they physically got together, it escalated so quickly.  I didn't know where they could go from there.  But a wrench was thrown in their lives.  And their enemies to lovers relationship was done beautifully heartbreaking!  Their antics were so crazy that I was glued to the pages because I couldn't even guess what would happen next.  I screamed out loud, I was freaked out, and was nervous as other events popped up in the story! Mary-Belle and Ambrose had an extremely passionate relationship, but just like Ambrose's life, their story together wasn't easy.
I wonder if it's the worst move I could have accidentally made.
A challenge.
A wave of the red flag.
Because I've never seen Ambrose so angry.
And I've never felt so safe.
In Quinn's arms.

And then there was Quinn. He went to High School with Mary-Belle and Ambrose. First impression, I loved him! He seemed like such a good guy! And I didn't get why he technically couldn't be friends with Mary-Belle. Or maybe friends was the wrong word because they were both attracted to each other. But it felt like there were a whole ton of secrets between him and Ambrose. And about Quinn's past. But Quinn was a little too much for me with some of the physical things he did. So while he wasn't my favorite, I did love the emotions he pulled out of Mary-Belle and Ambrose. And I loved how he helped them as the story progressed!
Damn.
I feel like an addict waiting for my next hit while still trying to push away the one thing that will destroy me.
We have no other option but destruction.
And yet, I give in.
I fold.
Maybe I always will. 
Rachel Van Dyken's writing hooks me every single time!  This book took me on a roller coaster of emotions!  Some of the moments were just wild, some were nerve inducing, quite a few made my heart beat faster and laughter kept bubbling up while in the next moment I was gasping while muttering cuss words under my breath lol. And I loved that we got to alternate between Mary-Belle and Ambrose, I desperately needed to hear all of their thoughts! So with heartache, love, friendship, hate and all of the angst wrapped into these pages, this book was so easy to binge!
This is our moment.
Our chaos.
Our frenzy.
Our imperfect perfection.
*I voluntarily read and reviewed an advanced copy of this book, provided by the author. All thoughts and opinions are my own.*
Download today or read for FREE with Kindle Unlimited:
Amazon:Amazon
Add to Goodreads: https://geni.us/ThePerfects_GR
About Rachel Van Dyken:
Rachel Van Dyken is the #1 New York Times Bestselling, Wall Street Journal, and USA Today bestselling author of over 90 books ranging from contemporary romance to paranormal. With over four million copies sold, she's been featured in Forbes, US Weekly, and USA Today. Her books have been translated in more than 15 countries. She was one of the first romance authors to have a Kindle in Motion book through Amazon publishing and continues to strive to be on the cutting edge of the reader experience. She keeps her home in the Pacific Northwest with her husband, adorable sons, naked cat, and two dogs. For more information about her books and upcoming events, visit www.RachelVanDykenauthor.com

Connect with Rachel:
Facebook I Website I RVD Newsletter I Instagram.com I Twitter I Amazon l Goodreads l RVD Facebook Group l Pinterest l TikTok l Verve