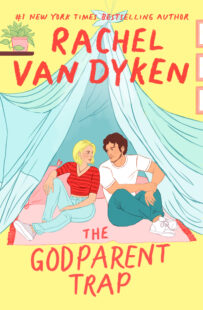 The Godparent Trap
by
Rachel Van Dyken
Purchase on:
Amazon
, 
iBooks
Add to:
Goodreads
Synopsis:

Life's Too Short meets The Unhoneymooners in this sparkling, steamy, and swoon-worthy novel from #1 New York Times bestselling author Rachel Van Dyken, in which two sworn enemies must share house, home—and maybe their hearts—when they become co-parents after a sudden loss.

Colby's living her best life: as a popular food blogger, she gets to fulfill her dreams of exploring the globe. But her world comes crashing down when a tragic accident leaves her co-guardian of her best friend's two adorable children. Not only does she need to put down roots—fast—but she'll be sharing custody with the one man she can't stand sharing a continent with, let alone a house.

Accountant-extraordinaire Rip values rules and plans. But when he loses his sister and his best friend and becomes an insta-guardian all in one night, Rip sees his organized life imploding. What he really doesn't need is his sister's irresponsible, flighty—albeit kind and gorgeous—best friend making it worse.

Rip doesn't trust Colby to take their new responsibilities seriously, while Colby can't believe Rip thinks children will thrive under his rigid control. Yet soon Rip and Colby discover they need each other more than they hate each other. Could it be possible that following their hearts is just what their new little family needs?
Review:
One thing I had already learned was that you had to hold on to the moments— even the ones that drove you crazy. Because you never knew how long you had to enjoy them.
The Godparent Trap was an emotional powerhouse that was impossible to put down.  I don't think I have ever laughed or cried so much while reading a book.  This story easily reached into my heart and owned every part of me!  It was heartwarming, beautiful, memorable and going on my favorites list!
"It wasn't supposed to be like this," Colby whispered, reading my mind  as I tried to fight back the tears that were always threatening, along  with the tight feeling in my throat that refused to go away.
Colby was a food blogger, who traveled around the world enjoying life!  Rip was an accountant who liked knowing where his life was going.  Both of their worlds came crashing down when Rip's sister and best friend, who were also Colby's best friends, passed away.  Leaving Colby and Rip with custody of their two kids.  The story started out in present day, and then in that next chapter we jumped three weeks into the past.  I was instantly hooked.  Colby and Rip tried their best to hold it together.  But between their grief, becoming new parents and having a past between one another, they were in for a very bumpy road.
My ovaries did a little jump at how good he was with children. I mean,  he could be Satan to me any day, but the way he loved those kids, it  almost made me forget how horrible he was.
Almost.
I adored Colby right away!  She loved her best friend's kids deeply and was passionate about her work.  But my heart hurt so bad for her.  Not only was she drowning in grief and learning how to function as a new parent, but she was definitely in over her head!  With live chicken nuggets, burned toy dragons and disaster after disaster, I found myself laughing and crying right along with Colby! And through it all, there was Rip.  To witness her hit all of the highs and lows.  During those lows, my gosh he could be so harsh to Colby.  Rip was way to rigid and Colby was exactly what he needed in his life!
"Hey, Rip," I said.
"Yeah." He was still staring down into the amber liquid.
"Do you hate me?"
He didn't flinch. Didn't smile. Just stared into his drink and whispered, "I wish I could."
Oh Rip.  He could be so anal, meticulous and put together, but there was also another side to him.  One where his smile lit up the room and where he was intoxicating and seductive.  And even when he made mistakes, I still loved him.  Famous last words, never think it's easier to stay home and take care of the kids haha!  Rip was also drowning in his pain, and the fact that we got this story in his POV too, it'll make you fall even harder for him!  Especially when he learned how to extend olive branches and hear his thoughts about Colby, sigh.  Even though him and Colby were polar opposites, there was most definitely something there.
I tried not to let air get caught in my throat, just like I tried not to read into any of it, which was basically impossible. But before I could say anything, he was carrying Viera upstairs. And while I wrangled a cat, cleaned up poop, and helped Ben put away groceries, my heart held out a little bit more hope that maybe…
Maybe we were going to be OK.
Within those first few chapters, I already had tears falling down my face and laughter floating out of me, I loved every moment!  Know that while the tears didn't stay away for long, through it all there were so many moments of lightness.  Such as their texts, but even more happiness could be found during their moments with the kids. I laughed so hard I was crying I don't even know how many times.  I loved the bedtime stories!  But there were also these beautiful chaotic moments between Rip and Colby, and through it all the tension between them left you begging for them to become more!  The tension simmered between them.  And when we came back around to that first moment in the book, I literally was screaming out loud!  Because I just knew that when they got together it was going to be hot and seductive, and I was so right!
I swallowed the lump in my throat. "What do you guys talk about?"
He shrugged. "Dumb stuff like how Stu's doing, Viera's dolls, my spelling  tests, the time you got kicked out of my jujitsu match—"
I shot a glare at Colby when she snorted behind her hand.
"Oh, and how I pray every night for you and Aunt Colby to get married so we can be a family again."
Colby froze.
If you love Life as We Know It, you'll love this book!  Let it be known that I have been obsessed with Josh Duhamel since he got his start on AMC forever and a day ago haha.  And while that is one of my favorite movies, this book surpassed it!  I feel soooo guilty saying this and I'm sorry Josh, but this book owned me!  I had giddy laughter with Banks.  The jealousy with both Colby and Rip was everything!  Secrets came out that left me reading even faster.  And the times that Rip and Colby learned to work together and looked like a true family was breathtaking and heartwarming.  I didn't even get to talk about the kids but they were my favorite kids in a book EVER! The Godparent Trap was filled with happiness, heartache, struggles, sacrifice, love and I loved every minute of it!  I can't recommend this book enough!
"You'll pay for that," he said under his breath.
"Promise?" I called over my shoulder.
His eyes burned into mine.
It was our perfect moment, the one that defined the rest of our lives, I felt it in my soul.
PS I was curious how many times I cried, because I take notes while reading, and it was 15!  I laughed soooo many more times than that, but oh my gosh, see?!  This book definitely owned me!
*I voluntarily read and reviewed an advanced copy of this book, provided by the publisher. All thoughts and opinions are my own.*
Related Posts