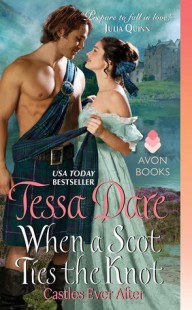 When a Scot Ties the Knot
(
Castels Ever After #3
)
by
Tessa Dare
Purchase on:
Amazon
, 
iBooks
Add to:
Goodreads
Synopsis:

On the cusp of her first London season, Miss Madeline Gracechurch was shyly pretty and talented with a drawing pencil, but hopelessly awkward with gentlemen. She was certain to be a dismal failure on the London marriage mart. So Maddie did what generations of shy, awkward young ladies have done: she invented a sweetheart.

A Scottish sweetheart. One who was handsome and honorable and devoted to her, but conveniently never around. Maddie poured her heart into writing the imaginary Captain MacKenzie letter after letter … and by pretending to be devastated when he was (not really) killed in battle, she managed to avoid the pressures of London society entirely.

Until years later, when this kilted Highland lover of her imaginings shows up in the flesh. The real Captain Logan MacKenzie arrives on her doorstep—handsome as anything, but not entirely honorable. He's wounded, jaded, in possession of her letters… and ready to make good on every promise Maddie never expected to keep


June 20, 1843
"My dear, silent friend,
It breaks my heart, but I have to do it. I must. I can't bear the guilt any longer. There's only one way to end this now.
You have to die."
*burst of laughing* I promise, I'm not a psycho. Trust me.
It's been a while since my last Historical Romance – actually, I can say exactly since when I've started to get away from this genre : when I read this piece of absolute crap that's Once & Always, which combined romanticizing of abuse in all its forms. Trust me, I got turned off. So, yes. Some historical – and contemporary romances, for that matter – promote awful behaviors that are everything but love. This being said, shame on me to have painted all of historical romances with one brush : what Tessa Dare offers us is often all kinds of awesome.
☑ Her heroines are hilarious, unconventional, strong-minded, and on the good side of quirky, that is to say, funny without being plain annoying, a little odd, but still relatable. Maddie is no exception to the rule : as shy and weird she can appear at first, I challenge you to dislike her. Really. #Team Maddie.
☑ She creates non-raging male-leads who are sexy, sarcastic, driven but never violent or abusive : if Colin (A Week to Be Wicked) and Ransom (Romancing the Duke) stay my favorites, Logan earn his stripes in my heart with his quick mind and his loyalty. I would say his kilt made the difference, but erm – that would be lying. I'm not really into Highlanders and all these Scottish guys, but if you are, you're gonna love him. Don't expect to meet a perfect man, though : he blackmails her into marriage, for Pete sake. Keep this in mind. I can only promise you that he's no asshole. No, really. Believe me.
☑ The storylines are over the top, flirting with total madness and never really believable, but I can't manage to care, because it's never boring.
☑ The writing, addictive and hilarious, puts her books in the "Do Not Read In Public" box, even more if you own the paperbacks (can someone do something about these covers? Please? It's like they've been created to give ereaders a purpose or something).
☑ The sex scenes are hot and the chemistry is always off the charts.
So. When a Scot Ties the Knot? Think all that and more :
+ bromance & loyalty : I love these soldiers
+ lobsters (sex tips)
+ drawings of nails (yes, that counts)
+ the Scottish version of the Naked Man (in a loch, no less!)
"
You strip down to your skin, and then you have a dip in the loch. Wait until she comes looking for you. Because she will. They always do. But pretend not to notice when she does. And then – just when she's close enough to see and she's been watching for a while, you rise up out of the water. Like a dolphin. Or a mermaid. Shooting up through the mist and pushing your hair back with both hands" – Rabbie thrust both hands through his hair to demonstrate – "with all the little beads of water trickling down over the ridges of your shoulders and chest". He danced his fingers down his belly. "Like so."
+ an unforgettable poem *dies of laughing*
► BOTTOM LINE : Even though it's not my favorite from Tessa Dare, and that as always insta-lust is never far (but no such thing as instalove, I swear), When a Scot Ties the Knot managed to get me out of my reading slump (nearly 5 books started yesterday, yikes) and offered me several hours of pure enjoyment. What are you waiting for?