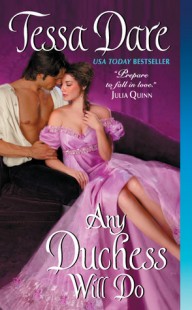 Any Duchess Will Do
(
Spindle Cove #4
)
by
Tessa Dare
Purchase on:
Amazon
, 
iBooks
, 
Book Depository
Add to:
Goodreads
Synopsis:

What's a duke to do, when the girl who's perfectly wrong becomes the woman he can't live without?

Griffin York, the Duke of Halford, has no desire to wed this season--or any season--but his diabolical mother abducts him to "Spinster Cove" and insists he select a bride from the ladies in residence. Griff decides to teach her a lesson that will end the marriage debate forever. He chooses the serving girl.

Overworked and struggling, Pauline Simms doesn't dream about dukes. All she wants is to hang up her barmaid apron and open a bookshop. That dream becomes a possibility when an arrogant, sinfully attractive duke offers her a small fortune for a week's employment. Her duties are simple: submit to his mother's "duchess training"...and fail miserably.

But in London, Pauline isn't a miserable failure. She's a brave, quick-witted, beguiling failure--a woman who ignites Griff's desire and soothes the darkness in his soul. Keeping Pauline by his side won't be easy. Even if Society could accept a serving girl duchess--can a roguish duke convince a serving girl to trust him with her heart?
Once upon a time I read a book from Tessa Dare and rated it 2.5 stars…
Although it started so good …
✔ The beginning was freaking hilarious : During the first 30%, I was ready to crown Tessa Dare as the most awesome HR author of the world. Just have a peek at the text I sent Chelsea :

Oh, LL = Lauren Layne, of course!
✔ Let's meet our strong heroine : To be frank, Pauline won me from the very beginning, at this point exactly :
"It was hers now, wasn't it? She'd paid for the contents. "For example, everyone knows I'm incurably clumsy."
"Pauline," Sally warned. "Please don't"
Too late. With an angry heave, she launched the bin's contents into the air."
Impulsive and proud? That's my girl.
✔ Give me some broody male-lead : I'm going to repeat myself (I might be a parrot after all), but during the first 30%, I fell in love with this lonely duke and his interactions with Pauline. That was funny, snarky, inappropriate, deliciously adorable.
"It was nothing."
The only manly reply, naturally. In truth, he suspected he'd pulled a muscle somewhere between vaulting the sofa and playing Jack Be Nimble with the ottoman …"
… So bad it didn't last …
✘ I'm sorry, but I was kind of bored at some point. Yeah. When I start eyeing the percentages on my reader every five minutes, that's generally not a good sign. Sigh.
✘ The romance didn't work so much for me : Now, here's my main complain. Let's face it, that's an historical romance, that is to say, the whole point is … the romance. Overall, except from the first 30%,
again
, I didn't feel the spark I loved between Colin and Minerva in A Week to be Wicked.
✘ Unconvincing twists plot spoilt my read : I can deal with unbelievable twists, I mean, hey, I loved A Week to be Wicked and we deal with a ridiculous kidnapping attempt there, but here I found myself strangely careless of the explanations given to explain Griff's behavior. I wasn't convinced.
✘✔ Why, hello, strangely tolerant Duchess : Now, here, I don't know if I'm supposed to be thankful for her open-mindedness or be annoyed by the fact that it's utterly unbelievable for a Regency Duchess. Let's call it even, okay?
"Oh. I see. So your grace never curses."
"I do not."
"Words like cor … bollocks … damn … devil … blast … bloody hell …" She pronounced the words with relish, warming to her task. "They don't cross a duchess's lips?"
"No."
"Never?"
"Never."
Overall, I can't deny my disappointment and that's what decided me to rate it only 2.5 stars. Indeed I enjoyed it far less than Colin and Minerva's story. However, I have trusted Tessa Dare to offer me historical romance both steamy and hilarious – what I found in Romancing the Duke and A Week to be Wicked – and I still do.


Related Posts