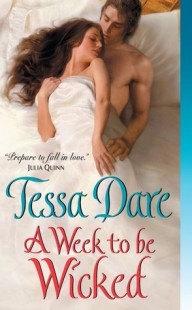 A Week to be Wicked
(
Spindle Cove #2
)
by
Tessa Dare
Purchase on:
Amazon
, 
iBooks
Add to:
Goodreads
Synopsis:

When a devilish lord and a bluestocking set off on the road to ruin...time is not on their side.

Minerva Highwood, one of Spindle Cove's confirmed spinsters, needs to be in Scotland.

Colin Sandhurst, Lord Payne, a rake of the first order, needs to be...anywhere but Spindle Cove.

These unlikely partners have one week to

• fake an elopement
• convince family and friends they're in "love"
• outrun armed robbers
• survive their worst nightmares
• travel four hundred miles without killing each other

All while sharing a very small carriage by day and an even smaller bed by night.

What they don't have time for is their growing attraction. Much less wild passion. And heaven forbid they spend precious hours baring their hearts and souls.

Suddenly one week seems like exactly enough time to find a world of trouble. And maybe...just maybe...love.
"When a girl trudged through the rain at midnight to knock at the Devil's door, the Devil should at least have the depravity – if not the decency – to answer."
Guys. Guuuuuys. I think I may be a romantic.
Yes there are parts completely unbelievable and twists rather roll-eyes worthy – of course. But you know what? That's okay, because what Min and Colin are offering us? That's a tale – a show of deception, the triumph of the lies – and that's hilarious.
Yes the plot is predictable and we run into some sentences very cliché sometimes. But you know what? There's also several damn hot scenes and if Colin's personality has been already seen in other novels, well, he's fucking awesome in this role of the sarcastic, infuriating, devilish, and somehow delusional Lord. As for Minerva, well, she's pretty amazing. Moreover, the scientific similes of Minerva and Colin completely cracked me up.
"I've always thought that word sounded splendidly naughty." He let it roll off his tongue with ribald inflection. "Logarithm." He gave an exaggerated shiver. "Ooh. Yes and thank you and may I have some more

."
Plus I have a theory about the clichés we find in this story. Yeah, I know, I'm not some investigator. Perhaps I'm delusional. But still. I'm almost sure that Tessa Dare plays consciously with the clichés she includes. Why? Because when a reaction or a sentence seems dripping with cheese, that's always followed by something which makes fool of it.
Colin is being completely overdramatic?
→ Miranda hurries to call him on his shit.
Colin wants to offer Minerva his ring as a sign of love?
→ The ring stays stuck on his finger. A long time.
"You taste of ripe plums."
She couldn't help it. She laughed. "Now that's just absurd."
"Why?"
"Because it's too early in the year for ripe plums."
See? I could add some examples but then, I'd spoilt the story too much. Maybe I'm wrong, I'm just a random reader after all, but it pleases me to think that Tessa Dare is able to do that. I guess you'll have to make your own opinion about it.
"My name is Minerva. I'm not your pet. And you're deranged if you think I'd ever marry you."
"But I thought you just said – "
"Run away with you, yes. Marry you?" She made an incredulous noise in her throat.
"Please" .
Yes it awfully looks like instalove. Yep. Because there's no denying that falling in love in a week is instalove. But then, I strangely didn't care that much, as I saw this book as a fairy tale. A wicked and silly journey into the foolish heart of mine. And you know what? A day after finishing my read I can still feel the butterflies.
"But now that he was seized with lust for her, she ought to at least reciprocate with a grudging-yet-helpless infatuation. So much would only be polite."
Yes the pacing is uneven and the story kind of drag towards the end. But you know what? I must confess that I wanted my HEA. I was shipping Colin and Minerva like crazy and despite the fact that Colin's transformation can lead to awkward moments, well, I was smiling so big it hurts. Right. I think I may be a romantic after all. Don't tell anyone.
In a nutshell : Here's a somehow predictable romance book, where we find characters who fall in love pretty quickly, whose comments are sometimes a bit cheesy, and where some situations will make you roll your eyes something fierce, yet it was a page-turner and I laughed and
giggled – GIGGLED so much I just can't rate it below 3.5, and I'm rounding it at 4. Not to mention the steamy scenes. Did I talk about that? Yeah?
As guilty I can feel about that, it was a complete enjoyment. Damn. I'm ruined.
Related Posts