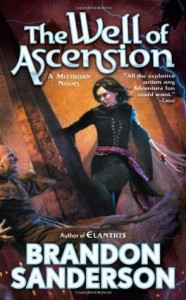 The Well of Ascension
(
Mistborn #2
)
by
Brandon Sanderson
Purchase on:
Amazon
, 
iBooks
Add to:
Goodreads
Synopsis:

They did the impossible, deposing the godlike being whose brutal rule had lasted a thousand years. Now Vin, the street urchin who has grown into the most powerful Mistborn in the land, and Elend Venture, the idealistic young nobleman who loves her, must build a healthy new society in the ashes of an empire.

They have barely begun when three separate armies attack. As the siege tightens, an ancient legend seems to offer a glimmer of hope. But even if it really exists, no one knows where to find the Well of Ascension or what manner of power it bestows.

It may just be that killing the Lord Ruler was the easy part. Surviving the aftermath of his fall is going to be the real challenge.
Vin frowned, then glanced at Elend. He seemed…distracted. "I don't like her," she said.
Elend smiled, stacking up the books on his table. "You don't like anyone when you first meet them, Vin."
"I liked you."
"Thereby demonstrating that you are a terrible judge of character."

Weeeellll peeps, it's official. I am in love with Brandon Sanderson. It isn't simply because he has some of the most unforgiving battle scenes ever, and it isn't because his books make me laugh more than they probably should, though those are great big bonuses-humor in such a long story is so refreshing, don't you think? No, I love Sanderson because, despite how many characters we have to follow throughout the whole story, he makes me fall in love with all of them. Not just the good guys or the middle guys or the sidekicks-I fall in love with those characters you can't be sure are loyal or that are bound to betray you. I fall in love with each and every moment all these mismatched friends share. And, most importantly, I fall in love with the stories he weaves.
Ham turned back, still smiling. "You make it sound so desperate, El."
Elend looked over at him. "The Assembly is a mess, a half-dozen warlords with superior armies are breathing down my neck, barely a month passes without someone sending assassins to kill me, and the woman I love is slowly driving me insane."
Vin snorted at this last part.
Again, I get so nervous every time I pick up a fantasy novel. I repeat it so much that it has to be annoying, but I just am so picky about what I read-especially with fantasy. So, while I adored the last book (I gave it a 4), I still didn't label it as a favorite. Why? Well, it's simple-I was a tad overwhelmed. It's a lot to take in when you never really read anything this long or complex. There was a lot to learn and a lot of people to keep track of-and, simply, I'm a newb. I don't read this stuff often because I do like a simpler story-sue me. But, even with all the difficulty of the first, I found so many things to love and obsess over: Elend, for instance. Vin. Elend and Vin. They were absolutely precious together. And then there was Kelsier and Breeze and Spook. I loved them all. I loved the action and the bonding scenes-it was a stupendous story.
But in this book? Oh yeah. There was literally nothing I couldn't handle. I knew it all, ya know?? So, instead of all that learning and world-building, we got a full-fledged story!! I was ecstatic. It started out with a bang-Vin in the mists doing what she does best. But even better than that??? Elend. Elend on every freaking page-if not physically, then spiritually when they would mention him and his plans for the kingdom. Did I mention my dear, dear Elend was King?? Well, he is. And that's one of the best parts of this story-it's so flawed!! Or, at least, the characters are.
"But you had others before her," Spook said. "Noble girls."
"A couple," Elend admitted.
"Though Vin has a habit of killing off her competition," Ham quipped.
Elend laughed. "Now, see, she only did that once. And I think Shan deserved it-she was, after all, trying to assassinate me at the time." He looked down fondly, eyeing Vin. "Though, I do have to admit, Vin is a bit hard on other women. With her around, everybody else looks bland by comparison."
Elend is still, as ever, in love with Vin. But he also has a kingdom to watch over and keep from being taken over. Such a huge task for someone who is so pure, so good. And here is the problem: Elend is so invested in making a fair government, he doesn't see or, presumably, care. He wants to be good to his people. He doesn't want to be a dictator like the Lord Ruler and oppress his people like that evil man did. But there's a fine line, and we get to see his journey throughout the book on whether it's worth becoming a man he doesn't want to be so he can keep his crown or whether his wits and cunning can keep his kingdom safe-but possibly lose his rule for doing the right and fair thing.
"My dear man," Breeze noted. "When you told us you needed to 'go and gather a few important references,' you might have warned us that you were planning to be gone for two full hours."
"Yes, well," Elend said, "I kind of lost track of time…"
"For two hours?"
Elend nodded sheepishly. "There were books involved."
Elend is a character I could go on and on and on about. He's sweet, kind, caring, and would do anything for Vin-and his kingdom. And that's why he's such an amazing and loyal character. He's shy and unsure of himself, he doesn't see how Vin could love a man like him when they are so different-And here is another plot I'll mention later. But, with Vin by his side, he brings all the con-men into his inner circle and together they strategize and try to do what's best for the kingdom….it's quite hilarious to see all these completely different men try to figure out a cohesive way to mix all their ideas together.
"Do you know what I hate, kandra?" she whispered, falling to a crouch, checking her knives and metals.
"No, Mistress."
She turned, meeting OreSeur's eyes. "I hate being afraid."
And then, Vin. Wonderful, un-trusting, insecure little Vin. She is their Mistborn now, so she watches over Elend and the welfare of the kingdom. She works herself to the bone because she knows if she slips up even once, Elend will be killed and it will be all her fault. Except it won't…but she feels that way. And more often than not, lately, she has been experiencing doubts about her and Elend. He's too good for her, he'd never be happy with someone so different….and she couldn't be more wrong. He adores her and would never abandon her like everyone else in her life has before-but it doesn't stop her from being terrified about such things, anyway. See the problem, though? They both are on that same path, worrying that they aren't good (or good enough) for each other….let the misconceptions commence.
The study's small ventilation window bumped open, and Vin squeezed through, pulling in a puff of mist behind her. She closed the window, then surveyed the room.
"More?" She asked incredulously. "You found more books?"
"Of course," Elend said.
"How many of those things have people written?" she asked with exasperation.
Elend opened his mouth, then paused as he saw the twinkle in her eye. Finally, he just sighed. "You're hopeless," he said, turning back to his letters.
And now there are new threats to the city-someone, presumably another Mistborn, is following her. At every turn she senses a dark figure standing menacingly above her on the rooftops, but he never makes a move. And every time she tries to chase him, she loses him. There are worse things, though. Now the mists are spreading into the daytime, seeping out from the night. And, more than that, the mists are producing palpable shapes that resemble something…sinister. And Vin feels it. When she attacks one, it numbs her arm causing shock she never could have imagined…and to top it all off?? Two armies are waiting outside the gates ready to attack the city, steal the throne…..and execute Elend. Poor Vin. Oh!! And did I mention a spy has infiltrated their inner circle?? But there's no way to know who….
So, to say this book was amazing and tremulous and action-packed would be an understatement-in fact, this book is an understatement. Let me explain-It all unfolds so beautifully, so simply. Every little plot twist builds and builds, both out in the mist with Vin and inside the inner circle with Elend. While it's quiet and strategic with our dear King, things are hectic running around with Vin. Even when we could get bored, we don't. Sanderson switches, and mixes, Elend and Vin's problems so seamlessly that you can't get bored. Or I didn't, at least. And then it all comes to a head. It's all that simple. We wait, we wait, we see, we see, and then mix the potion a little and BAM! We have a wonderful 5 star story!!
"And our differences?" Elend asked.
"At first glance, the key and the lock it fits may seem very different," Sazed said. "Different in shape, different in function, different in design. The man who looks at them without knowledge of their true nature might think them opposites, for one is meant to open, and the other to keep closed. Yet, upon closer examination, he might see that without one, the other becomes useless. The wise man then sees that both lock and key were created for the same purpose."
I didn't skim. I wasn't bored for even a moment. And this heartbreaking tale tore my heart out more than once. I cried so hard near the end it bordered on hysteria. I didn't think 'ol Sanderson had it in him, frankly. Betrayals and lies, friendship and love, we see this hodge-podge group fight their hardest battle yet-they just thought things were difficult with the Lord Ruler. I am so nervous for book three because there is no way I will come out of this without more than a few tears…but when that time comes, I'll have to be strong. That's all there is to it.
***************************
GOD DAMN IT, SANDERSON. THAT WAS NOT FUCKING FUNNY.
Review to come