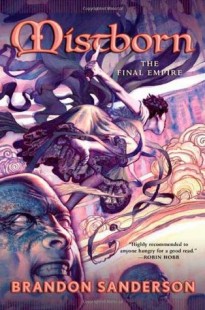 Mistborn : The Final Empire
(
Mistborn #1
)
by
Brandon Sanderson
Purchase on:
Amazon
, 
iBooks
Add to:
Goodreads
Synopsis:

In a world where ash falls from the sky, and mist dominates the night, an evil cloaks the land and stifles all life. The future of the empire rests on the shoulders of a troublemaker and his young apprentice. Together, can they fill the world with color once more?

In Brandon Sanderson's intriguing tale of love, loss, despair and hope, a new kind of magic enters the stage - Allomancy, a magic of the metals.
Because let's face it, this book is basically a book version of a RPG game.
Thanks so much to my Indy Kitty Cat Chelsea and my French fellow Lucy for reading it with me. That was such a commitment 😉
Warning : if you think that my review is kind of useless, don't worry, you're probably right. However, as there is a large amount of great reviews out there, I'm not going to feel guilty about it.
Main Quest : Save the world of course, what do you think?
We have our regular high-fantasy here :
– a world ruled by a tyrant? ✔
– a magic system? ✔
– a master and his apprentice? ✔
– a quest to fulfill? ✔
Truth to be told, there's so much to love I can completely understand why these books are so highly rated. Really. However, I feel the need to temper my enthusiasm. Yes, that's a good plot. Now, is it incredible and never seen in high-fantasy? I don't think so. That's good, very good, but still, I'm waiting to be mind-blown, to get the overwhelming feelings that Robin Hobb's books offer me. I don't know. Of course I was wide-eyed and enthralled at some point, I can't deny it. But still – perhaps I'm harsh, but I'm waiting for a better immersion in this world, as even if I find the concepts interesting, they're aren't fully developed in my opinion.
Now, the magic system and the world-building are basically a book version of a RPG game. How could I not love this, how? I mean, I was consciously thinking about the play control I would use to Push and Pull in a game (I think L2 Pull and L1 Push would be great). And the use of smoothing looks awfully like Speechcraft. Aka, for Morrowind noobs, the ability to intimidate/admire/taunt people we meet to get what we want.
Additional information : as in Morrowind, we can read books within the book which allow us to have a look at the world's inhabitants beliefs sometimes, and it contributes to challenge the game book experience.
Can I have this game? Yeah?
Well, the map seems really large, but unfortunately we don't get the opportunity to visit it, as we're stuck in Luthader for the most part. That's why I hope the extensions and other DLC sequel will let us fully discover this world.
Vin is a strong heroine who learns to like going to balls, and it makes her way more relatable than if she was only our regular magic fighter. What I appreciated the most was the fact she didn't trust anyone at first and was still willing to learn what exactly friendship was. Now, her characterization isn't that great, because she seems to succeed in everything she does. Of course I liked her – but let's face it, until now, she's special, she's the One, she is our fantasy world savior. In any case, I must admit that I'm eager to see how her personality evolves in the sequel.
Kelsier is awesome in his anti-hero way, as there is no depth to which he will not sink to succeed their rebellion. Not a knight, a crewleader. Not a parangon of altruism, but selfish, and then, so more believable. As for the other members of his crew, they've all something to contribute to the story and I was pleased to see that the secondary characters' characterization was not lacking of substance.
And there's Elend. Well, I can't even explain why I liked him from his first apparition. I just did. And even if I can rationalize my attraction in saying that he reads, that his comments are slightly sarcastic as I love my male-leads, that he's an idealist who thinks that words are the most potent weapons, that he offered me my biggest laughter … I won't lie to you, at first, there's no reason why I love him. Except, somehow, I do. Go figure.
Since I read and loved Legion series by Sanderson, I had to be prepared but somehow you never really are, you know? I'm not going to state how perfect this book is because you know – it isn't. However, the fact is, this book was just so damn entertaining. That's true the pacing was slow at first, but then, that's quite average for a high-fantasy book. I mean, hey, world-building people. By the way, I found it way faster paced from 35% to the end.
Would I recommend this book? Sure I would.
Related Posts