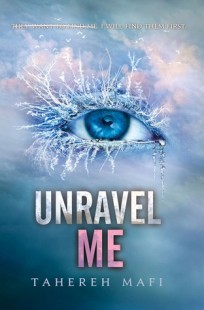 Unravel Me
(
Shatter Me #2
)
by
Tahereh Mafi
Purchase on:
Amazon
, 
iBooks
, 
Book Depository
Add to:
Goodreads
Synopsis:

tick
tick
tick
tick
tick
it's almost
time for war.

Juliette has escaped to Omega Point. It is a place for people like her—people with gifts—and it is also the headquarters of the rebel resistance.

She's finally free from The Reestablishment, free from their plan to use her as a weapon, and free to love Adam. But Juliette will never be free from her lethal touch.

Or from Warner, who wants Juliette more than she ever thought possible.

In this exhilarating sequel to Shatter Me, Juliette has to make life-changing decisions between what she wants and what she thinks is right. Decisions that might involve choosing between her heart—and Adam's life.
Review:
What was once an inquisitive story that I was enthralled with, turned into something that was frustratingly difficult to finish. I'm still in shock that I went from not being able to put the book down, to forcing myself to pick it back up. My problem with Unravel Me began when some of the characters started to change. Their demeanor became foreign and honestly, I stopped caring for them. They weren't who I knew and loved. I could no longer understand or connect to them. They turned into strangers, and I am saddened over how they were altered.
You know how your favorite books feel as though the characters are real and that they are the ones driving the book forward? Each and every choice or action, whether you agree or not, are theirs and they own it. THIS was one of the many things I loved about Shatter Me. Adam, Juliette and Warner were each distinct and their decisions felt real. But somewhere during the pages of Unravel Me, that all changed. It felt as though the characters were transformed to MAKE the story lead in a certain direction. And I can't be OK with that. I LOVED Adam, and he became someone I disliked. He became angry, distant and desperate. My heart hurt watching him morph into a man I didn't even recognize. And Juliette became someone who was indecisive and wouldn't stop toying with others emotions. She would throw Adam away only to reel him back in part way and then throw him back out all over again. I started to dislike Juliette. Maybe even hate. And Warner was such an amazing villain. He was dark, twisted and someone I loved to hate. But he became the misunderstood one. The one whose past is so horrible, that he just needs love and his secret actions are meant to warm your heart. I. Just. Can't.
So it's safe to say, I will not be continuing on with this series.