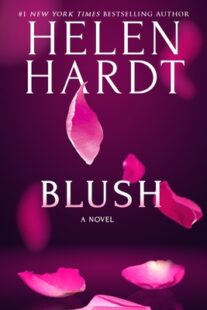 Blush
(
Black Rose #1
)
by
Helen Hardt
Purchase on:
Amazon
, 
iBooks
Add to:
Goodreads
Synopsis:

What he wants from you will make you…Blush

Amanda Thomas is hopelessly in love with Jackson Paris, but he will never see her as anything more than his sweet and innocent bestie. After being virgin-adjacent for too long, Mandy is officially ready to move on. She wants to learn about hot, dirty sex, so she joins an online dating app where the enigmatic Mr. Dark promises to fulfill all of her wicked fantasies...

Jackson Paris has been keeping secrets from his stunning, too-innocent best friend―like forbidden sexual proclivities and his membership at the exclusive Black Rose Underground club. But Mandy has decided she needs an education―the filthy kind. As Mr. Dark, Jackson can safely give her a taste of what she wants―and deter her from pursuing more―without revealing his identity.

But in the dim, provocative atmosphere of Black Rose Underground, there are no secrets. Here, every wicked appetite is satisfied. And for the first time, Mandy will discover who her best friend really is...just in time to shock him with a secret of her own.
Review:
Blush was an extremely seductive friends to lovers romance.  Amanda Thomas had been in love with her best friend Jackson Paris for forever.  With her sister getting married, Amanda was ready to change her life around.  I was so excited for Mandy's journey and for when Jackson would lead her into his world.  Yet I never found a connection to Mandy, Jackson or their romance.  The friends to lovers had all of the angst from Jackson, since he didn't want to corrupt what they had.  Or what he perceived was her innocence, even though Mandy was completely ready to go all in!  So while there was a lot of push and pull, it wrapped up nicely with a one month look down the road and a happily for now.  While the sex was erotic and the embodiment of empowering woman and their sexuality was shown, the nickname Jackson gave Mandy didn't work for me at all.  But so many other people fell head over heels in love with this book!  So if you're looking for an erotica that is friends to lovers, Blush may just be the book for you!
She's going to be the undoing of me.
And it dawns on me.
I'm not afraid that she won't like my dark side.
I'm afraid that she will.
*I voluntarily read and reviewed an advanced copy of this publisher, provided by the author. All thoughts and opinions are my own.*