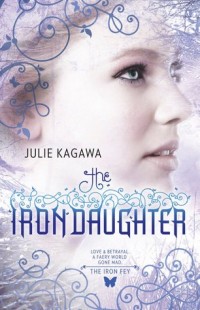 The Iron Daughter
(
The Iron Fey #2
)
by
Julie Kagawa
Purchase on:
Amazon
, 
iBooks
, 
Book Depository
Add to:
Goodreads
Synopsis:

Half Summer faery princess, half human, Meghan has never fit in anywhere. Deserted by the Winter prince she thought loved her, she is prisoner to the Winter faery queen. As war looms between Summer and Winter, Meghan knows that the real danger comes from the Iron fey—ironbound faeries that only she and her absent prince have seen. But no one believes her.

Worse, Meghan's own fey powers have been cut off. She's stuck in Faery with only her wits for help. Trusting anyone would be foolish. Trusting a seeming traitor could be deadly. But even as she grows a backbone of iron, Meghan can't help but hear the whispers of longing in her all-too-human heart.
Review:
I have fallen in love with The Iron Fey! I was swept away in the story and found myself becoming even more attached to Meghan and Ash and what the future had in store for them.
No matter how much I wanted a normal life, there would be a part of me that longed for this world, for the magic and wonder of it. It had seeped into my soul and shown me things I'd never thought existed. I couldn't be normal and ignorant ever again, knowing what was out there.
Meghan has honored her end of the bargain and followed Ash to the Unseely court. She is now being held as a prisoner by Queen Mab while Ash is out searching their territory for the supposed Iron Fey. Meghan's world gets turned upside down when Ash returns. The man she loves treats her as though she doesn't even deserve the ability to look at him let alone speak to him. With each hurtful remark and cold stare Meghan's heart breaks more and more. From here the story becomes even more captivating! I do not want to go into the book further than this but I'm happy to say that I had a hunch where the story was going to go from here and I was thrilled it panned out how I thought it would!
Even if I turned ninety, lost my mind and forgot everything else, the memory of the Winter prince would be a shining beacon that would never fade.
I love Meghan so much. She is strong, determined, and fierce. At the same time, she is alarmed by everything that is going on around her – whether it is the creatures that Mab is tormenting for ages or her concern if Puck will ever come back to her or her fear on whether Ash can break the stronghold the Iron Queen has on him. Her decisions and actions are admirable and I loved being in her head! There was only one part where I wanted to shake herView Spoiler »When she kissed Puck back and talked about how her stomach fluttered when he walked into a room I kept thinking really, REALLY?! It's Puck for pete's sake, come on! No one and I mean no one in her worlds can compete with Ash. « Hide Spoiler, but I'm going to blame that madness on all of the stress she was under.
View Spoiler »Ash – From the moment you stepped into the Nevernever, you've been my undoing. « Hide Spoiler
I love, love, love Ash. We get to fully understand the court he came from and why he is the way he is, which is heartbreaking. His struggle to become more than what the law states he is allowed to be seems even more dire now than ever before. Even when he was being the world's biggest douche, my loyalty to him never faltered because I kept holding out hope that he would eventually let Meghan in all the way.
View Spoiler »There was nothing sweet or gentle in our last kiss; it was filled with sorrow and desperation, of the bitter knowledge that we could've had something perfect, but it just wasn't meant to be. « Hide Spoiler
The end of this book was everything I wanted it to be! It was honestly ridiculous how emotional I was over the last 8 pages of this book! This series just keeps getting better and better!
Related Posts