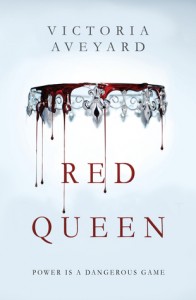 Red Queen
(
Red Queen #1
)
by
Victoria Aveyard
Purchase on:
Amazon
, 
iBooks
, 
Book Depository
Add to:
Goodreads
Synopsis:

The poverty stricken Reds are commoners, living under the rule of the Silvers, elite warriors with god-like powers.

To Mare Barrow, a 17-year-old Red girl from The Stilts, it looks like nothing will ever change.

Mare finds herself working in the Silver Palace, at the centre of
those she hates the most. She quickly discovers that, despite her red blood, she possesses a deadly power of her own. One that threatens to destroy Silver control.

But power is a dangerous game. And in this world divided by blood, who will win?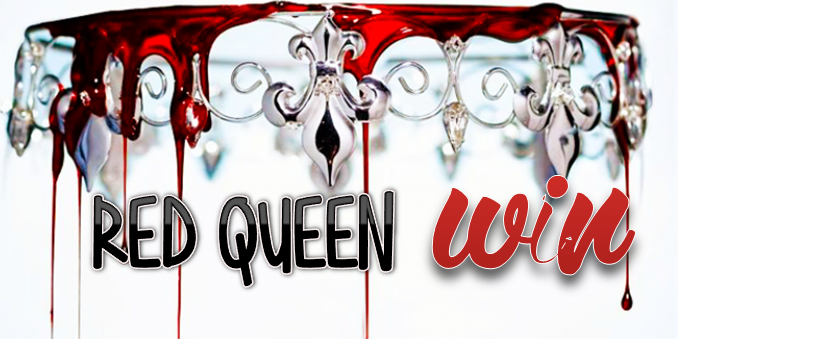 Anyone can betray anyone 
As I sit here and stew over what I should rate this, I am faced with many indisputable facts: I can't say it's original, because it isn't. I don't know what it's comparable to and I don't even know if it's truly that great of a book. In all reality, I didn't fall for this book for quite a while. I can't even decide what an appropriate rating is. Hell, I didn't even like Mare that much-at least until the end, that is. But even faced with all these convoluted facts, one thing was consistent from the beginning:
Cal.
Cal Cal Cal Cal Callllll….Every time, even from the beginning, when he was around I had so many feels I was choking on them-Okay, okay-the choking feels began around the middle of the book (You'll see why) and then near the end they consumed me. So….I'm torn. And this doesn't happen often. The end was explosive and Cal stole my heart-but I didn't become fully engrossed until the middle. So I am faced with my fickle ways-shaky beginning (though, I was in a dark place for the first 30%, so maybe that effected my enjoyment?), heart-stopping boy, and a truly astonishing and epic end, leaving me to focus on what made me the happiest-the end and a boy…doesn't it always begin and end with a boy?
The world is Silver, but it is also gray. There is no black-and-white.
So, I guess it's time to talk about the bad. I'd rather get the nasty out of the way first…if you please. As I started this story, I had a hard time, hmm, connecting? And it wasn't because it was boring, nor was it slow…it was more that I had a hard time seeing why this was so popular. I think the biggest fault in highly anticipated books is the hype. Hype can be a magnificent thing-creating excitement and nervous energy about a big up and coming author/book. But there's also a darker side to hype-I like to not so subtly call that twisted, evil twin the 'hype monster'. Soooo original, yeah? But it's also true: Had no one said a word about this story to me, and I had found it all on my own or through word of mouth by a close friend, I wouldn't have thought twice about the unoriginal beginning of this book-because there was also that. I felt like I was reading another book, and I'm not sure what, but it put a not-often-found sour taste in my mouth at the beginning of the story. Near 30%, after my aforementioned dour mood (Hmmmm ironic), I started to find more and more enjoyment with each passing page. Oooh, orrrr, errrrr, hmm…that might be because we started seeing more and more of Cal…but that's neither here nor there!
"You better hide that heart of yours, [Mare] Lady Titanos. It won't lead you anywhere you want to go."
And Mare. I think she's a two-part explanation. I like her….and I also disliked her, quite a lot. It came and went in spurts. In the beginning, she was pretty uninteresting and a lot repetitive-side note-she stays repetitive-but I never….hated her. Near the end? I wanted to PUNCH her at one point-ACT SMARTER, BE SMARTER, SHOW THOSE DECEPTIVE SKILLS YOU THINK YOU SO HEARTILY POSSESS-but then she surprised me with her ferocity, in the end, and I felt a sort of awe and respect blossoming. In short? I have high hopes for Mare. And Maven…I won't even go there…because…no. Not worth it. He will never be as good as Cal. End. Of. Story.
They've pulled me inside out, swapping Mare for Mareena, a thief for a crown, rags for silk, Red for Silver. This morning I was a servant, tonight I'm a princess. How much more will change? What else will I lose?
But here we are-there was just so much good. I really can't say I saw it at the beginning, but I had hope, and I was never once negative. Like with many dystopians, it was building up to something greater, something bigger, something life-altering….and that leaves me with the same question it always does when a dystopian doesn't start as fast as I'd like-Was it worth it?
Silvers are different, I remind myself. Their scars don't last. They don't remember pain. With skin healers waiting in the wings, violence has taken on a new meaning for them. A broken spine, a split stomach, it doesn't matter. Someone will always come to fix you. They don't know the meaning of danger or fear or pain. It's only their pride that can truly be hurt.
It's an easy answer: The end justified the means. And it's as simple as that. I had to get through some things. I had to deal with my uncertainty and everything leading up to it, but, in the end, I loved it. And I just decided that. I loved this book. If I were to go back and re-read this, knowing what I know, I would love it even more the second time around. There would be no uncertainty, no doubts-just a good book laying groundwork for something greater. No, it wasn't what I expected and no, I can't help my initial doubts, but it became something I can love and admire-And I am so so happy for that…I hate rating poorly. Oh, and PS, people touting there's a 'huge twist' and 'OMG THAT ENDING' almost always ruin a book for me. See, I have high expectations, perilistically speaking, and I am one that likes to just enjoy, not know that there's something coming-It's much more shocking when you don't know…right? It pisses me off when this shock is taken from me. And with that, people took my shock away-I guessed every twist from the beginning-Thank you, guys, really.
But here is where my praise really comes in-it takes a truly astonishing author to make me sick to my stomach, to gasp, to beg for mercy, to plead and fangirl…even though I saw everything coming a mile away. Yet, that's exactly what I was doing….I was wholly invested when the shit hit the fan, and no one could burst my bubble once we hit the point of no return. That, my friends, is the reason I have upped my rating…it deserves every star for blind-siding me like that-rarely am I so happy with an ending people have played up and that I have guessed. Kudos…really.
As much as I want to stand still, to stop time and let this moment last forever, I know it's not possible. Whatever I might feel or think, Cal is not the prince I'm promised to. More important, he's on the wrong side. He's my enemy. Cal is forbidden.
AND CAL. Ahhhhhhh my lovely Callll! I have found something out recently…not only do I love my dark, brooding, tortured heroes….I also have a thing for soldier boys. So let's just say I was in heaven. But it wasn't just that, naturally. It was his kindness, his big heart, his willingness to help Mare even though he didn't know her from Adam…and then it was his slow fall for his brother's betrothed. Can anyone say forbidden romance?! Not only was she betrothed, to his brother, no less, but he was betrothed, as well. Oh, and did I mention he was a high class silver and she a lowly red??? Just…yum. I love love LOVE this. AGHHHHH. And it never mattered to him-he was always there for her, always saving her, always her warmth….and when it mattered most…he never let her burn (wink wink). His beautiful soul and soft-heart where Mare was concerned touched something deep and fangirlish inside me, and I never want it to end. I just, I could go on and on and on for him. He would do anything for her, and let's just leave it at that. Even though I have much much much much more I could say.
His lips are on mine, hard and warm and pressing. The touch is electrifying, but not like I'm used to. This isn't a spark of destruction but a spark of life.
As much as I want to pull away, I just can't do it. Cal is a cliff, and I throw myself over the edge, not bothering to think of what it could do to us both. One day he'll realize I'm his enemy, and all this will be a far-gone memory. But not yet.
So, you know, this book wasn't without it's faults, but I've never been that type of reader. Yeah, I'm human, I have my rules and things that annoy me. But no matter what, the ultimate question and what matters most, at the end of everything, was if I enjoyed it. And enjoy it, I did. There were faults, there were parts I wish I could have skipped, but I loved it…and that's the only thing that matters in my book. I cannot wait for book two…I'm waiting for you, my fiery Cal. Just…ugh…OBSESSION. It's not all it's cracked up to be.
Related Posts