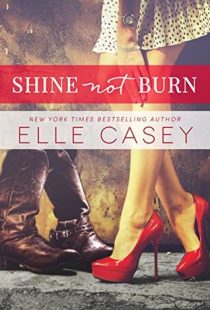 Shine Not Burn
(
Shine Not Burn #1
)
by
Elle Casey
Purchase on:
Amazon
, 
iBooks
, 
Book Depository
Add to:
Goodreads
Synopsis:

Andie Marks, known as "Party Girl" in her college days, is now a whip-smart lawyer on the fast track to success. Determined to move on from a bad break-up, she joins her girlfriends for a wild bachelorette weekend in Las Vegas, promising to let her hair down just this once.

Vegas is a blur of cocktails and blackjack, and in the middle of it all she meets Mack, a real-life cowboy with a winning hand and an irresistible body. They get lucky in the casino and luckier back at the hotel, a hot night of passion that was definitely not part of Andie's life plan.

By dawn Mack is gone and all she has to remember their one-night romance is a hangover and a pile of casino chips. Or so she thinks…
Review:
Holy hot cowboys, I love this book! I laughed A LOT, Mack is sooo sexy, Andie is a hysterical drunk, the chemistry between the two of them is HOT and the story reads as though you are watching a movie. I can't believe I even thought for a second that I didn't want to read Shine Not Burn. Back when this was first released I wasn't a huge fan of romance books. But since I enjoyed some of the author's other books I thought that I'd give it a shot. Now don't get me wrong, I LOVE the buildup, the struggles, the tension, the banter, anything and everything that will make me swoon but I only enjoyed that in paranormal, dystopian or fantasy books. I had never read a romance book that I was addicted to, that I couldn't put down and that I would think about long after I finished the book. Shine Not Burn made me realize that I do love romance books but I just wasn't reading my type of romance books. I'm so happy I gave this book a try for so many reasons!
Screw second thoughts, screw ex-boyfriends who break up by text message, and screw complications. All I wanted was one night of reckless abandon so I could get all this craziness out of my system and go home with a clean slate, ready to kick ass, take names, and get on with my life.
Andie is a lawyer who is her own worst enemy. She is obsessed with her "life plan" that she created when she was in a horrible situation as a child. It helped her get out and make something of herself. Unfortunately, she still lives and breathes it, even though it forces her to stay with loser boyfriends and not have as much time for her friends or anything that would make her truly happy. Andie has to be convinced to go to Las Vegas for her friend's bachelorette party and the start of this journey is where the fun begins!
His beauty combined with his slow-talking cowboy sexiness had completely robbed me of any intelligence. The drinks probably weren't helping.
In Vegas Andie drinks and drinks and drinks and then she runs into Mack. Their interactions made me all giddy and smiley and I kept laughing so hard I cried. Andie is a ridiculously clueless drunk and she reminds me so much of a family member that is sooo smart but when it comes to street smarts welllll heaven help her because she wasn't gifted in that area! Her internal monologues and what pops out of her mouth is hilarious. I loved her voice, I loved her sassiness and I loved how utterly silly she was. BUT my feelings weren't all sunshine and rainbows when it came to Andie. The girl was frustrating with clinging onto her annoying life plan. I wanted to shake some common sense into her again and again and tell her to throw that sucker out the window! Luckily, she had so many endearing qualities that I couldn't help but like her even when she was being an idiot.
I really liked this cowboy. Mack. But I didn't know a single thing about him other than the fact that he doesn't wear any underwear and he's got a big cock-a-doodle doo that he definitely knows how to use. Yee haw.
And Mack….ohh jeez louise that man was hot! He had this ability to say anything and make a smile appear on my face. I loved his loyalty and I loved that he knew exactly what he wanted in life and wasn't afraid to speak his mind. I loved that he was just a good, honest guy which kinda shocks me because usually my favorite type of BBF is jerky-butthead-turned-loving-while-constantly-being-intoxicating. Nonetheless, I completely fell head over heels for Mack. Andie and Mack together? Wow, they were this crazy ball of raw sexual tension, one-way witty banter lol, and reading about their journey made me so, so, so very happy.
He sounded so sincere, it made my heart skip a beat. How could a guy that good in bed and this gorgeous be so nice? Doesn't it defy the very laws of Nature? Maybe he was an evolutionary mutant.
I love a book that can make me laugh again and again. I love a book that makes me giddy and constantly smile. And Shine Not Burn definitely made me laugh and be all giddy and smiley. I'm so happy that I read this book a year ago and that it changed my mind in regards to romance novels. I can't wait to read the sequel for Ian's story!
Reading Order & Links:
Amazon (click on covers) & Book Depository (click on book #)

Shine Not Burn #1
Reviews:
Jen
Chelsea

MacKenzie Fire #2
Reviews:
Jen
Related Posts