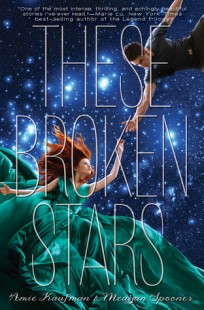 These Broken Stars
(
Starbound #1
)
by
Amie Kaufman
Purchase on:
Amazon
, 
iBooks
Add to:
Goodreads

I'm not even close to the type of girl he'd want, just as I've been signaling at every opportunity that he's the last man in the galaxy I'd want to touch. The only difference is that I was wrong.

Awwww….that was SUCH a good book. And the kicker is that I haven't been able to devote the time to this book that it deserves and I STILL teared up a few times and found myself wishing I had more time to finish it-inevitably, I didn't get to immerse myself fully and that really blows. Imagine if I had had time to really dig into this-I'd have been a mess! This book was heartbreaking, beautiful, both sad and happy, and it was about self-discovery-taking what you want from the world even if it doesn't want you to have it ….I was all over the place with emotions.
"If you die," I whisper, my eyes on his, "then I will too."
I'll make this short and sweet because, guess what? I have ZERO time to write this review lol. Kinda goes with the way I read it, so I guess this seems fitting.
Tarver lifts one hand to touch my face, tracing the curve of my cheek. "Lilac, if something happened to you," he murmurs, "I would be anything but fine."
Lilac is a daughter of privilege-she's the only offspring of the wealthiest man in the galaxy and she is off-limits to men. But with that notion comes a price-she has to put on a front that gives off an heir of haughtiness and frigid means so men won't fall for her or want to approach her-because when men fall for her, bad things tend to follow. Tarver is the youngest decorated war hero in the galaxy-but poor-the son of a teacher with no prestige to speak of, there couldn't be a worse match than he and Lilac-but somehow they cross paths…and everything changes from there.
Lilac Rose LaRoux. Untouchable. Toxic.
———————————————–
"I found out who she was. That it was over before I even said hello."
I had read the blurb when I marked this to read almost a year ago, but upon being asked to read this with one of my buddies, I just started blind. I mean, I wanted to read it, so why bother caring what it was about? Great reviews, good rating, and it looked so pretty! I had no clue what I was getting myself into until I started-I had no idea what this was about, and I think that's what excited me so much when I found out…dun dun duuuunnn-it was about survival. This work of art was a dystopian. Ummm, Yes, please! I LOVED this story! It was about survival, it was a story of first attraction turned to hate, to tolerance, to understanding, to love, to desperation. I can't even begin to explain how adorable Tarver and Lilac's relationship was-I only wish I had been able to read this whole book in less than fifty sittings.
I choose her. I choose whatever world has her in it.
It hindered this mysterious story-line of what-ifs and where are we's and how will we LIVEs?? I mean, sure, at the beginning there was some technical terminology and I had no clue what the hell was going on, but aside from that, this story was exceptional. And the best part is, that was a completely unexpected twist on my part. It's rare I let a friend pick a book that just knocks my socks off, but this was just a completely heartbreaking story I could get behind. Oh, did I mention it was creepy too??
No. No one trained me for this.
————————————————-
For a moment the image before us is frozen: our world, our lives, reduced to a handful of broken stars half lost in uncharted space.
All in all I have very little negative to say about this book. It was fun and witty and heartwarming with plenty of heartbreak to boot. I had thought this to be a series but as it turns out, I was wrong-this can be read as a stand-alone. And I know that people really miss those. To have the power to end this story as is is a tad refreshing, but I feel a tiny twinge of pain that it isn't continuing with Tarver and Lilac….I hate when series start with new couples-don't ask me why because fuck if I know….but also, I hate that I didn't get to enjoy this like I would have wanted. I will revisit this again, hopefully sooner rather than later, and I know that I will enjoy it immensely despite having read it already. To those wondering if you should read it, I'd say yes. It was a fun read with lots to offer for everyone, and I think you'd be missing out immensely on Tarver if you chose to skip this one-fun, original, classy….what's to dislike?
Maybe being rescued isn't my top priority anymore.-Tarver
Related Posts