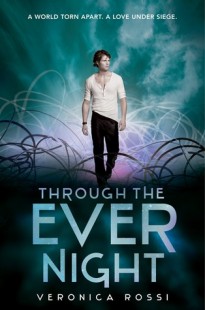 Through the Ever Night
(
Under the Never Sky #2
)
by
Veronica Rossi
Purchase on:
Amazon
, 
iBooks
, 
Book Depository
Add to:
Goodreads

Aria laughed. That was attractive. She smelled like a horse. "Do you ever miss anything?
Perry smiled. "You, all the time."

Wow. Just wow. A heartbeat-quickening, pulse-pounding second installment that completely knocked me off my feet. I immediately started TTEN after finishing the first book and I had no idea what was to come. Boy was I surprised. Romance so sweet it gave me an ache, action that kept me on the edge of my seat the entire time, and the idea that you never know who you should trust-how much more could you ask for???
Perry held her against him. "I missed you," he whispered in her ear. He couldn't hold her close enough. "I should never have let you go. I missed you so much."
In the first installment, we got to experience a relationship unfold from enemies, to reluctant allies, to lovers, but we never really got the chance to see where it could go because their days were numbered and they both knew they had to take separate paths at the end of their journey. In this one, though, Perry and Aria show just how much they adore each other with every look, touch, and secret embrace. I was smiling like a goofball every time they were together and couldn't seem to stop no matter how hard I tried.
Before he could finish, her arms closed around his neck and they were kissing-a clumsy, hasty kiss. They were both breathing too hard. Smiling too much. Perry wanted to slow down and savor everything, but he couldn't find a scrap of patience. He wasn't sure if he started laughing first or if she did.
The magnitude in which Perry has grown to care for her has such an intensity that you can't help but to fall in love with him more and more and root for them to make it as a couple, even if it isn't acceptable in their mixed society. You get drawn in and feel yourself being swept away by their feelings for one another while everything falls apart around them.
She'd been seeking the comfort of a place. Of walls. A roof. A pillow to rest her head on. Now she realized that the people she loved were what gave her life shape, and comfort, and meaning. Perry and Roar were home.
The aether storms are happening frequently and becoming fiercer, causing unsafe living conditions and upset among the Tides (Perry's tribe). Not only that, but Perry has welcomed Aria into the tribe and people are not happy-they don't think that a Dweller should be living among them and they start to question Perry's judgement.
Soon, Perry isn't sure who he can trust any longer and he starts to question his own beliefs-but he never once questions his feelings for Aria. She is the one thing he is absolutely sure of-she's the only person (aside from Talon) that makes him truly happy. When he's sad he wants to see her face, it's her voice he wants to hear, and no one's opinion can alter that.
"We're together now," he whispered against her forehead. "The way we should be."
She closed her eyes and relaxed her breathing, seeking calm. He was rendered to her. Maybe he'd feel it too. "Sleep, Perry."
"I will," he said. "With you right here, I will."
I can't even begin to explain how hard it is to express how much I loved this book. I feel like everything I've written above is so inadequate as to how strong my affections are for TTEN. It was dramatic, it was sad, it was lovely, it was fierce, and, ultimately, it was much, much more. Every character is so great no matter whether they are good or evil, which is part of the reason I have enjoyed this series so much. Like Roar, for instance-he is an amazing friend and ally, and his loyalty shows no bounds. He protects Perry and Aria with everything he has, and he really stepped up in this novel. I grew to love him just as much as the dynamic duo, making for an even more addicting read.
…"It was my idea. It's the safest way, but it's strange pretending to be something different. It's like there's a glass wall between us. Like I can't touch him or…reach him. I don't like the way it feels."
Roar wiggled his knee, upsetting her sand pile. "Does his voice still sound like smoke and fire?"
Aria rolled her eyes. "I don't know why I told you that."
Perry and Aria still have a long way to go-I can't say how it will all end and whether they will find the still blue or not. What I do know is that I can't stand the thought of not having the final installment within my fingertips yet. It absolutely kills me to know that I have to wait a month to see what happens and how it all ends. I felt what they felt, I grew melancholy when they became depressed and my heart broke alongside them as their world tumbled in around them. I love all these characters dearly, and I love that some got a chance at redemption. Now, I will wait eagerly for book three, hoping only for the best.
Related Posts