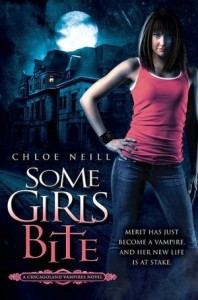 Some Girls Bite
(
Chicagoland Vampires #1
)
by
Chloe Neill
Purchase on:
Amazon
, 
iBooks
, 
Book Depository
Add to:
Goodreads
♥4.5 Stars♥

Until then, I'll bury the anger, the betrayal.
I'll smile.
I'll tap the pommel of my sword.
I'll hop up the steps of Cadogan House, and close the door behind me, and do my job.
I'm very, very good at it.

Why the hearts, you ask? Well, I'll tell you why. In some weird, twisted way, I just know this series is going to be a favorite of mine. Maybe not every book will wow or stick with me, seeing as there are literally a million books in the series, but I can just feel that at least a few of these are going to be epic, thus making this series an instant favorite. So, that's why I used hearts-to me, this story is already different. It has already piqued my curiosity way more than I thought it could, and I already think about it day and night….and I don't even know why.
"It is better to be hated for what you are, than to be loved for what you are not."
You know that feeling when something just clicks? When you start a new book or a new series and you're really just along for the ride, not expecting much to come from it, and then all of a sudden a certain scene just smacks you upside the head and says to you, "Pay fucking attention-you don't want to miss this." Well, that's what happened with this book. I was just perusing through the pages, not wholly invested nor ignorant of the fact that it was and is a very well-written book, when out of nowhere, Ethan Fucking Sullivan (No, fucking is not his middle name, but it just kinda fits because I love him) strolls in and my heart did this weird pitter-patter thing and I lost my breath.
I expected to see Ethan's emerald eyes on her lush curves, but when I turned back to him, his gaze was on me, his smile cocky, like he knew I'd been appraising his mistress.
I shrugged. "She seems nice enough, if you like the busty, voluptuous, gorgeous type."
"Much to my dismay"-and that rang clear in the irritably flat tone of his voice-"I find I have a sudden taste for stubborn, lithe brunettes with horrible fashion sense."
It was the damndest thing….and he has long, blonde hair, too. I mean, for one, I chopped that shit off immediately, and made all my normal alterations to his physical features, as is my MO, but it didn't deter me like it sometimes does. I mean, I'm not even kidding-the dude walked in, lifted an eyebrow and used a dry, sarcastic tone, and I swear my libido went crazy. Then they proceeded to have a physical altercation and I went wild. I don't know why, but this guy is really getting to me and he wasn't even in the story enough. Maybe it's because I know they will eventually become a couple because of the sexual tension you could cut with a knife or because I know he is going to be super protective of her, but he hooked me before any of this has even come to pass, and that in itself is an anomaly.
"Where would I find Luc?"
"Please?"
"Please what?"
Ethan rolled his eyes. "That was your cue to show some respect to your employer."
"And you're suggesting that's you?"
In response, he lifted a single brow higher.
"The thing is," I pointed out, "since I've got the responsibility of ensuring the safety of the House, I've got some authority over you, too."
Ethan uncrossed his arms and put his hands on his hips. The posture was vaguely threatening, his tone only slightly less so. "Only if I was to act in a way that threatens the House. And I won't."
"But that's my determination to make, isn't it?"
He just stared at me. "Are you always this obstreperous?"
"I'm not obstreperous. Stubborn, arguably. And don't start in that I was causing trouble. I was only asking a question."
"You start causing trouble the minute you awaken. Case in point-you're late."
"And that brings us back full circle. Now where's Luc?" He lifted both brows, and I sighed. "God, you call me stubborn. Please, Sullivan, where's Luc?"
I better talk about the chick, shouldn't I? She certainly deserves it. I could describe Merit in one, lonely word. But it's not a lonely word if it is as complex as the character it describes, is it? Merit is a badass. But, since that word leaves a little to be desired and couldn't possibly wholly define our main girl, I'll elaborate: She's thick-skinned, independent, kind, caring, loyal, cut-throat, flawed, intelligent, hopeful, sarcastic, stubborn, and, even, vulnerable. This is only one book, but for more reasons than I can say, I loved her. She didn't let Ethan tell her what to do, but she still could follow an order while putting her own personal spin on it. She doesn't want to be just another girl in the head vampire's bed, but she still longs for him to want more with her even if she doesn't realize it. She maintains her friendships even when her life has been turned upside down. And, most importantly, her mind and power out-rank those that have been on the earth centuries before she was even born. There's more, so much more. But it's only one book. And not everyone will probably agree with me with so little to go on, but Merit is special, and I can't wait to see her grow even more as a character.
I was taking serious hits on my fashion choices this week, probably not surprising for a girl whose dressing decision was usually between colors of layered T-shirts. I wasn't a shopper, much to my mother's (and Mallory's…and Ethan's) chargin.
I didn't intend to love this book. I didn't intend to start a super long series about vampires. I didn't want to like a book about vampires (For some reason, it's been forever and it seems so weird starting a world with them again). But-I do. I did. And, again, I do. It has that vibe where both of the main characters act as if they hate or can't stand one another, but every time they see each other, sparks fly. I can't resist being obsessed with them. So, while this one focused a lot on building this world and what Merit's duties are (I mean, shit, there are, like, more than 10 books, so…), I know the next books will start to build on action, romance, and unraveling the mysteries that surround a world where humans know vampires coexist and enemies of the Cadogan House (Where Merit resides and was turned) never rest. I just can't wait.
Related Posts