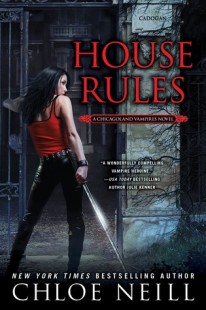 House Rules
(
Chicagoland Vampires #7
)
by
Chloe Neill
Purchase on:
Amazon
, 
iBooks
Add to:
Goodreads
Awesome. Just plain awesomeness. I love Ethan. I love Merit. I adore THEM. It's absolutely adorable to see them together and even more satisfying that they are going through turmoil-Together. Their love is tested. It is tried. But all I can say is-There I was, reading a perfectly awesome novel where the house goes through it's most substantial crisis yet and
BAM! All the emotions of a freight train plow me over and I am, once again, mystified by this wonderful and alluring series.
I've talked and talked and talked about these books and I can't say anything you don't necessarily already know if you have read anything close to all my reviews about my wonderfully flawed vampire (and not so vampire) friends. So, ya know-read it, don't read it-it doesn't make a difference to me. But, here are some quotes for you to enjoy if you wish. Aaaaah I love 'em.
Flirty Ethan:
"I see you're here in this"-he gestured at the shelves-"library all alone. You must be a student here?" He traced a fingertip down the hollow of my throat, lifting goosebumps on my arms.
Since my mind hardly worked when he did things like that, it took a moment for his words to register. Was he initiating a bout of role-playing…about a library?
"Ethan Sullivan," I marveled. "You have a library fantasy."
He smiled slyly. "I have a doctoral-student-turned-vampire fantasy."
Playful Ethan:
Still. He'd had an Aston Martin. A brand-new, right-off-the-lot Aston Martin delivered to him by a very pleased salesman.
"All due respect, a brand-new Aston Martin 'didn't do it' for you? That's James Bonds's car."
"I'm no James Bond," he cannily said. "I loved the Mercedes. It fit me perfectly. The Aston just… didn't."
"So you traded up?" I asked, walking toward the car and opening the door. "Do you treat your relationships in the same way?"
"Yes," Ethan gravely said. "And I spent four hundred years shopping before I met you."
New at 'give as good as you get' relationships Ethan:
"Okay, then."
Ethan looked at me. He watched me, really checking my mood and whether that "okay" meant okay in the male sense ("okay") or the female sense ("possibly okay; it depends on what you say next").
Possessive Ethan:
Without warning, and before I could correct him, he reached out, gripped the edges of my jacket, and kissed me fiercely. "You are mine and mine alone, and it appears you need reminding. I suggest you return to our apartment; otherwise you'll be ravished here and now where you stand, and the door is open."
…
"You wouldn't."
He dropped his head, his lips at my ear. Instinctively, my blood singing, I dropped my head back, giving him access to my neck. "Try me, Sentinel."
"Ethan," I muttered, the sound pushing him over the edge.
"Too late," he said, moving to the office door, slamming it shut, and locking it behind him.
Just because I love how she explains things:
For a split second, the entire city swam before us, the edges bent by the curvature of the earth. And then, as if gravity bowed to us instead of the other way around, the world slowed, and that single, gigantic leap became one small step.
There are so many more I wanted to put, but I guess you'll have to read the series to find them…oh well. 😛
Related Posts