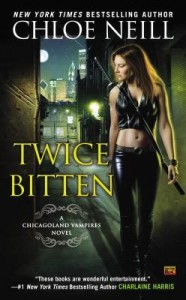 Twice Bitten
(
Chicagoland Vampires #3
)
by
Chloe Neill
Purchase on:
Amazon
, 
iBooks
, 
Book Depository
Add to:
Goodreads
"You undo me, Merit. Wholly and completely. You don't take me at my word. You challenge me at every opportunity. And that means when I'm with you, I am less than the head of this House…and I am more than the head of this House. I am a man." He stroked my cheeks with his thumbs. "In my very, very long life, I need you more than I have ever needed anything."

Eeeeeeep finally! That's all I'll say on that note.
The sexual tension, the angst, the battles, the jealousy-boy oh boy was I in my element. There isn't much to say on my end that hasn't been said, but I sure do love to try.
The sexual tension, the angst, the battles, the jealousy-boy oh boy was I in my element. There isn't much to say on my end that hasn't been said, but I sure do love to try.
Wow, this book. It's been a long time since I've felt butterflies since book one in such a long series. In fact, I'd go so far as to say that it's been a long time since I've had this intense of a bout of butterflies so consistently. But in this installment, we finally got to see, shall we say, some of the goods. And this time….they were all for Merit. *whispers creepily* and us….
"On the other hand, they're the ones creating this pec-tacle."
I slid her a glance, arching an eyebrow. "Pec-tacle?"
"You know, like spectacle"-she paused to point at her breasts-"but with more dude nipples. Do you disagree?"
But it would be so sad to claim that was all this book had going for it-there's so much more. Underneath all this sexual anxiety is a hidden story where Merit is just a girl trying to find (and keep) her place in this new world. She defends those in her house and stands behind the person that made her-despite all the sexually unresolved….occurrences….she knows that her goal is to, ultimately, keep Ethan safe. And she takes her job seriously. No doubt about it. And that's why I love these books.
Love was very definitely a bitch.
They don't need only a boy and a girl circling each other to fuel the events of the book-there's always a mystery, always a need to save or protect or serve the house. And Merit even has friends. Yes, that was plural. So when I think of this story, it doesn't wholly revolve around Ethan and Merit *lies lies lies*. Okay, I might have jumped the gun a bit. Let me rephrase-While I am in love with the build-up of something much, much larger between these two stubborn vampires, I'm also very aware of the other characters and the mystery that surrounds each and every page.
He shook his head. "You are a wonder of vampiric strength, yet you treasure your humanity and care greatly about those who were in your life before your change. Stay that way," he said. "Stay just the way you are."
Ethan was, for a lack of a better word, adorable in this one. I finally got the last in my long wishlist of Ethan wants and needs-protectiveness. I loooooove that. I love when he is protective of her. And, I'm not going to lie, it was short-lived and didn't occur regularly….but it was there. As was possession, obsession, jealousy….Just….sigh. Yum.
"I am beginning to remember-" He stopped, shook his head, then started again. "I am beginning to remember what it means to need things. Laughter. Companionship. Love." He leaned forward and pressed his forehead to mine. "And I need you, Merit."
So to say this wasn't my favorite one would sound a bit odd, but, I think it's a tie between this one and book two. Book two was still building onto this fierce attraction and this one was avoiding the inevitable repeat….so they both had their perks while still annoying the shit out of me. But I'm not annoyed, not really. I want there to be tension and angst and retribution. I want him to obsess and win her. I want her to resist and ultimately fall. I'm on book four and I just love their dynamic-I really do. And I can't wait 'til the day when all his earlier idiosyncrasies become ever present and indisposable because he loves her so much. I can't wait-but I also want this series to stay excellent. So, I'll wait. And for once….I'm being patient about it.
Related Posts