Here is my review for this wonderful story...it might be the best in the series, yet!  Be sure to also check out my interview with Chloe Neill and the two giveaways below!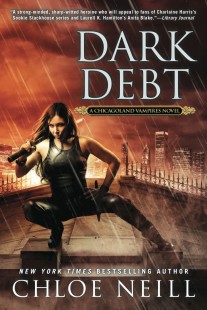 Dark Debt
(
Chicagoland Vampires #11
)
by
Chloe Neill
Add to:
Goodreads
Review:
"If you touch her again, come near her again, I will tear you apart with my own bare hands, Master or not."
There are so many things I love about this series. So many things I hold back after finishing a book because, really, how many times can you repeat all the same things you love about a consistently excellent series? I always do a mini-review, letting people know the main reasons I loved the story, and I hardly put all I truly feel into the review. Well, 7 mini-reviews later and I think it's time I finally let all these built up emotions out-this book was excellent and people deserve to hear about it.
Ethan sighed. "It has nothing to do with pretty."
"Not according to your brain," I agreed. "But once again-"
Ethan held up a hand. "No need to repeat the point."
"When I'm four hundred, do I get to date a twenty-five-year old?"
Ethan narrowed his gaze. "If you date anyone other than me at any point in your hopefully long and fruitful life, there will be trouble for both of us."
I keep saying that these stories continue to get better, and it's true, mostly, but there is something refreshing about a more sinister plot. Like, it's known that when you pick up a Chicagoland Vampires book that there will be a mystery to solve, Ethan and Merit will have to conquer a new threat to their relationship, and there will be lots of love and snark exchanged between them. It's a fact. It's an inevitability. And I always get so excited to pick up the next new story. But this time there was something new. Sure, there's always something new-But not like this.
Never has there been something that made me feel so icky about what could happen to Merit-or Ethan, for that matter. But when the return of an old figure from Ethan's dark past reemerges, things begin to get….foggy. Merit's defenses are down, Ethan isn't (and can't be) quick to save Merit, and no one can understand why, or how, this person is getting past their wards on the house. How does one protect another person's mind? Is there even a way? And what happens when Ethan isn't there to break the trance, and the next time he's too late? What then?
There was nothing equivocal in his gaze, in the steadiness of his green eyes. "He was my nightmare, Merit. You are my miracle. He will not touch you again. Yes?"
Ethan, as always, was beyond words. He is so loyal to Merit and would do anything to keep her safe. And when Merit has a close run-in with this dangerous and mysterious enemy, it guts him that she recoils from his touch. She becomes withdrawn and so unlike herself, leaving everyone scrambling to keep the wards in place…even when there isn't a break-anywhere in sight. It makes him moody, protective, possessive, and more than a little bit nervous (Waaaaiiittt, yeah, my bad he's always like that-but, hey, it was a little more intense this time). Ethan likes to be in control, to be the alpha, to know he's keeping the love of his life (and his house) safe. So, when bad things begin to surround his house, he's more than unsettled.
"I like to think I'm more than the sum of my training."
"You are," Luc said. "There's at least some hot beef or deep dish in there."
"I am also more than Chicago foodstuffs."
Ethan grinned at Luc. "Pumas? Diet Coke? Smart-assery?"
Luc snapped his fingers, pointed at Ethan. "Yes. And, like, three percent medieval literature."
"You're both hilarious. Really and truly. Comedy geniuses."
And Merit. I adore this girl. She's snarky, she's funny, and she always has the best comebacks-I could be best friends with her. And, to top it all off, she can take care of herself. It's not often you find a female lead with all the bells and whistles. But in this story, Merit feels violated, like she can't defend herself even in her own home, in her own apartments, and with the man she loves sleeping right beside her. It's a new kind of challenge for her and she spends the book doing everything she can to defend herself with no way of knowing what will work and when he'll strike next….and what he'll do to destroy the forever relationship she and Ethan have worked so hard to build.
Which was why Ethan returned to the apartments to find Mallory and me lying on the bed, television on, pooched stomachs taking a much needed breather.
"Oh, this is quite a sight," Ethan said with obvious amusement, then spied the empty box of Mallocakes. "A vampire and sorceress done in by chocolate snack cakes."
"Mallocake 'splosion," Mallory said weakly. "Pew, pew, pew."
"I think there's one left." I moved just enough to skim fingers against the box, tip it up. "Yep. One. You can have it."
"Wait," Mallory said, and put a hand on my arm while she deliberated, as if there was a chance she might be able to squeeze in one more. "No." She waved me off. "I can't. Go ahead."
"This scenario isn't really selling the Mallocake concept to me," Ethan said.
"We're having girl time."
"Not the girl time I prefer to imagine, but so be it."
"Perv," Mallory said with a grin, rolling off the bed and trundling toward the door. "I'm going to roll myself downstairs."
"Take care," Ethan said. "And thank you for the ward."
She burped indelicately.
"And that's our powerful sorceress," Ethan said, locking the door behind her.
I think the reason I liked this story so much was because of how it all progressed. There was a lot more action and it mixed really well with the banter and strategizing. I am so picky when it comes to this and I couldn't have been happier with how it was all handled. There wasn't a moment when I was bored or rushing to get past anything-every moment was important and every moment mattered. It was fast-paced and the love scenes were electric. Every minute was a rush as we tried to catch whoever was behind the sinister threats and when they were trying to defend the house. And, as always, the humor helped get us through every single moment.
I looked up at him. "Are you wooing me?"
"I've been wooing you since the moment our eyes locked on the first floor of this house."
I gave him a flat look. "No, that's when you accused me of being spoiled."
"Details," he said lightly, mouth drawn into a crooked grin.
So, I know that I gush a lot about these characters, but they are very dear to me and I am fully invested in whatever may happen to them. I want nothing more than for the prophecy to come about and for happy things to occur regularly for Ethan and Merit. Their love is tangible and it leaps off every page-every look, every touch, every embrace-they were made for each other. I cannot wait to see where the rest of the stories go, because this series has my heart. If you haven't tried, you need to go and start these books now. You won't regret it!
*************************************************************
 Interview:
Very rarely do we get the opportunity as readers to get inside the mind of our favorite authors, but Chloe Neill has offered to answer a few questions for the blog tour! Take a peek at what she had to say:
1. Just as your books inspired other authors to write, what authors inspired you to write?
When I started writing, I'd been reading a lot of Rachel Caine, Kim Harrison, Charlaine Harris, and Stephanie Laurens, among others. I really loved reading stories in series, because you got to know the characters, the setting, and the little inside jokes and references that really made the book feel like a comfortable place to rest.

2. Is there a certain type of scene that's harder for you to write than others? Love? Action? Emotional upset?
Action scenes are definitely the hardest for me to write, so the last scene I usually write in the book is an action scene that I've put off. 🙂 It's difficult for me to imagine a three-dimensional fight, and then translate that into words for the two-dimensional page.  Banter is the easiest thing–I can write characters chatting all day long. But it doesn't make for a very interesting scene.

3. Which of your Chicagoland Vampire characters would you most like to spend extended amounts of time with?
Probably Merit. I think we'd get along very well.  Or Damien, because I think he has a lot of interesting stories to tell. 🙂

4. If you could cast Ethan and Merit in a Hollywood adaption of your books, who would you choose to play their
characters?
David Beckham isn't an actor, but he'll always be Ethan for me. I don't really have a specific girl in mind who epitomizes Merit, so I'm certainly open to suggestions!
Thanks for having me today!
I am so honored here today to be able to represent one of the most hilarious, sexy, and addictive series I've ever read. Not often do I, or we as a blog, stick with such long series. But since the beginning, Ethan and Merit have stolen my heart and and I am so happy I came across this wonderfully delicious series. If you have never read these stories, that's a shame. But if you're even a little bit curious, pick up the first book in the series, Some Girls Bite
, and I swear you'll be enthralled from page one. Thanks so much, Courtney Neill!
Dark Debt will be available on March 3rd.
Preorder Here on any of these sites!
Amazon | Barnes & Noble | iBooks | Powells | Books-A-Million | Audible |Kobo | Indiebound
Giveaways:
Us Star-Crossed Ladies are ecstatic to have a special little giveaway of our own, courtesy of Chloe Neill! Hurry and ENTER TO WIN!
Packet includes:
Cadogan House cotton tote bag
Cadogan House keychain
An autographed international Chicagoland Vampires or Dark Elite novel
Swag, including Chicagoland Vampires bookmarks and pens, and Cadogan House lanyards
a Rafflecopter giveaway
 The fun doesn't stop here. Want more chances to win? You can also enter the Dark Debt Grand Prize Giveaway, which runs February 23 through March 6 on Chloe's web site.
What is the Grand Prize Giveaway prize?
An engraved Cadogan House medal necklace
A Kindle Paperwhite
Cadogan House cotton tote bag
Cadogan House keychian
Chicagoland Vampires bookmarks, pens, and lanyard
And here is a full list of all the other blogs participating on the tour:
Week One
Monday, February 23 – Finding Sanity in Our Crazy Life | Lore Lush Books
Tuesday, February 24 – Star Crossed Book Blog | Little Miss Book Addict's House of Books
Wednesday, February 25 – Once Upon a Twilight | Krista's Dust Jacket
Thursday, February 26 – Goldilox and the Three Weres | Angel's Guilty Pleasures
Friday, February 27 – Feeling Fictional | Rabid Reads
Week Two
Monday, March 2 – Booklovers for Life | Bad Bird Reads
Tuesday, March 3 (Release Day) – Saucy Wenches Book Club | Nomi's Paranormal Palace | Fangs, Wands & Fairy Dust | Vampire Book Club
Wednesday, March 4 – Ceres Book World | Book Infatuation Reviews 
Thursday, March 5 – Consummate Reader
Friday, March 6 – Little Read Riding Hood | Three Chicks After Dark
Related Posts