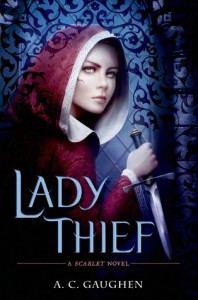 Lady Thief
(
Scarlet #2
)
by
A.C. Gaughen
Purchase on:
Amazon
, 
iBooks
Add to:
Goodreads
He let me down and his mouth left mine. His forehead touched mine, and I couldn't bring my eyes to open just yet.
"These schemes may benefit the people, Scarlet, but I fight for you." His hands squeezed my waist a little bit, and it made my blood run fast. "I will always fight for you."
Aaaaggghhh SO. GOOD.
Is it weird I'm speechless? Because I am well and truly at a loss for words. It's like…I loved it. I loved it almost as much as the first, but not quite as much. There's something to be said for that first book in a series-It's almost always my favorite. That tension between the two main leads and the willingness to do anything to save one another…it is something to behold, not only in these books, but each and every series.
I wanted to feel nothing but the blanket of pain and hate swallow me up. I wanted to run backward and lay on the snow with View Spoiler » John « Hide Spoiler and stay there, still and frozen and never moving forward again. That would be easy, and lovely, and dark, like the cold woods of Sherwood at night.
That's not to say this second book didn't have it's fair share of tragedies-it did. If it's possible, I think it was twice as brutal and there was even more to lose. As I mentioned in my prior review, no one was safe. But that fact was cemented as even someone who was promised immunity lost some of their hand. Yeah, I'm not kidding. One of our main characters will forever be scarred, and I can't believe it happened. But, in a way, this vicious act only helped to further increase my love for this newly found series. I mean….it's so evil!!! And this author didn't shy away from what was always threatened. I love a ballsy author, and my respect skyrocketed when no one, not Scarlet, not John, not Robin Hood, not even Much came to save the day. Because guess what? That's the cold bitch of reality.
He tucked his face into my shoulder and drew long, shuddering breaths. "We're not going to make it through this, Scar. Not another sheriff. Not another nightmare." His voice dropped, and if it weren't for the way the words slipped along my skin, I would have doubted he spoke them. "I'm not going to make it through this again."
One of my favorite things about this series as a whole is the group and how much they love and support one another. There's no bellyaching or whining or 'oh, pity me' with these guys. They can be as miserable as they damn well please but then one of them will tell 'em to shape up. It's as simple as that. None of them want anything bad to happen to one another so they have to be harsh-If one of them is weak, they are all weak. No one is left behind so that means there is more room for error, no second chances, and not even the townspeople are safe from Gisbourne's clutches.
My heart broke, and water spilled out of my eyes. "What if it's not annulled?" I breathed.
"Then I'll wait. Every sunset, every day. I'll count them all until you're mine. My perfect wife. My only wife," he said. "The only heart that's meant for mine." His nose dragged on my face. "I only feel like a hero when you're with me, Scarlet. I feel like I have a destiny greater than pain and hurt when you're in my arms."
But, by far my favorite supportive duo is Rob and Scarlet. So heartwarming and absolutely adorable, she never once gives up on Rob as he is plagued by night terrors after what happened in book one (UGH so good). All seems hopeless, but Scarlet never once lets him feel as if he is alone to drown and suffer in his vivid dreams. But, more than that, it goes both ways. That support is tangible and every kiss, every stolen moment, every sacrifice is to better their lives and to save one another. They would burn the world to save each other, but when the odds are stacked against them, it's like fighting against a rising tide: inevitable and hopeless.
"Scarlet," he murmured. His hands squeezed my waist. "I've told you all along, I knew who you were from the first. I know your heart. Names, titles, hair, odd clothing choices, none of that changes who you are. And I am madly in love with who you are."
In this one instance, I believe leaving you in the dark even more than usual is the most tantalizing option. There's no doubt that I have fallen in love and was captured by this alluring series and could no doubt babble on for paragraphs. For only two books being out, I have lost more sleep than I have in a while because of a book. There's something special, magical, mesmerizing about this series and it makes me sick to think I have to wait until May for a conclusion to such an epic love story about Robin and Scarlet. My heart starts beating so fast and the butterflies erupt in my stomach when I think of one look….one touch…one secret kiss between Rob and Scar. I am so sad I have to wait, but, you know, that's just an excuse to re-read them, of course. So…yeah. I'll see ya soon Rob-keep my heart in safe keeping-It's yours.

I nudged his face with my nose until he brought his mouth down to mine for another kiss like magic potion. I needed some unholy kind of strength and courage to walk away from him.
He broke it off with a heavy sighing. "I love you, Scarlet. Go on, now, before you steal my sanity, too," he said.
"Too?" I questioned.
His grin by the moon were wicked and handsome. "Thief of my heart."
Related Posts