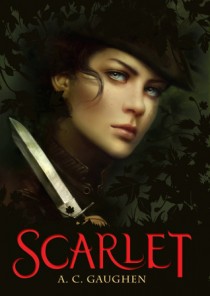 Scarlet
(
Scarlet #1
)
by
A.C. Gaughen
Purchase on:
Amazon
, 
iBooks
Add to:
Goodreads
Synopsis:

Will Scarlet is good at two things: stealing from the rich and keeping secrets - skills that are in high demand in Robin Hood's band of thieves, who protect the people of Nottingham from the evil sheriff. Scarlet's biggest secret of all is one only Robin and his men know...that she is posing as a thief; that the slip of a boy who is fast with sharp knives is really a girl.

The terrible events in her past that led Scarlet to hide her real identity are in danger of being exposed when the thief taker Lord Gisbourne arrives in town to rid Nottingham of the Hood and his men once and for all. As Gisbourne closes in a put innocent lives at risk, Scarlet must decide how much the people of Nottingham mean to her, especially John Little, a flirtatious fellow outlaw, and Robin, whose quick smiles have the rare power to unsettle her. There is real honor among these thieves and so much more - making this a fight worth dying for.
▧ Take a badass female lead who knows how to throw a knife and whose snarky inner comments made me laugh – but who blushes way too much for no reasons.
► Give her a good shake : there's hope for her in the sequel, I hope, I know it.
She only has to let go of her split personality and I'll truly appreciate her.
Just sayin'.
▧ Take a fantastic past earl who becomes the archetype of the broody but selfless hero – you know, Robin Hood, who made my heart beat like crazy thanks to his full awesomeness annnnd hotness – who I'd follow anywhere as much as I loved him.
(please do not change anything and handle with care)

▧ Take a trustworthy bunch of guys whose loyalty to each other's amazed me and pleased me to no end. Keep them warm the whole time. Yet you have to sort them : perhaps the irritating love triangle will disappear, as it seems in the end. I'm really hopeful today. But seriously, nobody wants to see Scarlet with Little John. Nobody.
▧ Take a compelling writing whose accent never annoyed me because come on I'm far from able to say if it's fake or no – I'm French, duh. Yet I laughed. I kinda want to thank the author for that.
▧ Take a mesmerizing plot which managed to keep me surprised even if I guessed some parts of the twists. As I already said a bunch of times, I love surprises.
▧ Blend everything well.
► Here's what you get : a not so flawless book *cough* Scarlet!!! *cough* which still stays a real page-turner for me – my 6 hours of reading say it all. Trust me, If I could overtake the fact she's such a blushing Mary Sue and enjoyed my reading despite it all, it must mean I was undoubtedly moved by this Robin Hood's retelling.
Do with it what you please.



Rating clarification :
• Rob, aka Robin Hood? 5 stars!
• The plot? 4.5 stars
• Scarlet, aka Just choose if you're a badass or a fucking martyr blushing girl? 2.5 stars
• Love-triangle non sense? 1 star
• Overall : 3.5 stars, because that was so damn fun.
Related Posts