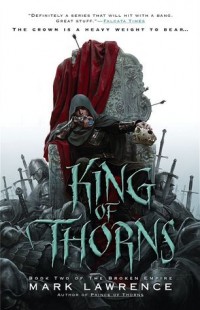 King of Thorns
(
The Broken Empire #2
)
by
Mark Lawrence
Purchase on:
Amazon
, 
iBooks
, 
Book Depository
Add to:
Goodreads
Synopsis:

To reach greatness you must step on bodies, and many brothers lie trodden in my wake. I've walked from pawn to player and I'll win this game of ours, though the cost of it may drown the world in blood…
Do you know what I love in these books? Picture the perfect hero. Kind. Skilled. Supported by all kind of prophecies. See this guy, the perfect Gary Sue of fantasy? Well, here, you root for the other guy who wants to kill him.

Because Jorg is some kind of anti Gary Sue.
"I don't play by the rules you choose."
✿ Hello, Gary Sue : Prophecies see you rule the world because you're the One.
♠ And Jorg? Prophecies see you rot in Hell and witches bet against you. Screw you. Well, now, there's this Necromancer who's dying to have you as ally, but is it really a good thing?
"If he told me something about the glories ahead for the Prince of Arrow I would have trouble restraining myself. If he suggested I might be born in the year of the goat then there would be no restraint!"
That doesn't work. Too long. Let's nickname our heroes, shall we?
✿ GS : Everybody loves you, because you're that merciful.
♠ J : Nobody should love you because the only way to live for you is merciless. Now, there are fools everywhere. People who love you don't know why though.
✿ GS : If you'd earned a medal each time you won a great battle, their weight would stop you from walking.
♠ J : If there's something I learnt, it's that you know when to run. And when to come back.
✿ GS : You lead an army which is formidable in many ways : in numbers, in courage, in skill… Damn you're exhausting me here.
♠ J : Well, you can be dazzling, but a trick is a trick. By the way, you own the best ideas and made me giggle like crazy at times. You surprise me. And with surprises, I'm like a little child : Aww thank you, and can I have some more?
"As Maical would say, it helps to have the elephant of surprise on your side."
✿ GS : Yes, but you are good.
♠ J : Don't care, you're funnier, little smart-ass.
✿ GS : You follow some kind of rules in your life. In the best case you even have a book where they're written just for you. Lucky you!
♠ J : Rules? What are you talking about? There's no such things as rules in this world!
✿ GS : You do what is right.
♠ J : You do what is good … for you
"Sensible, honest. I don't even know how to pretend those things."
✿ GS : You're fucking handsome and you stay it.
♠ J Well… Hmm… No offense Jorg, but I might find you scary in the real life.
✿ GS : Professional savior is your full-time job.
♠ J : There was a moment in this book when you save someone you didn't even know! I was so proud of you, Little Jorg. Careful though, don't go all weak however.
✿ GS : You want to rule because you want to bring justice in this world
♠ J : You want to rule because you can, DUH.
"I wonder if we don't all go stamping and crashing, crashing and stamping in our own little circles going nowhere. And I wonder who it is that laughs at us."
✿ GS : You wear your kindness on your face.
♠ J : Damn, you've got so many secret failures hidden in your heart it took a whole book to unravel them – but that was worth it, because above all we already know about you, in this book you become more – a complex King who's growing up, acquiring maturity and who perhaps, perhaps will learn to be better, yet can never forget what he truly is, his devil inside and his wickedness.
Flash news! Gary Sue is in this book! Luckily that's not Jorg.
Meanwhile? Damn you, Jorg of Ancrath, to make me care so much I almost cried for you. We can follow a good hero and feel his pain but what happens when a flawed bastard we love is hurting and lets go of his shell to show us his vulnerabilities? We cry, plain and simple.
"We're not memories, Katherine, we're dreams. All of us. Each part of us is a dream, a nightmare of blood and vomit and boredom and fear. And when we wake up – we die."
I think I'm kind of ruined for future heroes now. Sigh.
PS : One thing to know ➸ the rhythm is way slower than the first one and if it didn't bother me because I honestly thought that the story needed it in order to develop Jorg's characterization, I think it would annoy some readers. Voilà, that was my only complaint toward the book. But then, the back and forth between past and present was worth it. Even if I was frustrated more often than not.
Related Posts