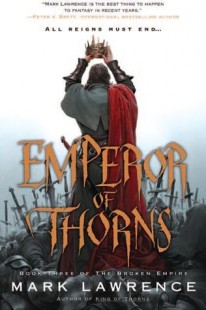 Emperor of Thorns
(
The Broken Empire #3
)
by
Mark Lawrence
Purchase on:
Amazon
, 
iBooks
, 
Book Depository
Add to:
Goodreads
Synopsis:

To reach the throne requires that a man journey. Even a path paved with good intentions can lead to hell, and my intentions were never good.

The Hundred converge for Congression to politic upon the corpse of Empire, and while they talk the Dead King makes his move, and I make mine. The world is cracked, time has run through, leaving us clutching at the end days, the future so bright that those who see it are the first to burn. These are the days that have waited for us all our lives. These are my days. I will stand before the Hundred and they will listen. I will take the throne whoever seeks to thwart me, living or dead, and if I must be the last emperor then I will make of it such an ending.

This is where the wise man turns away. This is where the holy kneel and call on God. These are the last miles, my brothers. Don't look to me to save you. Don't think I will not spend you. Run if you have the wit. Pray if you have the soul. Stand your ground if courage is yours. But don't follow me.

Follow me, and I will break your heart.
Sorry guys. I thought about some fancy way to write this review and it seems that I just – couldn't. Maybe, one day, when I'll reread it because of course I'm going to reread it, I mean, JORG for Pete's sake, maybe this day I'll be able to find, I don't know,
a) A travel map review of his journey through Europe, because YES, I totally sought the places out during my read, frowning at the name slightly altered of a city, a river, a land… By the way, UK, the drowned Isles? I might have laughed at that. But I'm French, so, well. Okay I'm kidding! I love you British, don't throw me anything!
b) A sketched review of Jorg's best moments, because who doesn't want to see someone …. Oh, well, it would be spoiling if I told you right? Don't worry, I'd have to learn to draw for this and somehow I'm pretty sure it won't happen in this life. Sigh.
c) A trial review to state on Jorg's faith, but then, I guess that I'd have to be objective and where would be the fun if I couldn't cry my love for him, I'm asking?
So. Someday. Maybe. Who knows. Certainly not me. It seems that you're bound to suffer my not-so-fancy review, that is to say, let me purr my feelings for crying out loud.
"No half measures. Some things can't be cut in half. You can't half-love someone. You can't half-betray, or half-lie."
First of all, I can't express how much this story drew me in. From the first time my eyes met Jorg's thoughts (yes, I know, last week, shush) I knew that I wouldn't be able to let go of this world before knowing the entire story. I tried to hold on because come on, have you tried to binge read fantasy? Usually I prefer to let my thoughts sink a bit before opening the next book and here? I couldn't. I had to know. I felt like obsessed, so much that I couldn't stop thinking about it when I wasn't reading. So, yeah, I read them three way too fast for my own good because now I don't know what to do with myself. Except writing this review-not-so-fancy, of course.
Why am I telling you all this? Because I wanted to stress how much these books enthralled and captivated me – they weren't really page-turner but then, they were even better. Because sometimes I had to put my book aside and think about it a few minutes. Sometimes I needed to reread some sentences because dumb me! I didn't get it. Sometimes I chose to reread some sentences because damn, that made me laugh. This was long at times, but trust me, this was worth it.
"My father taught me not to love or to compromise, the thorns taught me that even family bonds are fatal weaknesses, a man must walk alone, bide his time and strike when the strengh is in his hands. Sometimes, though, it seemed all that bound me to those lessons were the scars they had left on me."
Jorg now. I'm craving for talking about him, of course. I mean, these books are really character driven and I'm almost sure you can't really enjoy them if you don't like him. Now, I can be wrong, and I would be really happy to be. If you have read my review of Prince of Thorns, then you know that this anti-hero fascinated me from the beginning. And young Jorg was something to handle, I'm telling you. I'll borrow Chelsea's words here, and say that he was our little killing machine. Yeah, that's completely affectionate, and if that makes us crazy, so be it. I'm not going to re-explain how he was because there's a lot of chance that if you read this you already know him.
✘ Do you want to know if he's going to evolve? Yes he will.
✘ Will he become some white knight? No he won't.
And that's what I adored in Emperor of Thorns : the fact that Mark Lawrence managed to offer us a realistic evolution in his character, making him complex, multi-layered, without never travestying him in some unbelievable shadow of himself. He is bad, stubborn, terrible, and he knows it. He is human, flawed, and won my heart. I said it before, but I can't help but feel ruined for the future heroes I will meet, especially in fantasy. As it is, I struggle to let him go. No more Jorg. Sigh.
"When you're in a dark place, and your light is going to run out before too long, you get on with things. It's a wonder to me how few people apply that same logic to their life."
Finally, of course I won't talk about the plot, because you should go blind into this last journey with Jorg – but I wanted to say :
1) I don't know if I was supposed to, but I guessed some major twist way before Jorg. Now, it didn't bother me because I enjoyed so much my read nothing could have spoiled it. And feeling more clever than Jorg? Best feels, guys.
2) The ending was epic and satisfying and above that, surprised me. Hours after finishing it, I find myself both happy and disturbed, truly amazed.
"At the sharp end of things there is only room for ourselves."
Related Posts