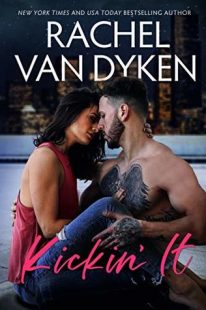 Kickin' It
(
Red Card #2
)
by
Rachel Van Dyken
Purchase on:
Amazon
Add to:
Goodreads
Synopsis:

Love breaks the offside rule in New York Times bestselling author Rachel Van Dyken's irresistibly sexy Red Card romance.

Successful, high-profile sports agent Matt Kingston thinks he can handle anything. Then soccer player Parker Speedman shows up at his door. She is young and gorgeous, has natural talent, and is looking for a team. She's also a hothead with a punchy past who floored her last coach on live TV. Despite his misgivings, Matt agrees to be both her agent and her coach. Professional common sense says she's off-limits. But what can he say about the raw attraction between them?

Parker plays soccer with her heart and soul. But after the events of the last year, she's shaken. She's already seen what a powerful man can do to a female athlete's career. And her beloved dream is in the hands of a sexy, gorgeous man with the uncanny ability to slip past her defenses…and into her heart.

Now Matt and Parker are about to learn that when it comes to love, the only way to win is by breaking every rule they know. And by playing nice. Real nice.
Review:
Kickin It was fun, flirty and I couldn't stop smiling or laughing.  With deep and meaningful friendships, characters who came alive off of the pages and a romance that had me constantly begging for more, this book was a solid win!  While Kickin It can easily be read as a standalone, I highly recommend you also read, Risky Play. They're both a ton of fun and if you're looking for books to take to the beach, look no further!
"Behave." His breath was hot on my ear. "I don't know you. In fact, I'm instantly regretting letting you into my house, but this night is important. These people may be friends, but they're still clients. Respect them or I'm finding you a nice cardboard box to call home in downtown Seattle. Got it?" 
I sucked in a breath. "You would steal a box from people who are truly homeless?"
"What did I do to deserve this?" He looked toward the sky and then shook his head.
I adored Matt Kingston from Risky Play.  He was such a thoughtful, caring and considerate man.  But he was also ruthless in the work world and he owned a highly successful business of managing sports players.  There was an edge to him and while he could be a dickhead, he loved his sister fiercely.  So when his sister, Willow, asked him if she could work for his company over the summer, he gave in.  But Matt had no clue what he was getting himself into lol. Willow brought her bestie Parker Speedman to live at Matt's house with her.  And Parker and Matt didn't get off on a good foot at all.
She was pretty when she smiled, but she didn't do it often enough. 
And it made me wonder too much. 
It made me want to dig when I had no business digging. 
Coach. 
Agent.
Parker Speedman was sassy and bold, but she was also hurt and broken from the past.  She wanted to play professional soccer more than anything, but her past reputation of punching her coach didn't have teams lining up for her.  Even though she was an amazing player. So when Matt agreed to be her agent, Parker was finally within reach of her dreams.  
"Good thing we aren't friends," Parker piped up, her venom directed at me. And all I could conjure up was an image of us being anything but friendly in the shower. 
And me pulling her hair. 
Running my hands over— 
I locked eyes with her and whispered gruffly, "Good thing."
Not only was there a ton of banter between Matt and Parker, but there was attraction too.  But Parker is focused on her goal, to be signed by a soccer team. And Matt needed to just be her agent, nothing more.  Well until he also agreed to be her trainer too. Between living and training together, it was hard for them to keep the lines from not being blurred.  Even if they were still fighting and throwing jabs at each other. But that didn't matter because any time they were together, that attraction was there.  It helped that they both had ridiculously high walls, but spending that much time together meant walls would eventually crumble a little.  And any time they got emotionally closer to the other, it felt like the hugest victory ever.
"Also, stay far, far away from Willow."
"I love the name Willow." Jagger stared me down. 
"I have no problem shoving you off my yacht and dumping a bucket of blood in afterward for good measure."
"Graphic." Jagger grinned. "I like it." 
Slade stood. "What's for lunch?"
"You aren't staying for lunch."
"I'll get the plates!" Jagger followed.
One of the gems I always find in Rachel Van Dyken's books are the friendships.  Not only the one that the hero and heroine form, but the ones they have with their friends.  Parker and Willow's friendship felt so real and was filled with tons of love. And then there was Matt with Jagger and Slade.  The three of them were brutally honest with each other and had the others back. But Matt, Slade and Jagger also messed with one other, and there were so many moments that had me laughing hysterically.  I love that Rachel Van Dyken is the queen of writing friendships that are deep and real. 
Our eyes locked. 
Off-limits. She's off-limits. 
I just never realized how much.
On top of the friendships, banter, and chemistry there was also a side love story between two characters.  I can't say who, but know that it was hilarious, smile inducing and absolutely everything!  It added so much to this story and the epilogue at the end of this book was absolutely perfect!  Kickin It was such a huge score!  I loved every single minute of it and I can't recommend this book or series enough!
PS We don't learn much about Chief Johnny Alfero but I need MORE!  He seems like a man who has miles of secrets and I was obsessed! I'm hoping he gets a story!!
*I voluntarily read and reviewed an advanced copy of this book, provided by the publisher. All thoughts and opinions are my own.*
Related Posts