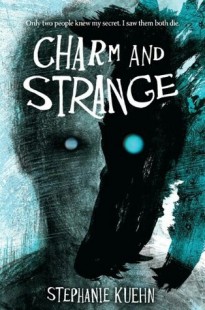 Charm and Strange
by
Stephanie Kuehn
Purchase on:
Amazon
, 
iBooks
, 
Book Depository
Add to:
Goodreads
Synopsis:

No one really knows who Andrew Winston Winters is. Least of all himself. He is part Win, a lonely teenager exiled to a remote boarding school in the wake of a family tragedy. The guy who shuts the whole world out, no matter the cost, because his darkest fear is of himself ...of the wolfish predator within. But he's also part Drew, the angry boy with violent impulses that control him. The boy who, one fateful summer, was part of something so terrible it came close to destroying him. A deftly woven, elegant, unnerving psychological thriller about a boy at war with himself. Charm and Strange is a masterful exploration of one of the greatest taboos.
Note that I'm not usually the biggest fan of books that hold the truth too long but damn, I enjoyed this one way too much to complain.

▶ How to cook an incredible and dark mindfuck?

✘ TAKE an unreliable narrator who I *cough* loved? Am I bad? I mean, to say that the guy is pretty fucked-up is an understatement – even at 10, if I dare to say it. But still, *take a huge breath* I absolutely enjoyed following him and trying to understand his actions – I'm not even talking about his thoughts, otherwise I'd be going round and round in circles, and you don't want to see that, am I right?
AM I RIGHT?

That's what I thought.
"From what I can tell, morality is a word. Nothing more. There's the things people do when others are watching and the things we do when they aren't."
What can I say? I find myself in awe of writers who are able to make me CARE deeply about tortured and slightly evil souls, and I can't deny that here I rooted for Drew since page one, despite his obvious flaws and his batshit crazy behavior at times.
✘ PUT HIM on the layer of several storylines, let's say, two, settled at 2 different times :
– when Drew was 10 and lived with his family.
– and nowadays, when he attends a boarding school at 16. What? I'm not going to comment on this.
Both storylines bring more and more questions to fulfill this psychological mystery which is Win's life, and won't let you indifferent.
✘ ADD A FEW PINCHES of vague sentences like "I know what you're going through lately", "I'm such a dangerous person", "I saw what you did!" and also a lot of "what are you talking about?", "Is it bad if I like you still?", "Screw real life I just want to know what happens" ← those are mine.
✘ MIX it all well with a powerful and addictive writing, which blends poetic and sharp sentences in a master way, and haunted me from the beginning to the end.
✘ SEASON with paranormal mental hospital coming of age elements. What? There : I don't know! Happy now?
✘ FRY the mixture with several awful characters, a creepy and disturbing plot and some crazy feelings – and underneath, the violence lurking. Always, always this violence we can't outrun.
Congratulations! You've been mindfucked pretty well.
You're welcome.
☠ Warning : Don't get fooled by my review, this book deals with pretty heavy subjects. And it does it masterfully. Hence the 5 stars rating.
"I am of the sea.
I am of instability.
I am of harsh, choppy waves roiling with all the up-ness, down-ness, top-ness, bottom-ness, contained within my being.
I am of charm and strange."
Related Posts