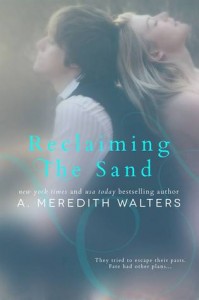 Reclaiming the Sand
(
Reclaiming the Sand #1
)
by
A. Meredith Walters
Purchase on:
Amazon
, 
Book Depository
Add to:
Goodreads
Synopsis:

Bully and victim.
Tormenter and tormented.
Villain and hero.

Ellie McCallum was a bully. No connection to anyone or anything. A sad and lonely existence for a young woman who had come to expect nothing more for herself. Her only happiness coming from making others miserable.

Particularly Freaky Flynn.

Flynn Hendrick lived a life completely disconnected even as he struggled to become something more than that boy with Asperger's. He was taunted and teased, bearing the brunt of systematic and calculated cruelty, ultimately culminating in a catastrophic turn of events that brought Ellie and Flynn's worlds crashing down.

But then Flynn and Ellie grew up.

And moved on.

Until years later when their paths unexpectedly cross again and the bully and the freak are face to face once more.

When labels come to define you, finding yourself feels impossible. Particularly for two people disconnected from the world who inexplicably find a connection in each other.

And out of the wreckage of their tragic beginnings, an unlikely love story unfolds.

But a painful past doesn't always want to let go. And old wounds are never truly healed…and sometimes the further you try to run from yourself the closer you come to who you really are.
So…..I don't have a ton to say about this book, other than I was severely disappointed. I've recently fallen in love with a book that has the whole 'Mean Girls' and bullying thing going on, so I really wanted to find another book like that-bullying wise. I've also recently started to realize I am in LOVE with flawed characters….especially of the male variety. So, naturally, I figured this book would be a slam dunk-and all my friends mostly seemed to love it.
Well, I'm only posting this review so I can clearly voice my displeasure: This book was moronic. From the cheesy dialogue to the overly mean friends who can only be described as villains in a sad B-list movie(am I saying that correctly?? I mean A HORRIBLE WANNABE BLOCKBUSTER MOVIE), this book had very little going for it. In fact, the one thing it had in its favor? I can't even remember his name-this book is THAT forgettable. I loved the guy from the very beginning-he was sweet, kind, and he broke my heart. But that's literally the only reason I finished.
As for the plot?? Also moronic. Why advertise a book like it's present day when all the bad shit happens years ago??? I didn't sign up for flashbacks, thank you very much. It was weird and it halted the story horribly and when it did become all present day, it was boring boring boring. I just wanted it to be over. Like…..I FORCED myself to finish this-but I should have called it a day from the first cheesy moment-it all went downhill from there.
So…Not much to say, really, that I haven't already said. I have no clue why so many of my friends gave this such a high rating. Call me a bitch, but I didn't feel even an ounce of the angst or see a smidgen of the beauty that was talked about. It was very sad, sure, but these were deplorable characters who did deplorable things….what else is there to the story aside from, errrr, Flynn? Is that it? He was the only character I cared about. So, ya know, everyone seemed to love this and none of my friends rated low…but me, Anna, and Jen certainly had no qualms about posting big, fat 2s on the record. Hopefully you'll find something to love about this book. I just found personal torture.
********************************
Yeaaaaah this book wasn't very good….not at all what I had expected and as it got later in the story, the dialogue became so cheesy (not Flynn, never Flynn) it was a struggle to finish. Man am I on a roll.
2 stars for Flynn.
Review to come
*****
Buddy read with Anna and Jen!
Related Posts