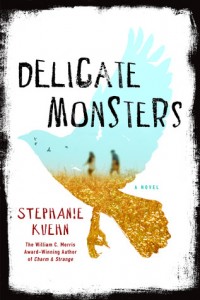 Delicate Monsters
by
Stephanie Kuehn
Purchase on:
Amazon
, 
iBooks
, 
Book Depository
Add to:
Goodreads
Synopsis:

From the Morris-Award winning author of Charm & Strange, comes a twisted and haunting tale about three teens uncovering dark secrets and even darker truths about themselves.

When nearly killing a classmate gets seventeen-year-old Sadie Su kicked out of her third boarding school in four years, she returns to her family's California vineyard estate. Here, she's meant to stay out of trouble. Here, she's meant to do a lot of things. But it's hard. She's bored. And when Sadie's bored, the only thing she likes is trouble.

Emerson Tate's a poor boy living in a rich town, with his widowed mother and strange, haunted little brother. All he wants his senior year is to play basketball and make something happen with the girl of his dreams. That's why Emerson's not happy Sadie's back. An old childhood friend, she knows his worst secrets. The things he longs to forget. The things she won't ever let him.

Haunted is a good word for fifteen-year-old Miles Tate. Miles can see the future, after all. And he knows his vision of tragic violence at his school will come true, because his visions always do. That's what he tells the new girl in town. The one who listens to him. The one who recognizes the darkness in his past.

But can Miles stop the violence? Or has the future already been written? Maybe tragedy is his destiny. Maybe it's all of theirs.
Oh how I disliked this.
Be good. Be patient.
It whispered, You're going to shine.
It whispered, Just you wait and see.
If not for the fact that this was an ARC I would have left my review from above, but since it is in fact an ARC, I feel I owe everyone an explanation. I think there were multiple reasons I didn't like this book. For starters, one of our main characters, Sadie, had no sense of remorse. And, while that's fine in a a lot of stories with me, for some reason it rubbed me the wrong way this time. It's not so much that I hated her-I didn't. No, I very rarely fault a character for being who they are. I think it's more that all she wanted was demoralization of character and chaos…and I guess I just wasn't in the mood for that.
But that's not even really a blip on the radar for me. She was actually my favorite character (if it's possible to have one) aside from Miles. If it had only been a story centered around Sadie, I truly believe I might have given this a 3 or 4-maybe. It's somewhat interesting to be inside the mind of someone so well and truly messed up in the head. But, on top of psycho Sadie we have, oh Lord what's the word? We have….let's just say secretive Emerson, to play coy. He was the reason I was repulsed and I just couldn't find anything about him to like. So, on top of all of his idiosyncrasies and his lack of protectiveness for his sick brother, we had Sadie and a hardly lucid Miles.
I can't say much lest I give the plot away, but let me be clear: I don't mind a messed up story every now and again, but this story was very clearly not written in any way, shape, or form for me. I had nothing and no one to connect to, and the degradation of both humans and animals alike in this story (okay, let's face it, MOSTLY animals) was too much. I am an animal lover and when multiple animal situations arise in a horror-type story, I don't take kindly to it-especially when there's no need.
Maybe none of this would have bothered me if the plot was interesting at all, but as it was, it did. One thing I absolutely have to say before I end this mini-review is a bit of praise for this author: I absolutely adored her writing style. It was very addicting and I could see loving her other works if only because of her writing. I have been advised from one of my best friends for months that Charm and Strange is absolutely amazing and I would fall in love with the main character, and I just haven't had the time to pick it up. But after seeing the wonderful writing in this story, I'm even more excited to read it, now (I'm pushing aside the bizarre and disturbing incidences from this novel to move forward).
Perhaps any other time this would have worked for me, minus the animal things. Or perhaps not. I just have to take it as it is and realize that not every thriller will be a four star for me, no matter my prior winning streak. So, I'll take this as it is, and I'll tell people that they might even like it. If you are one that likes to read something outside the box that will both horrify and surprise you, this is likely the book for you. If not, then you'd likely be taking a large chance you won't like it if you decide to read it. Either way, it's just not for me.
*ARC provided by Netgalley in exchange for an honest review*

Related Posts