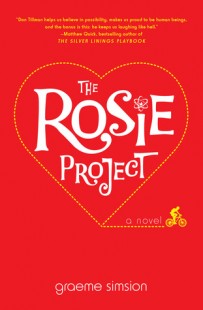 The Rosie Project
(
Don Tillman #1
)
by
Graeme Simsion
Purchase on:
Amazon
, 
iBooks
, 
Book Depository
Add to:
Goodreads
Synopsis:

Don Tillman, professor of genetics, has never been on a second date. He is a man who can count all his friends on the fingers of one hand, whose lifelong difficulty with social rituals has convinced him that he is simply not wired for romance. So when an acquaintance informs him that he would make a "wonderful" husband, his first reaction is shock. Yet he must concede to the statistical probability that there is someone for everyone, and he embarks upon The Wife Project. In the orderly, evidence-based manner with which he approaches all things, Don sets out to find the perfect partner. She will be punctual and logical—most definitely not a barmaid, a smoker, a drinker, or a late-arriver.

Yet Rosie Jarman is all these things. She is also beguiling, fiery, intelligent—and on a quest of her own. She is looking for her biological father, a search that a certain DNA expert might be able to help her with. Don's Wife Project takes a back burner to the Father Project and an unlikely relationship blooms, forcing the scientifically minded geneticist to confront the spontaneous whirlwind that is Rosie—and the realization that love is not always what looks good on paper.
From the moment I finished it I knew I had one critical task to perform : To review this project book.
Although the timing is particularly annoying, I realized that the several options I faced made my choice incredibly clear.
➊ Not reviewing this book, resulting in damage to this book's fame, which would be appalling due to the fact that it's fucking awesome.
➋ Rescheduling this review to another time, resulting in loss of memories and leading to a probable abandonment of the task in the long term.
➌ Reviewing this book, resulting in loss of time to read others books, including Stolen Songbird which I already started (with good vibes), fact that increased my eagerness to resume it.
After a prompt analyze of this data, I take the decision to write this review which will be as evidence-based as possible, that is to say, close to none. ← Please refer to option #3 to understand why.
▧ Subject 1 : Don, narrator.
✔ Gender : Male
✔ Age : 39
✔ Appearance : Average, but the presence of a six-pack due to extreme Aikido training deserves to be mentioned. The clothing is practical, highly influenced by a) the weather, b) that's about it. Please don't talk about jacket if your meaning is limited to "conventional jacket", otherwise you would have to face an hilarious misunderstanding. Now that I think about it, please mislead us, that's too deliciously funny to forget.
"But why, why, why can't people just say what they mean?"
✔ Relationship status : After realizing that many women didn't get his over-organized way of living, Don decided to start the Wife Project, following the batshit crazy idea where women have to apply to a questionnaire – I KNOW!! – to decipher if a relationship would be sustainable.
▶ Sub-mentioned project will lead to :
a) Awkward and head-desk situations which still always remain smile-inducing and never maddening (it seems important to mention because the Wife Project can appear to objectify women (it does – but that's clear from the beginning that Don is wrong). Well, you'll probably be annoyed by him at some point, but don't worry, subject 2 is coming.
b) As previously mentioned, hilarious misunderstandings.
"I turned to see him – he was large and angry. In order to prevent further violence, I was forced to sit on him.
'Get the fuck off me. I'll fucking kill you,' he said.
On that basis, it seemed illogical to grant his request."
c) Adorable and swoon-worthy scenes from the moment subject 2 is introduced. Yes, because there is EVOLUTION in Don's character. I know, big word, right? Exciting.
▧ Subject 2 : Rosie, troublemaker.
✔ Gender : Female
Oh, FUCK THAT. I'm not a scientist by any means. You want to know who Rosie is?
▶ Let me tell you : she's an utterly likeable female lead who's going to bring the unexpected in Don's life, shatter his (numerous) believes and stereotypes, and make you love her in the process. Smart, strong-minded, sarcastic, sure of her value as a person, the madness she personifies stirs up the winds of freedom in Don's life and damn, I enjoyed that something fierce. Note that by madness I mean "not as overly strict as Don", so her description can be applied to any woman who doesn't want to be imprisoned in an artificial straightjacket, and loathes that some guys think that women are only good to cook and fuck. I say yes to this.
▧ Controversies : The Butterfly Problem.
At this point you might wonder why I'm only giving it 3.5 stars. The fact is, as awesome as I found the idea and the execution of it, I felt underwhelmed at times. In a word, it lacked feels for me. As it is, I'm able to point that's The Rosie Project is an original and cute read, but the butterflies were too rare, even if they were here for sure (note that several scenes will make you Awww out loud). What can I say? I need my shoot at butterflies. However, I can't deny that the character of Don, the fact that's his POV, drives this lack of feels so maybe that's the point, you know? That's why I rounded up my rating to a 4.
▧ Results : Why should you read this book?
Because The Rosie Project is a tale of metamorphose, by the acceptance of others for who they truly are and the acceptance of who WE are. Can I say? For all his awkwardness, and surely because of it, Don is an adorable and heartbreaking character whose desire to fit in moved me – because the world we're living in doesn't always accept differences and that's a shame in my opinion. A fucking huge one.
In a word? Such an originally written cute romance.
"I asked you here tonight because when you realise you want to spend the rest of your life with somebody, you want the rest of your life to start as soon as possible."
Related Posts