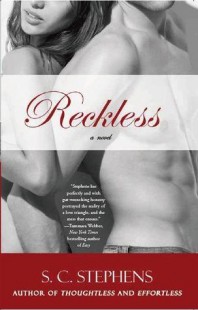 Reckless
(
Thoughtless #3
)
by
S.C. Stephens
Purchase on:
Amazon
, 
iBooks
, 
Book Depository
Add to:
Goodreads
5++++++++++++++++++++++++++++++++ Stars
Words cannot describe how much I LOVED this final installment of the Thoughtless series. It was everything I hoped it would be and more. I didn't believe it was possible, but I grew to love Kellan Kyle more and more with each passing page.
I didn't know what to expect from such a scary title like Reckless, especially after Kiera and Kellan's tremulous journey through the former two novels in the series. But, the novel exceeded my expectations and I couldn't have been happier with the way this story was written. The length to which Kellan goes to show his love for Kiera is boundless and touched me at such a deep, emotional level I could barely contain my contented sighs and smiles.
He is everything a husband should be and saying that doesn't do him one bit of justice. What he feels for Kiera is beautiful and passionate and I love S.C. Stephens for coming up with this fabulous, FABULOUS series that has stolen my heart and found a permanent residence on my favorites shelves-both digitally and paperback. Like I said, there are just no words to describe how much I adored Reckless.
Each and every character got the ending they deserved, and some of the characters even found redemption from their less than stellar actions in the other novels. I was nervous at the beginning when I first started reading that he was going to be such a prominent entity, but I loved the presence of Denny, one of her closest and best friends. I love that we were able to see the progression in Denny's personal life post-Kiera. It added a sense of peace, contentment, and finality that only added more, you guessed it, love and passion to the story.
While I am sad to see this series come to an end, because it is definitely one of my all time favorites, I am also glad it's over and K and K got their happily ever after-they freakin' deserved it. S.C. Stephens, ever the queen of angst, still had me on the edge of my seat, gritting my teeth, and getting angry at many of the secondary characters, one in particular, even though I just knew in my heart this novel had to have a happy ending. Kudos.. So I am excited to say I will not stop talking about Reckless to my friends and family members until they give this series a shot-because no matter how much crap all of these characters went through to get to their HEA's, the journey you go through is so heartwarming and heartfelt, you will enjoy every, well…almost every, minute until you get to the satisfying and perfect ending for all the characters you have grown to know and adore.
Related Posts