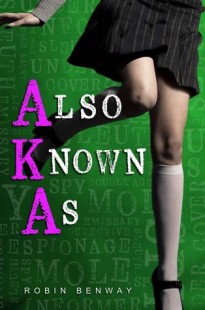 Also Known As
(
Also Known As #1
)
by
Robin Benway
Purchase on:
Amazon
, 
iBooks
Add to:
Goodreads
Synopsis:

Which is more dangerous: being an international spy... or surviving high school?

Maggie Silver has never minded her unusual life. Cracking safes for the world's premier spy organization and traveling the world with her insanely cool parents definitely beat high school and the accompanying cliques, bad lunches, and frustratingly simple locker combinations. (If it's three digits, why bother locking it at all?)

But when Maggie and her parents are sent to New York City for her first solo assignment, her world is transformed. Suddenly, she's attending a private school with hundreds of "mean girl" wannabes, trying to avoid the temptation to hack the school's elementary security system, and working to befriend the aggravatingly cute son of a potential national security threat... all while trying not to blow her cover.
Where are the teenagers? What, it seems that in contemporary YA, we often get this oh-so-delicious choice :
▧ Either teenagers sound like wiser than Yoda freaking Jedi : The Fault in Our Stars
▧ Or like predators in the jungle : Every book with some devil cheerleader in it.
So, no, my question is genuine and I end asking this to myself pretty often : WHERE. THE. FUCK. ARE. THE. REAL. TEENAGERS?
Strangely, I had to read a story about SPIES to find teenagers who sound like fucking teenagers. Frankly, I don't know what that says about the genre, but it can't be positive, don't you think? Anyway, it made this book so refreshing I just can't rate it lower than 4 stars, even though then it's quite… immature at times, because, surprise! Teenagers ARE immature like some adults, but that's not the point here.
▓ What can you find in Also Known As? ▓
➊ Hilarious dialogues : Indeed Also Known As is the kind of book you need to read alone, if you don't want to sound super crazy with your giggles, let's say. That's definitely too late for me, I'm afraid. Nobody warned me! Damn!
"Are we sworn now?" he said, his eyes crinkled at the corners.
"Yes," I said, and tugged on his finger for good measure. "It's also possible that we're now considered married in the country of New Guinea."
We both cracked up at the same time. "Kidding!" I giggled. "Kidding! At least I think I am. Who knows?"
"Let's Wikipedia that when we get home," Jesse suggested."
➋ Absolutely ♫ ♬ no dramaaaaa ♫ ♪
Bring the pop-corn, though.
"They were fighting over this clown? Now I had seen everything.
"Jake?" Julia said, crossing her arms and looking over at Stoner Boy. "Is it true? Who did you like better, babe?"
Babe? They were still together? Jake cheated on Julia and she took him back? If this were a TV show, I would have been recording every single episode on my DVR. "
➌ No slut-shaming and other ridiculous stereotypes, as evil cheerleader, football-player manwhore, bitchy girl friend….
➍ Did I say cute? Yeah? The truth is, Jesse Oliver is one of the sweetest, cutest male lead I had the pleasure to meet. Seriously, while staying realistic and not over-the-top cheesy, the guy melted my heart with his insecurities and his kindness – he is a complete dork, yes, but oh so fucking fantastic. Not to mention his sparks of light humor I adore. Now, that's the kind of guy who could date my baby sister with my whole approval (not that she needs it, obviously).
" (…) Are guys always like this?"
"Um. Kind of?"
I threw my hands into the air. "This is why the world's a mess!" I yelled. "Because no one can just say what they want to say!"
"I think that's a John Mayer song," Jesse pointed out."
➎ A witty and kick-ass heroine, who takes her job as a spy safe cracker seriously, although she's a teenager with, well, teenagers issues. What I found so endearing and realistic is the fact that she's so clueless at the same time, especially concerning teenager stuff, being around her peers for the first time and all because no, the cute Islander guy doesn't count, even if his imaginary conversations skills looked great.
"It was time for the mirror pep talk.
"Okay, Maggie," I said to myself after my shower, wiping the steam off the medicine cabinet.
"You could eat these kids for breakfast. You won't, though, because that would be cannibalistic and wrong."
Icing on the cake, I never found her inner monologues annoying, and that's saying something, right?
"You know how sometimes you realize you're doing or saying the wrong thing, but you just can't stop yourself? You can literally hear the words coming out of your mouth and you just want to shove them back in because the real you, the good you, would never want to be this way, but you just keep going? "
→ Oh YES do I know that >.<
➏ Girl friendship : Now, I need to say it : I. LOVED. ROUX. This girl is just plain awesome. Forget the bitchy friends we find way too often, and meet this unapologetic girl who has a passion for French vine and never stops talking. Of course I can relate, duh.
"Seriously. Feathers. Why?"
"No clue."
"I think I dreamed that I was the Black Swan. Oh my God, I need coffeeeeeeeee. If I don't have coffee, I will shrivel up and die just like one of those little roly-poly bugs." She paused. "There's a feather in my mouth. Blechhh."
"Roux," I said, trying to bring her back to the present. "I need to talk to you."
"Is this an intervention?"
"What? No. God, no." I didn't have that kind of time, for starters. "I just have some questions."
➐ An adorable and swoon-worthy romance whose growth is believable. What I loved is the smile-inducing way this first love is portrayed, without all the awful angst we have to stand more often than not. Yes! Because! Love! Isn't! Always! Angsty!
"It's not going to be all good for Roux tomorrow," I pointed out, "but wait. Why didn't you say anything?"
Jesse shrugged and ran his hand through his hair in a way that was not adorable or charming. At all. "Well, um, you're kind of intimidating?"
I was definitely intimidating, but not for any reason that Jesse Oliver would or should know about. "What do you mean?"
"Well, in class you're always taking notes … and frowning?"
"Are you asking me or telling me?"
"See?" Jesse protested. "You're really argumentative, too."
➑ And spies – I mean, SPIES! Who doesn't like a spy story? Hmm. Wait – Who doesn't like a spy story without a girl portrayed as a sex object?
➒ Parents! I know, amazing right? The MC has parents who – wait for it – care about her and worry when she takes risky decisions. Moreover, their job as spies makes them hilariously off the wall and I can't deny that their reactions cracked me up several times.
➓ A compelling writing, serving a fast-paced, never boring plot.
To sum up : Here's a funny, drama free and adorable story. One might say it isn't unforgettable, and yes, that's true. But now, tell me, don't you ever need to lighten your mood? Because I do, and it was the perfect book for it. In any case, I'd take this fluffy read over a manipulative drama on any day. I can be shallow like that.
Related Posts