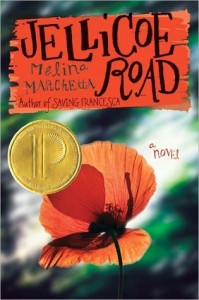 Jellicoe Road
by
Melina Marchetta
Purchase on:
Amazon
, 
iBooks
, 
Book Depository
Add to:
Goodreads
Synopsis:

In this lyrical, absorbing, award-winning novel, nothing is as it seems, and every clue leads to more questions.

At age eleven, Taylor Markham was abandoned by her mother. At fourteen, she ran away from boarding school, only to be tracked down and brought back by a mysterious stranger. Now seventeen, Taylor's the reluctant leader of her school's underground community, whose annual territory war with the Townies and visiting Cadets has just begun. This year, though, the Cadets are led by Jonah Griggs, and Taylor can't avoid his intense gaze for long. To make matters worse, Hannah, the one adult Taylor trusts, has disappeared. But if Taylor can piece together the clues Hannah left behind, the truth she uncovers might not just settle her past, but also change her future.
So……this is how I feel right now:


Me. Just me….alone with a majority of people of who LOVED, ADORED, OBSESSED over this particular novel. And oh, dear God please don't hate me (especially you, my dear, sweet Anna) but…..I couldn't love this book. I tried. I tried so, so, SOOOOOO hard, but, in the end, I never once did I feel myself drawn back to this story. When I put the book down, it was just that-I put it down. It didn't exist beyond when it was in my hands. And I know that's not how it's supposed to feel.
"What do you want from me?" he asks.
What I want from every person in my life, I want to tell him.
More.
Gawd, you guys I wanted to love this so hard. As I was tossing and turning on this horrible last Sunday night (the depression of not loving this book was a visceral feeling), I came to a crushing realization: I'd rather be fighting my Sunday night demons (I can NEVER sleep on Sunday nights, but that's neither here nor there…) attempting to sleep even when I knew I couldn't than reading more of this book. And that kept me from sleeping, as well. I repeatedly asked myself, 'What's wrong with me?' 'Why am I the only person who didn't like this?'. And, admittedly, I still hate that I couldn't find much to identify with.
Being part of him isn't just anything. It's kind of everything.
I think Marchetta's ideas are so profound, but I just hate how she delivers them. She's lost me in both books I've attempted to read and I think I just need to realize that this author is not for me. It doesn't mean she's not an excellent writer-she is. But, and this is going to sound so harsh, if the only tears I cried were from boredom? There's a problem. Just because a book is beautiful and has poetic writing doesn't mean it can't be boring and….for me….it was boring until like 60%. Even in the end when it was supposed to all tie together, I finally just didn't care. I don't think I would have anyway, honestly. I'm such a bad reader-I really only cared about Jonah and Taylor, and I feel like they hardly had any real, tangible time together.
"What's with what you're wearing?" Griggs asks while we stand outside waiting for the others.
"It's pretty hideous, isn't it?" I say.
"Don't force me to look at it," he says. "It's see-through."
That kills the conversation for a couple of seconds.
And, I swear this is the last negative section, that's my biggest problem. Why does there have to be so many people on each page? It's confusing, it made it drag, and I didn't get NEAR enough Jonah…at all. And the territory wars-I'm sorry, but how could this be a main plot point??? It was fun at first, and then I was like…please, please, PLEASE stop-they didn't make sense. Or, I just was too far gone to care…again.
Though very little worked for me, there were some shining moments. Jonah. Oh my goodness did I love him. He and Taylor together. All of their moments separate from the school were amazing and fun to follow, but it just took so damn long to get there. I loved the way he looked at her and how he was always so protective of her. How he would do anything to make sure she stayed safe. And, most importantly, how they changed each other's lives forever.
"You care about nothing, you piece of shit!"
I'm on the verge of tears, like I always seem to be these days, and I hear the catch in my voice and I hate myself for it. He throws me off him and I can tell there is a fury in him.
"Never," he tells me in a tone full of ice, "underestimate who or what I care for."
Okay, so, I've said my piece and it's clear I'm in the minority-it's clear that everyone thinks all the things I hated are what make an excellent story, so don't take my word for it. Just know, this book is beautiful in it's own right….it's just not the book for me.
Anyway…now everyone can fight over my carcass…sorry.
************************************
Because Anna told me to.
Her exact words?
Butbutbut…Jonah!
Good enough for me lmao
Related Posts