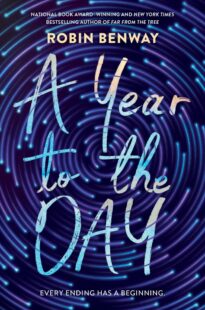 A Year to the Day
by
Robin Benway
Purchase on:
Amazon
, 
iBooks
, 
Book Depository
Add to:
Goodreads
Synopsis:

IT'S BEEN A YEAR—A YEAR OF MISSING NINA

Leo can't remember what happened the night of the accident. All she knows is that she left the party with her older sister, Nina, and Nina's boyfriend, East. And now Nina is dead, killed by a drunk driver and leaving Leo with a hole inside her that's impossible to fill.

East, who loved Nina almost as much as Leo did, is the person who seems to most understand how she feels, and the two form a friendship based on their shared grief. But as she struggles to remember what happened, Leo discovers that East remembers every detail of the accident—and he won't tell her anything about it. In fact, he refuses to talk about that night at all.

As the days tumble one into the next, Leo's story comes together while her world falls apart. How can she move on if she never knows what really happened that night? And is happiness even possible in a world without Nina?
Review:
A Year to the Day was just not for me.  Maybe if you've never lost someone who means the world to you, this book would be easier to read?  Or not.  I don't really know and I'm grappling at air most likely.  I just know that as someone who drowned in their grief, and struggled for months just putting one foot in front of the other, I never wanted to feel that dark and depressed again.  And this book put me right back there.  I read the whole book, but I was left feeling sad and empty.
It's been a year and the grief still comes in waves, pulling the memory of Nina closer and then further away. Leo thought she'd be better at navigating these waters by now.
I started out this book reading from the beginning.  Weird thing to mention right?  Well that's because this story was told backwards.  We started at one year past Nina's death, and we worked our way back to right before the accident happened.  Right away, you're drowning in their grief.  It felt so somber and intense.  And you know that choking feeling in the back of your throat, as though you're on the verge of crying, I wasn't able to escape it.  Yet I couldn't connect with these characters.  We were in the middle of their lives and I felt lost.  Lost for who they all were and how they went together.  It was awkward and I felt as though the story was disjointed.  Hearing about things before it happened and not knowing all of the pieces confused me deeply.  So I did something I have NEVER done before…..I was at 20% and stopped.  Then I  started reading the story over again, but this time from the back of the book.
"Happy," he repeats. "Are you happy, Leo?"
"I don't . . ." She trails off, trying to think of how to respond to such a seemingly simple  question. "I don't really know what happy is supposed to feel like anymore, I guess, so I don't know."
Yes I read this book backwards! I started at that last chapter and worked my way back to the beginning, chapter by chapter.  Finally, it made sense.  It wasn't awkward anymore!  And I was able to connect to the characters!  I got tears in my eyes.  And quite a few of those times I was mad at this book, because it made me feel. The writing was effective in that regards, but I couldn't like this story.  It was too heart wrenching and depressing for me.  Yes there were moments of growth in this story and finding solace with others that you wouldn't think you would.  Discovering friends.  Connecting with others.  Learning to live with your grief and trying your best to function with it.  But even with all of that, I didn't enjoy reading this book.
When Leo cries, it's with quiet sobs that rack her bones, her face  buried in her pillow so she doesn't disturb her mom, her mom who's gone  from sleeping in Nina's bed to not sleeping at all, wandering downstairs  in the kitchen at three in the morning.
Finishing this book, well we know the first chapter is technically the ending and nope, it is not happy.  And that last chapter, while it was right before Nina's death, it didn't give me comfort or happiness either.  And maybe that's what is wrong with me.  To expect to close a book and have a smile on my face or to feel happy.  I didn't get that with A Year to the Day.  Plus, there were some secrets that I struggled with.  Her mom didn't know something, and the fact that we never got a resolution in regards to what that related to, I can't.  That bothered me too deeply.  I can see it being realistic, but I personally struggle when things aren't wrapped up in a bow.  Unfortunately this book wasn't right for me at all.  But if you're looking for a book that will make you feel and deal with grief, then I hope this book works out much better for you!
*I voluntarily read and reviewed an advanced copy of this book, provided by the publisher. All thoughts and opinions are my own.*
Related Posts