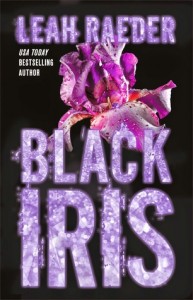 Black Iris
by
Leah Raeder
Purchase on:
Amazon
, 
iBooks
Add to:
Goodreads
Synopsis:

The next dark and sexy romantic suspense novel from the USA Todaybestselling author of Unteachable.

It only took one moment of weakness for Laney Keating's world to fall apart. One stupid gesture for a hopeless crush. Then the rumors began. Slut, they called her. Queer. Psycho. Mentally ill, messed up, so messed up even her own mother decided she wasn't worth sticking around for.

If Laney could erase that whole year, she would. College is her chance to start with a clean slate.

She's not looking for new friends, but they find her: charming, handsome Armin, the only guy patient enough to work through her thorny defenses—and fiery, filterless Blythe, the bad girl and partner in crime who has thorns of her own.

But Laney knows nothing good ever lasts. When a ghost from her past resurfaces—the bully who broke her down completely—she decides it's time to live up to her own legend. And Armin and Blythe are going to help.

Which was the plan all along.

Because the rumors are true. Every single one. And Laney is going to show them just how true.

She's going to show them all.
**ARC provided by Netgalley in exchange for an honest review**
I am not the heroine of this story.
Wellllll….here we go. If anyone follows my reviews, even a little, they know I hardly ever rate below a three. Hell, I hardly rate a three. Even less frequently do I rate a book a one-I mean, like, twice….in the last two years. So, to say I am shocked at my visceral reaction to this story is an understatement. I expected, at worst, maybe some indifference.
Maybe a little bit of dislike. But I never ever EVER expected to hate this story so much. I didn't expect to hate this story at all. And I am so so so sooo sorry….but I loathed this book to the bottom of my soul.
I respect this author's voice and her journey, but I just couldn't respect the content of this particular work. Not because of the narrator's choice of whom to love, but because of her actions and how she spoke.
I don't smile. When I show teeth, it's to bite.
How much better of a person are you, really, than those who wronged you if you seek revenge in the most vile ways possible? How are you being any better of a person? This is fiction, sure. I know that. But, the whole time, I felt dragged down, depressed and oh so heavy as I read each and every page. Everything the narrator did made me feel so full of sadness that it became this deep, guttural emotion that I couldn't contain. I would snarl, I would glare, I became angrier and angrier…and felt heavier and heavier. I was in a swirling inferno of rage with each page that passed as I learned more about our 'unreliable narrator.'
That's the real poison, truth. Keep that shit inside and you'll see. You'll wither and die.
But the worst thing of all? As we were finding everything out, piece by piece, bit by bit, we were supposed to begin to identify with the main character (I think?), to feel for her, but the more I began to learn about Laney, the more I began to feel for the enemies. Yes, what they did was deplorable, unforgivable, but what she begins doing almost feels worse to me. I grew this deep rooted connection with the God damn villains, with the people I despised, if only because I couldn't stand to see what this girl was doing to them…and herself.
Maybe the only person who could understand a villain was another villain.
In a lot of ways, well, about 90% of them, this story was about sexual discovery and being who you are. I respected that from page one. But, and this is where it gets very very difficult to explain without pissing people off, I did feel that it was the WHOLE story. Let me explain: In Unteachable, Raeder's other hit novel, Maisie had SOME of the same problems as well, including sexual prowess. But, aside from not being ridiculed in front of the whole school like Laney was, Maisie's voice didn't center around sex. It wasn't all she thought about. In this story, I felt like we were drowned in Laney's sexual desires, which is okay, but that's all I really felt there was, for a long while. And by the time we got to the meat, the unraveling of the mystery, I was mildly heavily disgusted with the main character's actions. Not just sexually, but with everything. It wasn't about boy or girl, or girl and girl, or girl boy girl, for me. It was that sex and drugs were constant, every page variables in this story, and that wasn't necessarily what I signed up for. I knew there would be scenes I was uncomfortable with, but I didn't know how deeply the character's affliction or fascination was. I'm okay with erotic books, sometimes, but I wish I'd have known just how erotically charged the WHOLE story would be.
Strength is not in the body, it's in the mind. It doesn't lie in flexing your muscles and crushing those who oppose you. It lies in being the last one standing. By any means. At any cost.
The characters. I hate to admit it, but I've never disliked a main character so deeply in my whole life. I make it a job to love or respect the MC's in a story because I picked up their book, this is their story. I even loved Jorg from The Broken Empire series and he was an evil little shit. The truth is, I never have disliked, or hated, in Laney's case, an MC so strongly before, if at all. And I really really think that speaks volumes. I felt more obsession, savagery, and possessive jealousy than any love in this story, and that makes me so sad because I know so many others found that solace for this deeply controversial story.
Oh, and if this bothers you, even a little (not me, since I was warned)…


Then I suggest you don't read this story.
That's not to say everything turned me off in this book. I have always really adored Raeder's writing style. It's very poetic and beautiful and you feel swept up in her words. When you pick up a Leah Raeder novel, you know the writing is going to blow you away. At times, only for this story, I did feel a little bombarded with the descriptions, overwhelmed even, but the writing was still beautiful and it really completed the voice that the author wanted to convey. I really do enjoy her writing and I loved her previous work, so I didn't want to discount that.
The sky looked like layered sherbet, creamy peach melting into raspberry and blueberry, shading the world in soft, milky tones. The sun was an eye-smarting bead of white light trembling at the horizon.
Okay. Well. There you go. I'm the type of person who really doesn't like to make waves and worries constantly about what people will think of me when I rate badly. But, there's literally no nice way to say you disliked a book that you are rating one star. There's no way to mince your words because that one star says it all in flashing neon lights: This story wasn't for me. No matter which way you slice it, I didn't find much to identify with. I can only hope others find this story a great comfort and a wonderful read-it just wasn't for me.

*******************
HOLY SHIT! I GOT THE ARC. I can't believe it ! This is epic.
Wow.
That is all.
Related Posts