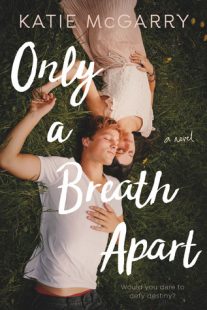 Only a Breath Apart
by
Katie McGarry
Purchase on:
Amazon
, 
iBooks
, 
Book Depository
Add to:
Goodreads
Synopsis:

They say your destiny is carved in stone. But some destinies are meant to be broken.

The only curse Jesse Lachlin believes in is his grandmother's will: in order to inherit his family farm he must win the approval of his childhood best friend, the girl he froze out his freshman year.

A fortuneteller tells Scarlett she's psychic, but what is real is Scarlett's father's controlling attitude and the dark secrets at home. She may be able to escape, but only if she can rely on the one boy who broke her heart.

Each midnight meeting pushes Jesse and Scarlett to confront their secrets and their feelings, but as love blooms, the curse rears its ugly head…
Review:
Only a Breath Apart was a beautifully, emotional story.  It held my heart in the palm of its hand and I kept finding moments here and there that stole my breath away.  This book was filled with heartfelt characters and friendship, love, forgiveness, bravery and finding oneself was a huge part of this story.  If you've never picked up a Katie McGarry book, know that one of my favorite things about her stories are the characters she creates.  They always feel so real, it's like I could reach into the pages and touch them.  So yes, I definitely recommend this book!  It's one that will stay with me for a long time to come.
I loved him once—the way a six-year-old loves with abandon. I loved him how I once loved myself. Jesse was freedom when so much of my life meant confinement. He was laughter during dark nights, he was the warrior who scared the monsters under my bed away . . . he was my friend.
Stepping into this story, I was already gutted within those first two chapters.  We jumped back in time and got to see Jesse Lachlan and Scarlett Copeland as children.  While they were both from extremely broken homes, as children they always had each other.  Jesse and Scarlett were not only neighbors, but best friends too.  It hurt to watch them both witness abuse and I could feel their fear pouring off the pages.  I was heartbroken with how hard their lives already were.  But years later, we caught up with them when they were 17.  And while they were both still in a world of pain, they were no longer friends with one another.
Jesse has done this a handful of times since our freshman year. Glance at me as if I'm someone worth looking at, someone worth laughing with a little too loud and smiling with a little too much. Then he remembers who I am and snaps his gaze to someone else.
But he's not looking away now.
From one event, Scarlett bridged the gap between them and set them on a path.  One that was filled with hope, redemption, heartache, friendship and even the possibility of love.  Hold on though, because it was definitely not an easy path.  Not only do they have their own personal struggles, but there was distance between them.  Even with that distance, when Scarlett and Jesse had the tiniest amount of interaction, I was smiling and sighing out loud.  I just wanted them both to find happiness, and I knew they could find it in each other.
Scarlett lifts her head and smiles . . . at me. It's a gentle smile, and one that causes a spike of excitement in my blood . It's as if the sun has melted off her outer shell and has revealed the girl I once knew, and a woman I want to get to know.
Scarlett was a girl who made me feel every single emotion she did.  I felt suffocated by the way her father treated her and in other moments her fear consumed me.  Chills ran down my back and the hair stood up on my arm. I found myself terrified for Scarlett and the life she was stuck in.  Thankfully, she started to find her voice and I was so proud of her.  Scarlett was strong, resilient, loving and I kept hoping her life would change.  That every moment could feel like when she was with Jesse.  Because when Scarlett was with Jesse, it felt like she could be breathe.
The breeze plays with the ends of her hair, and I capture that moment. A snapshot of something I want to remember. Scarlett's back on my land. My friend. My foe. The person who used to push me, compete with me and made me alive. My Tink.
Jesse captured my heart by listening, helping and always caring for Scarlett when she came back into his life.  While I had my guess for why he shut her out his freshman year, I was still upset with him.  That didn't affect that I loved him with my whole heart and soul. I quickly connected with Jesse, just like Scarlett.  They both struggled and saw more in their lifetime than anyone should.  But Jesse had a family curse and he was fighting to keep what belonged to him.  His land.  As the story unfolded it became evident that if Scarlett and Jesse both wanted what they desperately needed, they'd have to work together.
"Scarlett, there are two times that I can breathe in deeply without wincing in pain, and being with you is one of them. If I could, I'd keep you here forever."
My third favorite person in this story was Glory Gardner.  She was a distant cousin to Jesse and played such an important role in Scarlett and Jesse's life.  I don't want to say what role she played, but Glory fascinated me with her tarot cards and being able to converse with the spirits.  So I kept hoping that she would lead Jesse and Scarlet into happier times.  Because they more than deserved it!
His fingers trail up and down my arm and the sensation tickles, causing pleasing goose bumps along my skin. There's a safety that radiates from his touch. A safety I wish I could take with me wherever I go.
Only a Breath Apart was so easy to devour, even with the story constantly pulling on my heart.  So many times I'd go from smiles, to having my heart in my throat and then to having tears pour down my face.  It was such an emotional book. So when I finished that last page, I was so thankful that I stepped into Jesse and Scarlett's lives.  Now I can't wait to devour whatever Katie McGarry writes next!
PS I'd love a look into the future!  If Jesse and Scarlett ever have a novella about where the road takes them, I'd one click that so fast!
Here are a few more of my favorite quotes:
Each time I think it's impossible for my heart to hurt any more than it already does, it finds another painfully imaginative way to twist. – Scarlett
 Second star on the right. I haven't been Tink to his Peter Pan for a long time. But watching Jesse head off to the land the two of us conquered in battles that belonged in our heads creates a sense of nostalgia I can't ignore. I start for the land that calls to Jesse, the land that used to call to me. It's definitely time for an adventure.
 I hate myself because I wish I could feel. I wish I were normal. I wish I wasn't me.- Scarlett
 I will always risk everything to save her. She didn't know it then. She doesn't know it now. Scarlett once said she was empty. I've never been empty. I've been loved, and I've loved in return, but I don't do it with many. She was one of the few. Still is. Always will be.
*I voluntarily read and reviewed an advanced copy of this book, provided by Macmillan-Tor/Forge. All thoughts and opinions are my own.*
Amazon  |  Kobo  |  Google Play  |  B-A-M  |  Barnes & Noble  |  Apple Books  |  Book Depository  |  Goodreads
Excerpt:
~SCARLETT~
Evangeline fans herself. "That boy is hot."
Hot isn't exactly the word I would use for him. Hot somehow feels…lacking. Hot is for some boy in our gym class who has recently grown facial hair. Jess Lachlin is no boy. He has fire-red hair, a sun kissed tan from all the hours working on his land, deep green eyes and a body made to handle rough, rugged days.
I might have been ignoring Jesse for years, but I've seen him. Every girl in this school has gone out of her way to drive or walk along one of the country roads to watch Jesse as he works his land. Living across the street, I've had a front-row view. His shirt off, drenched in sweat, muscles rippling as he moves, the way he sometimes pauses in his front yard and looks across the road as if he knows I'm watching. A fluttering in my chest and then—
"Would you date him?" Evangeline asks.
"No." Camila's answer is swift. "And it's not like he dates anyone. Except for his friends, the boy is a recluse."
"Why wouldn't you?" The kneejerk question surprises even me when it pops out of my mouth. Camila and Evangeline look at me as if those were the first words I'd ever spoken. If I could hide under the circulation desk without making this moment worse, I would.
"Besides the fact he's cursed and anyone a Lachlin falls in love with drops dead?" Camila walks toward me and Evangeline follows. Camila watches me with more curiosity than I care for, but it's nice that she's moving the conversation in my direction. "Jesse's a train wreck, and he taints anyone in his vicinity. Dating him would be a social, emotional and literal death sentence."
I'm familiar with the curse, and it's no truer than Glory and her prophesies. "That sounds melodramatic."
"It's not." Camila has a swear-to-God seriousness to her. "Mom and Dad had Bible study at our house last night, and Pastor Hughes came. Everyone thought I was in the basement, but I went to the kitchen for something to drink, and I heard Pastor Hughes ask everyone what they knew about Jesse."
Eavesdropping. How Camila.
"Did you know that before Veronica started hanging with Jesse that she was on track to be a concert pianist?" Camila says.
"Seriously?" Evangeline tilts her head in disbelief, and I'll admit to putting down my cell.
"Seriously. And Leo Wheeling was a star soccer player, predicted to be the first freshman to play varsity for our high school, and then he started hanging out with Jesse."
Faint middle school memories of hearing Leo's name over the announcements regarding soccer emerge in my mind.
"Then someone said that before Nazareth Kravitz moved here, he had taken the ACT in the seventh grade and received a perfect score. He moved here, met Jesse and the rest is history."
Nazareth sleeps through most of our classes, that is, when he bothers showing for school.
I nibble on my bottom lip as I'm not sure how much I like the Jesse-is-the-devil enthusiasm. I may share the opinion, but that doesn't mean anyone else should.
"Of course, then there's Jesse himself. Drinking, drugs."
"The fights," Evangeline pipes in.
"Don't forget the suspensions—"
"And he's been arrested!" Evangeline finishes Camila's statement like the two share a brain. Her eyes sparkle like that precious piece of scandalous gossip was just too good not to spread.
"The boy is a walking disaster," Camila continues. "Anyone who hangs out with him wants to become a loser. It doesn't matter he's going to be a millionaire once he sells his grandmother's land. Anyone who spends time with Jesse is asking for hurt."
"And death."
Giveaway:
About Katie McGarry:
Katie is the author of the PUSHING THE LIMITS series, THUNDER ROAD series, SAY YOU'LL REMEMBER ME, and the upcoming YA novel, ONLY A BREATH APART. Her novels have received starred reviews, critical acclaim and have won multiple awards including being a multiple Goodreads Choice Award Finalist for YA Fiction, multiple RT Magazine's Reviewer's Choice Award Finalist for Best YA Fiction, including a win in the category, and she was a 2013 YALSA Top Ten Teen Pick.

Website | Twitter | Facebook | Goodreads | Pinterest | Tumbler | Instagram
Tour Schedule:
Related Posts
I absolutely loved Only A Breath Apart and I'm so thankful to be on this tour! So check out my 5 Star Review below and enter a fabulous giveaway! Enjoy!