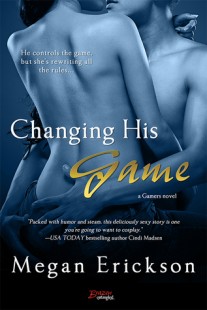 Changing His Game
(
Gamers
)
by
Megan Erickson
Purchase on:
Amazon
, 
iBooks
Add to:
Goodreads
Synopsis:

He controls the game, but she's rewriting all the rules...

Marley Lake is no stranger to awkwardness, but getting caught watching a dirty GIF by the company's hot new IT guy exceeds even her standards. That is, until she realizes he's as turned on by it as she is. But with a big promotion on the line, she refuses to let her current dry spell be her downfall. Maybe.

Austin Rivers has no business lusting after the irresistible editor of Gamers Magazine. He's a secret partner in the business-and technically Marley's boss. One look at that GIF, though, and he's ready to install a whole lot more than just software...as long as she never finds out who he really is.

But reality's not as virtual as it seems, and when Austin's identity jeopardizes Marley's promotion, he has to change his game or risk losing the only woman with the cheat code to his heart.
Review:
Changing His Game was sexy and fun!  The storyline, which moved quickly, was too cute.  I caught myself smiling from time to time, and the characters helped with that because they were so quirky and unique.  And the sexy level in this book was through the roof scorching hot.  While I did have a few personal issues, this was still an adorable book.
Marley Lake is the head of the copy editing team at a magazine called Gamers.  She loves her job, but she's about to cross her own personal line.  While an IT tech helps fix her computer, he stumbles upon her dirty gif she has on her tumblr account. He finds it as lust worthy as she does, so how can she not want to be with him?  But what Marley doesn't know is that the IT tech, Austin Rivers, is actually a silent owner in the company she works for.  The one she wants a promotion from.  Watch out, because the fun is about to begin!
Oh my gosh, I was beyond mortified for Marley in the beginning of this book.  I would have crawled under that desk and rolled into the fetal position and died.  Seriously.  But thank goodness Marley didn't do that, because it started a sexy chain reaction.  While I didn't feel as though I had a complete grasp on Marley, since I knew nothing about her parents or if she had any friends besides her brother, I did know that she was a hard worker.  She was demanding and in charge of her career.  And you know what?  That's why she's drawn to her favorite gif so much.  That woman in the gif lets everything go, and Marley needs that release too.  To let someone else be demanding and take control of her actions.  And Austin is the perfect guy for the job.
Austin is one of those people where his past and his present life are such a contrast, that it seems as though he is always struggling within himself.  But he definitely did not have any insecurities when it came to being with Marley intimately in the bedroom uhhhh or other interesting places that I never would have thought of before haha.  He was demanding, in control, creative and wasn't going to let any situation steal time away from being with the one that he wanted to be with.  Way to go Austin!  I liked that nerdy yet oh so sexy man.

The few issues I had with this book, were completely personal.  It was laced with cheesy humor, and while the sexy innuendos that were computer related were creative, I just can't ever  connect with that type of humor.   Also, while I enjoy reading sexy, steamy scenes, I prefer my males to do less talking.  Especially the demanding kind.  Now I know that's exactly what Marley wanted and needed, but it's just not my cup of tea.  And while I wish the book had more relationship development and a little less sexy time, again I understand that's not what would have worked for Marley.  But regardless, I still think this was a cute book.  I loved how the story flowed and I liked the characters that she created.  I will be trying some of her other books, because I loved the fun that she poured into the pages!
*ARC kindly provided by Entangled Publishing in exchange for an honest review*
Related Posts