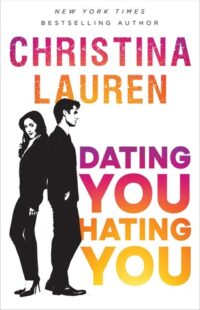 Dating You/Hating You
by
Christina Lauren
Purchase on:
Amazon
, 
iBooks
Add to:
Goodreads
Synopsis:

Everyone knows that all's fair in love and war. But these two will learn that sabotage is a dish best served naked.

A sexy, compulsively readable romantic comedy that dives headlong into the thrill and doubt of modern love, Dating You/Hating You by New York Times bestselling author Christina Lauren is the story of what two high-powered agents will—and won't—do to get everything they ever wanted.

Despite the odds against them from an embarrassing meet-awkward at a mutual friend's Halloween party, Carter and Evie immediately hit it off. Even the realization that they're both high-powered agents at competing firms in Hollywood isn't enough to squash the fire.

But when their two agencies merge—causing the pair to vie for the same position—all bets are off. What could have been a beautiful, blossoming romance turns into an all-out war of sabotage. Carter and Evie are both thirtysomething professionals—so why can't they act like it?

Can Carter stop trying to please everyone and see how their mutual boss is really playing the game? Can Evie put aside her competitive nature long enough to figure out what she really wants in life? Can their actor clients just be something close to human? Whether these two Hollywood love/hatebirds get the storybook Hollywood ending, or just a dramedy of epic proportions, you get to enjoy Christina Lauren's heartfelt, hilarious story of romance in the modern world.
Review:
Dating You / Hating You was a hilarious adult, enemies to lovers romance. Evie and Carter had the most adorable meet cute at a Halloween Party. It seemed like they were destined to be together, even if their friends may have had a hand in setting them up. And while they had similar jobs, at competing companies, they hit it off so easily. It was as if they could be friends or more without even trying. They were both quirky and complimented each other so well. So while they started the beginning of something, everything changed the moment their companies merged together. Evie and Carted were now competing for the same job, and only one of them could keep it.
I hate how funny he is, and I hate how much I want him to keep touching me. I hate this entire situation.
Evie cracked me up time and again with her honest thoughts. She worked in such a cut throat field, and I hated so many around her. Yet she loved her job and thrived at what she was doing. Carter was the first thing she seemed nervous about. She was finally going on a date, and with someone she liked. So when she learned she'd be competing for her job, against Carter, she tried to be nice. And helpful. But after a few mistakes by Carter, all bets were off. And Evie had NO problems playing dirty!
It feels like we're standing on the deck of the Titanic as it goes down, saying, It's gonna bob back up any second now.
Carter was adorkably cute and so kind. I loved his compliments. I loved how he paid attention. I loved how honest he was. And that he even called Evie, Evil! But his family life was something else. His brother was a famous photographer who was a jerk. And his parents, wow, I don't even have words. But Carter loved his job and LA. This was his home and he wanted to keep his job. So while he had good intentions, sometimes things came off as sooooo wrong. While I was on Evie's side a few times, it felt like the line was drawn deep in the sand between them. But through it all, he always seemed to be thinking of Evie.
This whole situation would be about a million times easier if I didn't want to kiss him as much as I want to shove him.
When Carter and Evie worked together, it was so effortless. They truly made a formable team. Yet Evie and now Carter's boss, Brad, seemed to remind them time and again that they were competing for the same job. So it was impossible for there not to be at war. They didn't play nice and the games they played on each other were HILARIOUS! I was laughing so hard quite a few times that I had tears falling down my face.  Yet I kept hoping that they would fall in love and get a happily ever after!
"I liked you," he whispers.
An ache worms itself between my ribs when he says this, and my response comes out more raw than I'd planned: "I liked you, too."
He stares at me, unblinking. "Evie—"
"I'm just glad I figured out who you really are before we got in too deep."
Dating You / Hating You could easily be made into a romantic comedy movie! Between their texts, practical pranks and games they played against each other, this book was so funny! And the friendships they had with Daryl, Amelia, Carter and Stephanie rounded out this story so well! This story was such a fun enemies to lovers romance and another book I enjoyed by Christina Lauren!
Related Posts