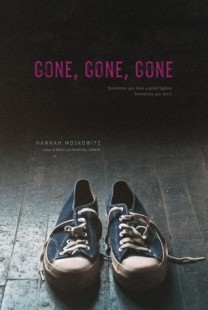 Gone, Gone, Gone
by
Hannah Moskowitz
Purchase on:
Amazon
Add to:
Goodreads
Synopsis:

In the wake of the post-9/11 sniper shootings, fragile love finds a stronghold in this intense, romantic novel from the author of Break and Invincible Summer.

It's a year after 9/11. Sniper shootings throughout the D.C. area have everyone on edge and trying to make sense of these random acts of violence. Meanwhile, Craig and Lio are just trying to make sense of their lives.

Craig's crushing on quiet, distant Lio, and preoccupied with what it meant when Lio kissed him...and if he'll do it again...and if kissing Lio will help him finally get over his ex-boyfriend, Cody.

Lio feels most alive when he's with Craig. He forgets about his broken family, his dead brother, and the messed up world. But being with Craig means being vulnerable...and Lio will have to decide whether love is worth the risk.

I remember September 11th. I was in Junior year in High School (in France, of course) and I learnt what happened late afternoon when I was heading for practice.
I remember being sad for all these person and mad because how unfair is it? but I also remember being pissed at all these teenagers around me who kept bragging that it had opened their eyes and showed them how much life is worth it. Don't get me wrong, I'm not trying to minimize it, god of course not, but I just couldn't understand how people could use it to appear cool, to spread some philosophical bullshit, as if they could understand what people in New York could feel, what people in US could feel. I couldn't, and I don't think they could, either. We were just fucking French Junior who couldn't have a locker anymore because bombs. All that is to say that I didn't get it at the time. I was only a self-centered teenager whose interest never holds long and I asked myself exactly what Lio and Craig wonder about : how do we define loss? Is it the number that counts? Or is it something else? Is it the fact that we knew someone? I didn't know at the time, but I know now.
"What's love when you're too fucked up to feel it right?
I think it's a weapon."
Perhaps it's going to sound incredibly selfish but to me there's nothing truer than this : We really feel loss when we know someone. Of course we can empathize, we can feel sad and mad and sorry for someone, it remains it always seems borrowed, if we can use a word so practical when dealing with loss. Every day I hear about people who are sick, who have cancer, and yes, I feel sorry for them. My dad died from cancer two years ago. I didn't feel sorry. I felt broken. I felt lost. I felt scared. And I'm never, ever going to say that it is the same thing. It isn't. In my opinion we are partly defined by the person we love, by the person we care about, and no empathy can overtake that. None.
"Craig is just one person. The chances that he will get shot are the same as anyone else's.
The hole in the world when he's gone would be the same size as the FBI agent's.
Except…
It wouldn't be.
To me.
I have no way to measure these holes.
Click.
Numbers don't matter.
Because what if loss is immeasurable? What if all we can do is call a loss a loss? "
The story takes place in 2002, during the Beltway Sniper Attacks, and for someone like me who wasn't familiar with this tragedy at all, the way Hannah Moskowitz deals with this issue is truly wonderful because it felts real. Indeed I felt the threat, the fear, the panic this kind of random attacks could lead to. And then, there're these boys. There are these broken boys who meet and fall in love. They are hurt. They are hesitant. They are fucking afraid. But they are.
"Just wanted to let you know I got in all right. And also that my chest hurts as if I MAY BE DYING, because I accidentally left my heart on your kitchen counter. I hate when that happens.
Li"
And I love them. I even developed a not-so-little crush on Lio. Even if he's fictional. Even if I have a boyfriend. Even if he's gay. Whatever. As I said, I developed a crush on Lio because this guy is so fucking adorable that I couldn't help. As for Teeth, Gone gone gone offers us a flawless characterization with characters who aren't perfect, who mess up, who evolve, and in the end, we just want to hug them something fierce. I do, anyway.
"It's up to me whether I'm okay with the possibility of being broken.
Plus, I'm a tough little son of a bitch, and don't you forget it."
Finally, I'm sorry if this review isn't organized or doesn't even mention how incredible the writing is, how emotional this story is, how fucking beautiful their love is. I guess I didn't feel writing a complete review tonight – but the only thing I'll say is READ IT. Please, go meet Craig and his fourteen pets, Lio and his five colored hair, go read their emails and cry and laugh and fall in love. You won't regret it. Because even if I preferred Teeth, Lio and Craig's story goes instantly in my favorites, and I like to think that it's saying something.
Related Posts