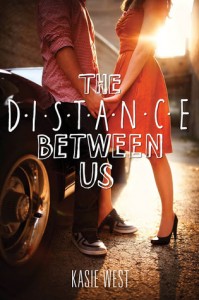 The Distance Between Us
by
Kasie West
Purchase on:
Amazon
, 
iBooks
Add to:
Goodreads
Synopsis:

Seventeen-year-old Caymen Meyers studies the rich like her own personal science experiment, and after years of observation she's pretty sure they're only good for one thing—spending money on useless stuff, like the porcelain dolls in her mother's shop.

So when Xander Spence walks into the store to pick up a doll for his grandmother, it only takes one glance for Caymen to figure out he's oozing rich. Despite his charming ways and that he's one of the first people who actually gets her, she's smart enough to know his interest won't last. Because if there's one thing she's learned from her mother's warnings, it's that the rich have a short attention span. But Xander keeps coming around, despite her best efforts to scare him off. And much to her dismay, she's beginning to enjoy his company.

She knows her mom can't find out—she wouldn't approve. She'd much rather Caymen hang out with the local rocker who hasn't been raised by money. But just when Xander's attention and loyalty are about to convince Caymen that being rich isn't a character flaw, she finds out that money is a much bigger part of their relationship than she'd ever realized. And that Xander's not the only one she should've been worried about.

Oh my dear, dear Kasie West…Where have you been all my life?? Well, in all fairness, it's my fault I've never picked up a masterpiece that is a KW novel. My friend, Anna, has been more than clear about how I would love this author, if only for her adorable, yes, absolutely adorable male leads. And, ya know, she was right-as usual. Damn know it all Alien. Anyway, I digress. My whole point is that when I was down and tired and couldn't hardly read this weekend, what did I do? I listened to someone's advice and picked up a fun book that was supposed to be light, funny, and altogether an easy read. I've never been so glad I did.
He laughs a little. "You live above a porcelain-doll store; your best friend lives in a cemetery. You've pretty much grown up surrounded by creepy things. Is there anything you're afraid of?"
You.
I have been in a perpetual bad mood for the last two weeks-I won't lie about that. It's been horrible. I haven't cared about much and yes, I come off as (generally) pretty normal/happy most of the time. I've even found some amazing books to read. But, what happens when an already bad mood turns just plain sour the minute Thursday strikes? Why, you pick up a fluffy book. All the booze and/or medicine in the world couldn't salvage my mood, but guess what did? This book cured a two week streak of surliness and altogether inexcusable snark on my part. This book did what no person could do, no matter how hard they tried, and that's how I know I waited until the perfect time to start obsessing over this woman's books.
A lot of people don't get my humor. My mom calls it dry humor. I think that means "not funny," but it also means I'm the only one who ever knows it's a joke. Maybe if I laugh afterward, like my mom does when she's helping customers, more people would humor me, but I can't bring myself to do it.
It's more than that, though. I don't do cheesy. I loathe easy peasy story-lines, unless it's my dear Lauren Layne. And I don't really venture from my dystopian or fantasies very often-but for this author? I think I'm going to start making an exception. From page one I was giggling, smiling ear-to-ear, and felt immediately lighter. The snarkiness of our main character was parallel to some of my all time favorite snark-masters and Xander was…oh my, what was Xander? Xander was the equivalent to every good person in the world I feel like I would date.
After he climbs in as well, he starts the engine and then gives me a long look. "What's wrong, babe?" Xander grabs my hand and puts it on his knee.
"Is that the pet name we're going with? Babe?"
He backs out of the parking stall and starts driving. "You don't like it?"
"It's okay. It makes me think of the pig, though."
"Are you putting in a request, then?"
"I've always been partial to sweetie, mostly because I'm not sweet so it makes me laugh."
I don't know. He just…there was just something so special about him. He may have been rich and a tad spoiled, but it never once showed in his demeanor and he never let it effect who he was as a person (namely, he didn't act like a pompous, spoiled brat). Sure, he might have worn driving gloves (BAHAHA okay, that was unnecessary of me to say, but come on, Xander-driving gloves?? LMAO) and he may not own anything shoddier than a high-brow polo, expensive jeans, and loafers, but he was a total boy-next-door type, and his sweetness never once effected me as it does with other books. I like dark, tortured guys the most, lately, but I also have always had a soft spot for the good ones. Those boys that we should all aspire to date, if they existed beyond these pages. And yeah, my heart is super easy to break into (and break, when it comes to book boys) but lately the boys in these stories have had to work really hard for my fangirl affection….But with Xander? It was effortless.
He pockets his phone. "Caymen."
"Xander."
"Does this mean I won the game?"
"I didn't realize we were playing a game."
He picks up the doll and backs away with his lower-lip-biting smile. "I think you did."
Even now as I am finishing up this review my heart is soaring and I have the biggest smile on my face as I recall my favorite quotes and moments from this story. It wasn't without it's flaws, much like any other book, but the flaws were hardly a blip on my radar. But, hey, that's the way I am. I truly believe that, if a book made you extremely happy and you weren't without warm and blissful feelings throughout, it deserves every star in the world. But that's only if the flaws don't outweigh the good-in that case, yeah, it probably stunted your enjoyment a tad. But, even with some of the miscommunications and rude preconceived notions, my smile never slipped once (Okay, lie, there was definitely some angst that made me frowny face-but only because I love my dear Xander so much!!!).
So, you know, I loved this. The rich, beckoning boy and the not-so-rich girl meeting and finding a spark they've never felt before, mixed with funny shenanigans to find each other's destiny, this story was perfection. From the way Xander looked at Caymen all the way to how much he was willing to do to make her a part of his life-I couldn't put this one down. Pre-sipped drinks and bakery made blueberry muffins never sounded so wonderful, thanks to Xander, and I know I'll be re-reading this many times over if only to read about Xander's hard earned smiles and Caymen curiosities. Anna, I owe you one, ya ol' dark pup. 😛
Related Posts