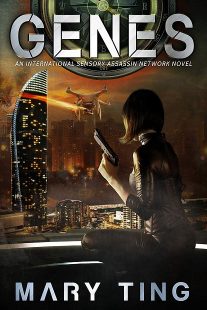 GENES
(
International Sensory Assassin Network #3
)
by
Mary Ting
Purchase on:
Amazon
, 
iBooks
, 
Book Depository
Add to:
Goodreads
Synopsis:

Allegiances will be tested. Identities will be revealed. No one is safe.

While searching for the HelixB88 anti-serum on the black market, Ava uncovers valuable intel that may help the rebels in their fight to bring down ISAN—the location of a hidden facility. But first, the insurgents must find the female citizens unexpectedly displaying powers without use of the Helix serum before ISAN captures them. As the rebels join forces with other sectors, ISAN plans their destruction by using someone they don't suspect at the rebel home base: a traitor within.
Review:
"Bravery comes in all forms. You just have to know which suits you best."
GENES was an explosion of action and adventure, I was beyond addicted.  With characters I loved, new twists and turns, being on the brink of war and so much unknown, I was glued to the pages.  The story was gritty and rugged, so it was impossible not to have tears in my eyes at times.  But love and friendship floated throughout the pages and added so much light and hope to their dark and dreary world.  So if you're a fan of dystopian, characters that leap off of the pages and a story line that keeps you saying just one more chapter then this series is for you!  Some of my favorite things were…..
I would move mountains for you. I would shatter the world to bring you home to me. Love is a powerful thing. – Rhett
✮ Teamwork:
Against all odds, we had made it. I was here with him. Beside each other was where we belonged. Our home.
My throat clogged. "My wish came true when I remembered you."
One of my favorite aspects of this story was how friendships felt like family.  They would do anything for each other and continually had each other's backs, I loved watching them work together.  Especially when a few of them combined their powers.  And with different groups merging, it wasn't always easy.  There were struggles at times.  But the devotion, commitment and trust that came from all of them created such huge feelings for me.  Which ultimately made me nervous lol.  No one was safe in this book and I found myself caring for even more people which terrified me.
✮ Action and Adventure:
I will not die today. We will not die today.
Like a dandelion, be resilient.
This whole series is action packed from that first page to the last.  Yes we got lots of moments where we could breathe and watch beautiful moments unfold between the characters.  And those added so much joy in my heart,  I loved catching myself sighing out loud.  But in the next instant we were up and going again. My pulse was pounding and this is the type of book that is easily devoured.  Emotions and tensions ran high and I loved every single minute of it!
✮ The Whole Picture:
"I know. It's okay. Whatever it takes, remember." I tried to sound strong for the both of us, but my voice cracked.
"I love you." Rhett held me tightly as if I was his lifeline, and then he kissed me with desperation.
While Ava was still our main point of view, I loved how we got moments with Rhett again.  I'm obsessed with his thoughts on everything, especially with how he saw Ava.  But we got a few other characters point of views mixed in a little bit.  I won't mention who, so it's a surprise, but it was truly genius.  The peaks we got into a few other people's heads rounded out the story so perfectly. There was so much at play, with so many moving parts, and it made me feel like I was watching a movie play out.  It. Was. Fabulous!
✮ The Characters:
"Why does it have to be another one of us to die? Why doesn't ISAN die?"
Oh, my heart. Air left my lungs in gasps. I fought back the sting in my eyes and sank to my knees.
Whether it was Ava being brave and fierce, always protecting those she loved at all cost. To Rhett's love that shined as bright as a star and being the voice of reason.  To Ozzie's teddy bear ways that made me just want to squeeze him.  To Mitch's complexity that pulled me in again and again, I loved learning a few more of his secrets.  To Tamara and her knife wielding ways.  To Momo, Bobo and Coco, oh I came to care for those kids so deeply.  Even to Mr Novak's creepy and nefarious ways. These characters came alive.  They were complex and stood easily apart from one another.  Each one was so pivotal to this story, I loved it!
I fought the sting in my heart as I leaned back into Rhett's arms. Moments like this were rare. We had to take all the good offered to us. No one knew what would happen tomorrow, or even an hour later.
GENES was my favorite book in this series!  I loved how even more pieces of the puzzle came together and the bigger picture is becoming more clear.  But it still felt insurmountable at times.  Thankfully as the story progressed, hope bloomed in my chest.  But beware, because there were setbacks that had me whispering no, no, no.  I found myself crying for death and being terrified over the fate of those I cared for.  But I also cried tears of happiness too.  So if you're looking for a story that you can get completely lost in, definitely add this one to your tbr!  I can't wait to see what happens next, especially after that ending!
PS I knew it!!
*I voluntarily read and reviewed an advanced copy of this book, provided by the author. All thoughts and opinions are my own.*
Goodreads / Amazon / Barnes & Noble / iBooks / Kobo
Reading Order & Links:


Amazon

(click on covers),

iBooks (click on titles) & Book Depository (click on book #)


ISAN #1
Review:
Jen

HELIX #2
Review:
Jen

GENES #3
Review:
Jen

CODE #4
Review:
Jen
About Mary Ting:
International Bestselling, Award-Winning Author Mary Ting writes soulful, spellbinding stories that excite the imagination and captivate readers all over the world. Her books run a wide range of genres: science fiction, fantasy, and swoon worthy stories. Her storytelling talents have won her a devoted legion of fans and garnered critical praise.

Mary was born in Seoul Korea and resides in Southern California with her husband, two children, and two dogs—Mochi and Mocha. She enjoys oil painting and making jewelry. Becoming an author was a way to grieve the death of her beloved grandmother. After realizing she wanted to become a full-time author, she retired from teaching after twenty years.

Website / Goodreads / Facebook Page / Facebook Group / Twitter / Instagram / Bookbub / News update
Schedule:
Can be found here.
Giveaway:
Related Posts
I'm so ecstatic to be on the GENES blog tour because I am obsessed with this series. So check out my 5 Star Review below and enter a fabulous giveaway. Enjoy ♥.