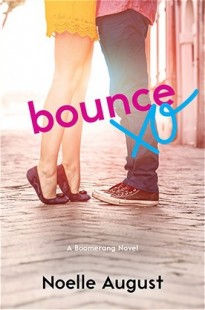 Bounce
(
Boomerang #3
)
by
Noelle August
Purchase on:
Amazon
, 
iBooks
Add to:
Goodreads
Synopsis:

Playing the occasional club gig just isn't cutting it for twenty-two-year-old cellist Skyler Canby, who's trying to support herself and her mother back home in Kentucky. Persuaded by her best friend Beth to accompany her on an audition for the first feature film launched by Blackwood Entertainment, she figures why not? Beth's a shoe-in for the lead, but maybe Skyler's newly dyed pink hair will help her stand out enough to score a small speaking part.

Never in her wildest dreams does Skyler imagine she'll land the lead role or that she'll have her shoes knocked off her feet by the kiss her audition partner, Grey Blackwood, plants on her—a kiss that feels very real and not at all "acted. "

After throwing a party that causes thousands of dollars of damage to his older brother's home, reckless musician Grey Blackwood gets roped into working off his debt on the set of his CEO brother's newest project. Grey spends his days fetching coffee and doing odd jobs around the studio, but he lives for nights when he performs with his band. He knows if he can stay focused, success as a singer is just around the corner. But that's tough with a distracting pink-haired girl occupying his every waking thought.

Skyler and Grey have every reason to resist each other. But, like a song neither of them can get out of their minds, they have no choice but to go where the music takes them.
► I often joke with my friends on here about ratings and what they mean. The fact is, I can ponder and ponder my opinion but eventually, there's no such thing as an objective review, whether you are a professional or a random reviewer like me. That's why, even though I know that many readers customize the meaning of their ratings (and that's great), I don't do that. I follow Goodreads' "default settings" : if I didn't like a book, well, it'll be a 1. Of course I pay attention at my peeves and there are objective aspects that will bring me on the train wreck road – but in the end, it remains my enjoyment and my perception. Similarly, even flawed, a book that offers me more and that stands out from other books in the same genre can completely get a 5. Bounce belongs to this category in my opinion.

True Fact : Every time I start a New Adult romance I'm scared to death of what I might find. Fortunately Bounce didn't let me down.
✘ What I was afraid to get : Jealousy disguised as friendship.
✔ What I got : Girl friendship well-developed with real interactions.
The women here are real friends : they are happy for the others success, but sometimes they don't know how to react to sub-mentioned success. It was so relatable to me, I couldn't help but feel their struggles and their fears. Look, to become a teacher in France you have to pass a contest and well, as always with a contest, everybody isn't chosen, no matter how good everybody is. When I passed that exam, some of my friends passed as well and some of them didn't. Frankly, it was maybe one of the most uncomfortable situation of my life. How can you express your disappointment for a friend with the right words when you succeed where he didn't? It's extremely difficult. In Bounce Mia, Beth and Skyler are facing this kind of situations and it was handled with care and honesty. I loved that, and every aspect of their friendship warmed my heart.
✘ What I was afraid to get : Girl hate
✔ What I got : No slut-shaming. At all. NOT AN HINT OF IT. From anyone, women and men as well.
✘ What I was afraid to get : Overabundance of angst, and dramatic (useless) twists
✔ What I got : Several NA clichés but rather discreet : they both have family problems, but we never enter the "I'm the most UNLUCKY person of the world" (see Kat's review of Boomerang about this, she summed it up perfectly). Here are two persons who are searching for what they want to do with their lives, and discover each other along the way.
✘ What I was afraid to get : An older controlling dude whose experience will, somehow don't ask me 'fix' the heroine
✔ What I got : First, the guy is younger! Yes, it is refreshing. So, Grey. Apart from the fact that I don't understand how Noelle August could choose this name (I mean, COME ON!) I have to admit that I really REALLY enjoyed his character. Yes, he's immature, and annoying, and impulsive (never ever violent, though). To sum up : he's kind of a mess. But all his actions just rang so… true. He was believable, and frankly? His inner monologues made me laugh my ass off. Yep. I admit. I don't know what that says about me, though.
"Over on the kitchen island, heaps of liquor bottles, beer cans, Solo cups, and – what the hell is that? A person? Okay."
Actually, I wrote on a status that he was cliché-ish but hey, anything can happen I guess (I know, shut up) because I have to say, I was wrong.
Seriously – He's way more than this tattooed musician stereotype : He's raw and passionate and just fucking lost – but so, so endearing, thoughtful, and sweet. I know what you think : yeah, right. As always. Tough dude sweet inside. Candy-ish. Nope. That's not it. The fact is, I was judgmental. I assumed that since he was tattooed and a musician he will be like any other 'player' character ( who I can't stand – or barely – or really, rarely). He wasn't. Just go meet him, because the way his character develops was wonderful.
✘ What I was afraid to get : A perfect and pure and virginal (of course!) heroine
✔ What I got : Skyler isn't over-confident but strong-minded : she knows that she needs to do to help her family but she has no idea how to do it – her doubts and hesitations were never annoying but on the contrary I could always understand her and I cared for her. So you know : I liked the girl.
✘ What I was afraid to get : Instalove and all that crap
✔ What I got : Insta-(off the charts)chemistry, and the slow built up of a friendship that will gradually turn into something more. It's been a very, very long time since I genuinely rooted for a couple like that in New Adult. They learn to be there for each other, to talk, to accept their flaws and… actually, Skyler said it better than I could ever do :
"It's not that he makes me strong or whole. It's that with him, I remember how strong and whole I am."
Oh, and as it seems to be the day I'm breaking rules, there's a sort of love-triangle. Never ever bothered me, because Grey and Skyler share a friendship at the time and that's just GREAT. You know, let's be buds? (that's not me who said that. That's Grey. Yes, he knows it sounds ridiculous. Give him a break. He was recording. Kind of.)
► So, this is it. Even though I have 1,000,000 things to add (music! Grey's friends! Etc!), I guess I'll let you discover for yourself. But this book? That's what I need to find : not perfection, not necessarily originality, but honesty, real feelings, not to mention that huge smile plastered on my face. Yeah, there's that too.
"I'm smiling so big, I want to punch myself."
*arc kindly provided by HarperCollins through Edelweiss*
Related Posts