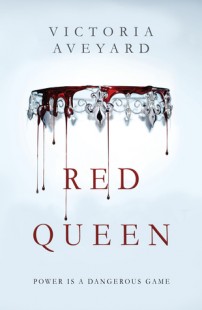 Red Queen
(
Red Queen #1
)
by
Victoria Aveyard
Purchase on:
Amazon
, 
iBooks
, 
Book Depository
Add to:
Goodreads
Synopsis:

The poverty stricken Reds are commoners, living under the rule of the Silvers, elite warriors with god-like powers.

To Mare Barrow, a 17-year-old Red girl from The Stilts, it looks like nothing will ever change.

Mare finds herself working in the Silver Palace, at the centre of
those she hates the most. She quickly discovers that, despite her red blood, she possesses a deadly power of her own. One that threatens to destroy Silver control.

But power is a dangerous game. And in this world divided by blood, who will win?
► So, this is the 2015 mind-blowing release?
① I'm just so fucking bored. UNDERWHELMED is the word.
② Mare is a selfish brat who can't shut up one second to look at something else than herself. She keeps acting without thinking and gets numerous people harmed/killed.
③ She's a special snowflake through and through, because she's special you know and nothing can be done without her.
④ She's in a constant need of saving and doesn't even acknowledge that fact.
⑤ There is a love-triangle (square?) but it's not what annoys me. The fact that I can't bring myself to FEEL SOMETHING for any of these (3) male-leads does annoy me, though. Now, as bland and hollow as they are, I still don't understand what they see exactly in Mare but who am I to judge?
"Why I care, I can't say". ME NEITHER, Mare, me neither.
⑥ She's not sarcastic but just plain rude and oh so WHINY.
⑦ She can't seem to find any redeeming quality in any other woman. Guess what? I'm not finding any redeeming quality in you either. GIRL HATE EVERYWHERE. Why, oh why do women always hate other women ON SIGHT in these books? Just TELL ME.
Evangeline : "From the way her fingers tighten, I can tell she wants nothing more than to wrap her hands around my throat." Because reasons
Random Silver girls : "Before I have a chance to take a breath, a pair of girls steps in front of me. Their smiles are fake and cold, just like their eyes." Because reasons
Her tutor : "I observed," she clips, already hating me." Because reasons
I'm not the kindest person of the world by any means, but I never hated someone ON SIGHT. For fuck sake. We will never see men doing that in books and that's what sickens and maddens me. It spreads the message that we women are sly and hateful. Oh but wait! This is by far the most widespread stereotype about women. Women authors, I'm not thanking you.
⑧ The similarities with Red Rising are just obnoxious. Say the girl who didn't like Red Rising, though. "And we will rise up. Red as the dawn." Yeah, right. Never seen this before.
⑨ I'm just so fucking bored, but I already said that, didn't I? B-bu-but nothing happens!
⑩ Perhaps it __________ be better if there aren't all these plot ____________. You know, when ____________ want us to believe in a rebellion without even ____________. People are starving but WHO CARES? There is a rebellion but WHO CARES? The Queen can read minds but OMG she can't guess anything? HOW FUCKING CONVENIENT. View Spoiler »and this is what made the "plot-twist" not at all surprising. « Hide Spoiler[and this is what made the "plot-twist" not at all surprising. (hide spoiler)]
⑪ The lack of world-building or of any descriptions, really, gave me the impression that the characters walked in a BLANK bubble.
That ending though.

Too bad I don't care about any of the characters. Waste of my time.
Oh and you people! Please stop SMIRKING! (my Kindle found 38, and my favorite is : "she manages to smirk without moving her lips" I would so love to see that!)
Ps. I'm Team #TheOneWhoWillKillHer *smirks*
Related Posts